TikTok crypto influencers are tasked with amplifying brand awareness and increasing reach via a series of targeted marketing campaigns. They leverage short-form videos, challenges, and giveaways to promote emerging projects. This article will discuss the top 15 key opinion leaders (KOLs) on TikTok in 2023. However, we'll take into consideration only English language influencers.
TikTok has grown exponentially in the last few years. Currently the fourth most visited platform behind Facebook, YouTube, and Instagram, the Chinese-based video hosting service has previously been ranked the most popular website in 2021, surpassing Google. With over 1 billion monthly active users, per Influencer Marketing Hub, the site hosts thousands of influencers in an array of industries, the cryptocurrency market one such.
Best Crypto TikTok Influencers
Anchored by Lea Thompson, Girl Gone Crypto deploys a demystified approach to cryptocurrency influencing and education that leaves you completely intrigued and immersed in the project. She possesses the ability to turn complex topics into exciting and easy-to-understand bits of information. Therefore, making it comprehensible for the average person.
Girl Gone Crypto is committed to helping people understand, in totality, cryptocurrencies and their underlying technology, blockchain. The videos are super-engaging and would leave you binge-watching for a long time. Her "Crypto Minute" videos cover all of the recent happenings in the industry for the week in 60 seconds. She's also famous in other social media like
YouTube
, for example.
Followers: 35.5K
Average Views: 700
Engagement Rate: 8.58 %
Account Quality Score: 64
Legally known as Austin, MacNCheeasy is a renowned founder, engineer, and content creator dedicated to spreading factual information about AI, web3, and cryptocurrencies. He explores how these new technologies can impact human life, and via tons of engaging videos, he hopes to achieve this goal. His content varies from updates about recent happenings in the industry to interviews where he asks people how either AI, crypto, or web3 affects them.
His "Pinned" videos include a TikTok-powered "Crypto 101" course designed to educate and inform the public about cryptocurrencies as well as how they can become stakeholders in the industry. Like most influencers on the platform, MacNCheeasy adopts a comical approach to spreading the news.
Followers: 118.2K
Average Views: 300
Engagement Rate: 5.87%
Account Quality Score: 51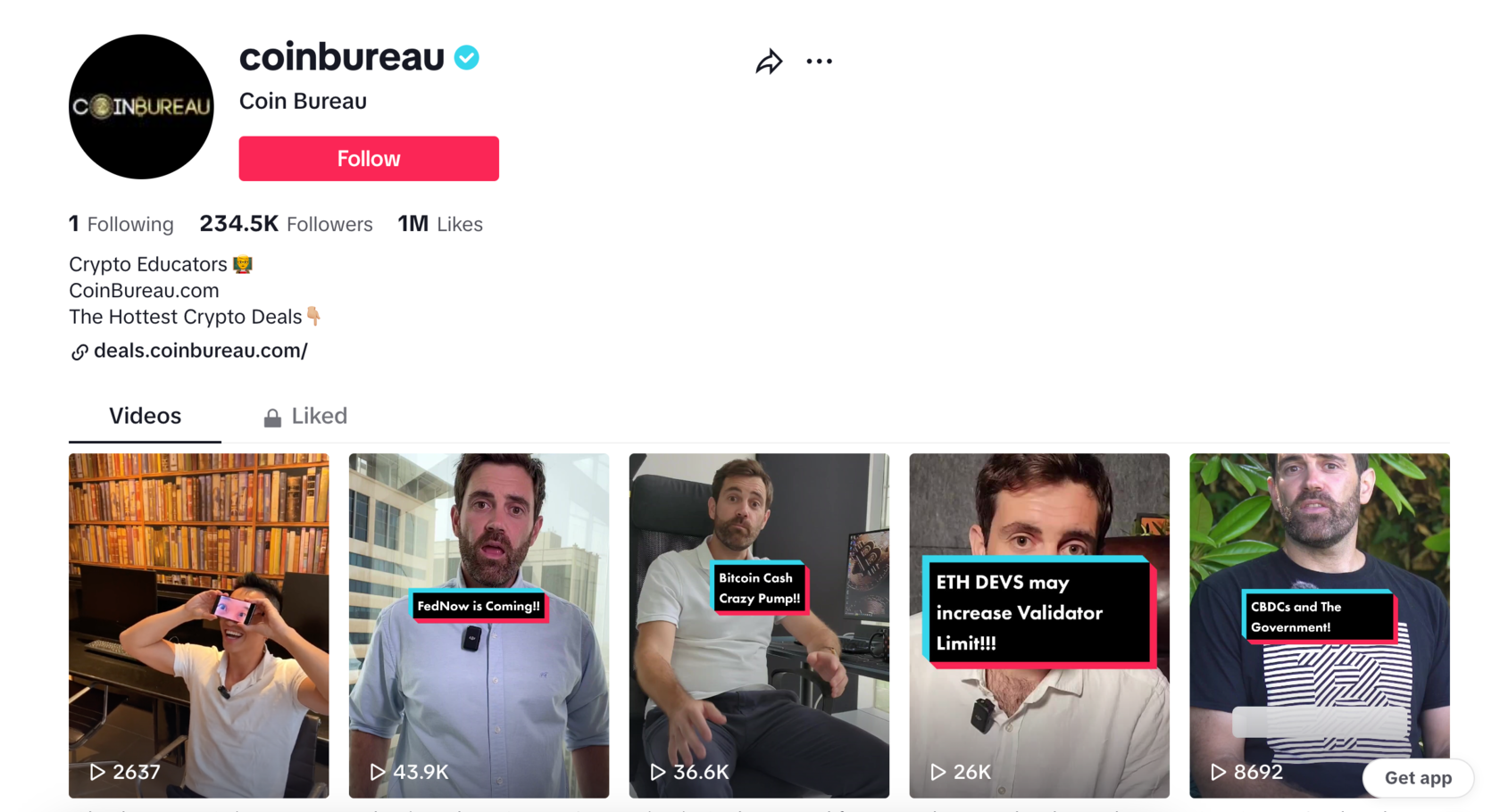 Coin Bureau is a reputable brand in the trillion-dollar industry. Founded by Guy Turner and currently run by a team of experts, this TikTok influencer is committed to educating the public about the possibilities of blockchain and cryptocurrencies. The videos range from illustrations featuring other team members to explanatory content about concepts in the space. Besides TikTok they are famous in other social media platforms and on crypto market overall. For example, they have one of the
top cryptocurrency YouTuber channels
, also named
Coin Bureau
The channel owners understand the importance of demystifying complex crypto terms and has modeled its videos to be remarkably easy to grasp. They offer accurate coverage of latest news, tips on how to mitigate risks in this extremely volatile market, and help you learn about cryptocurrencies in a heartbeat. In addition to short-form content, this top Tik Tok influencer regularly hosts live meet-ups and conferences where these new technologies are discussed.
Followers: 234.2K
Average Views: 20K
Engagement Rate: 4.09%
Account Quality Score: 39
Before joining TikTok, The Wolf of Bitcoins was a household name on Instagram. He was the first crypto Tik Tok influencer to go viral with a crypto-related post—a short video about his parents' idea of Bitcoin mining versus what it entails. Garnering over 3.1 million views, 371.1K Likes, and 4.2K Comments, this video put Wolf on the map, solidifying his stance as one of the best in the business.
He hasn't stopped since then. Wolf continues to create and post informative videos about Bitcoin, Ethereum, and cryptocurrencies in general. His content shed light on complex crypto terms and concepts, simplifying them for the average viewer. Want to know more about an Instacoin ATM or what's inside an expensive mining rig? The Wolf of Bitcoins has got you covered.
Followers: 247.0K
Average Views: 3K
Engagement Rate: 3.84%
Account Quality Score: 31
Cryptowendyo wants her audience to know cryptocurrency and blockchain are not as complicated as they sound. With digital marketing strategy skills, this influencer leverages a wide array of engagement tools and techniques to get her message across to the general public. Her content includes informational videos on Bitcoin and altcoins, providing viewers with in-depth, unbiased analysis of these projects and how they can get in.
Cryptowendyo shares crypto trading insights, crypto investment tips, investment advice, and charts, offering first-time and expert traders alike tips that will increase profitability. She also provides fresh crypto news updates about events in the crypto and NFT spaces.
Followers: 261.4K
Average Views: 15K
Engagement Rate: 5.26%
Account Quality Score: 52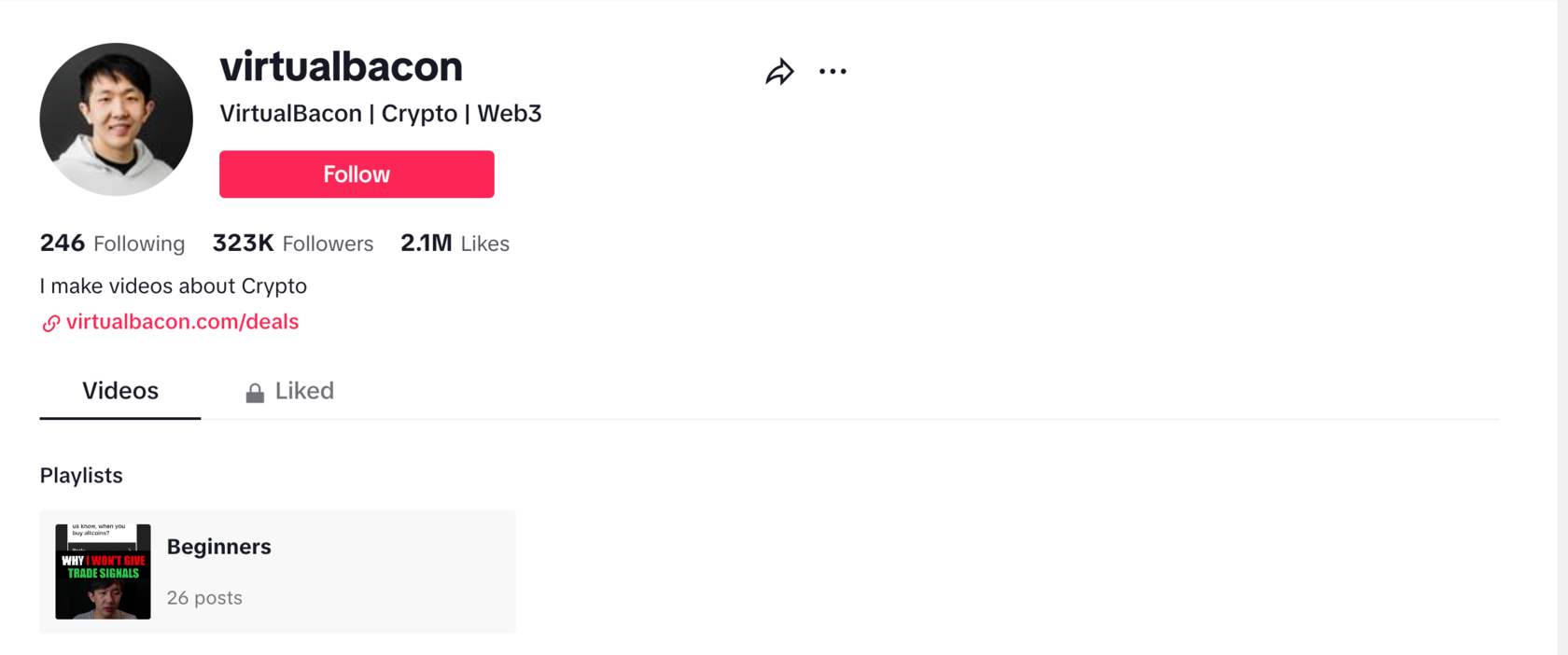 Anchored by Daniel Liu, Virtual Bacon is one of the top influencers. It is a crypto-dedicated page for beginners where they can learn and understand the concept of this trillion-dollar industry.
The "Beginners" playlist is substantial proof of Virtual Bacon's commitment to educating the public about cryptocurrencies and blockchain. The videos range from tutorials on how to evaluate coins, discover promising layer projects, and how to DCA in trading. He also shares tips on how to navigate the crypto-buying process as a first-timer.
Like the others, this top influencer provides timely information about nascent projects as well as new developments in the industry.
Followers: 305K
Average Views: 7K
Engagement Rate: 3.85%
Account Quality Score: 37
This is a reputable TikTok crypto influencer page dedicated to informing viewers about cryptocurrencies and NFTs. NFT Whale Media provides in-depth, unbiased, and accurate coverage of these markets, offering prospective investors real-time information.
NFT Whale Media offers two playlists—Check out this stock and NFT Drops. The former entails insightful videos about stocks; what to watch, which to add to your portfolio, and which to invest in. The latter, on the other hand, comprises details about NFT drops; which to add to your watchlist, which to get, as well as when to get in.
The media page makes fresh content about NFTs and cryptocurrencies and also exploits well-researched, proven strategies to sell new projects to potential investors.
Followers: 312.3K
Average Views: 20K
Engagement Rate: 4.36%
Account Quality Score: 24
This is a respectable and popular source for fresh crypto and web3 news. His content ranges from updates to informational pieces, market insights, trading tips, and general educational videos. To help viewers grasp complex ideas seamlessly, Joshua Jake piggybacks on trends and perfectly designs them to pass across his message.
His trading videos include guides on how to get started, the best coins to buy at a specific period, and project reviews. Joshua Jake is dedicated to assisting you to make your first crypto purchase. And, as part of his long-term sustainability plan, his content comprises interviews with industry leaders, updates about AI, and traditional financial news coverage.
Joshua Jake constantly debunks false news, providing his thousands of followers with verifiable and accurate bits of information about everything crypto-related, including best crypto currencies to watch, BTC market updates, and analysis of all resent trends in DeFi, XRP, ETH, Dogecoin and crypto world overall.
Followers: 460K
Average Views: 20K
Engagement Rate: 4.1%
Account Quality Score: 34
Like The Wolf of Bitcoins, this top influencer left Instagram to share his talent and skill on the video hosting service platform. Crypto Kang is committed to helping enthusiasts looking to diversify their portfolios. His content range from educational videos to reviews about nascent projects.
Crypto Kang is home to a variety of unique pieces of information that you wouldn't ordinarily see on any other page. He's focused on reviewing upcoming projects, an aspect of crypto reporting that is often overlooked. Besides this, he deploys a humorous angle to his videos, making them super fun and exciting to see. You can binge on his content for hours non-stop.
Followers: 476.7K
Average Views: 40K
Engagement Rate: 11.54%
Account Quality Score: 45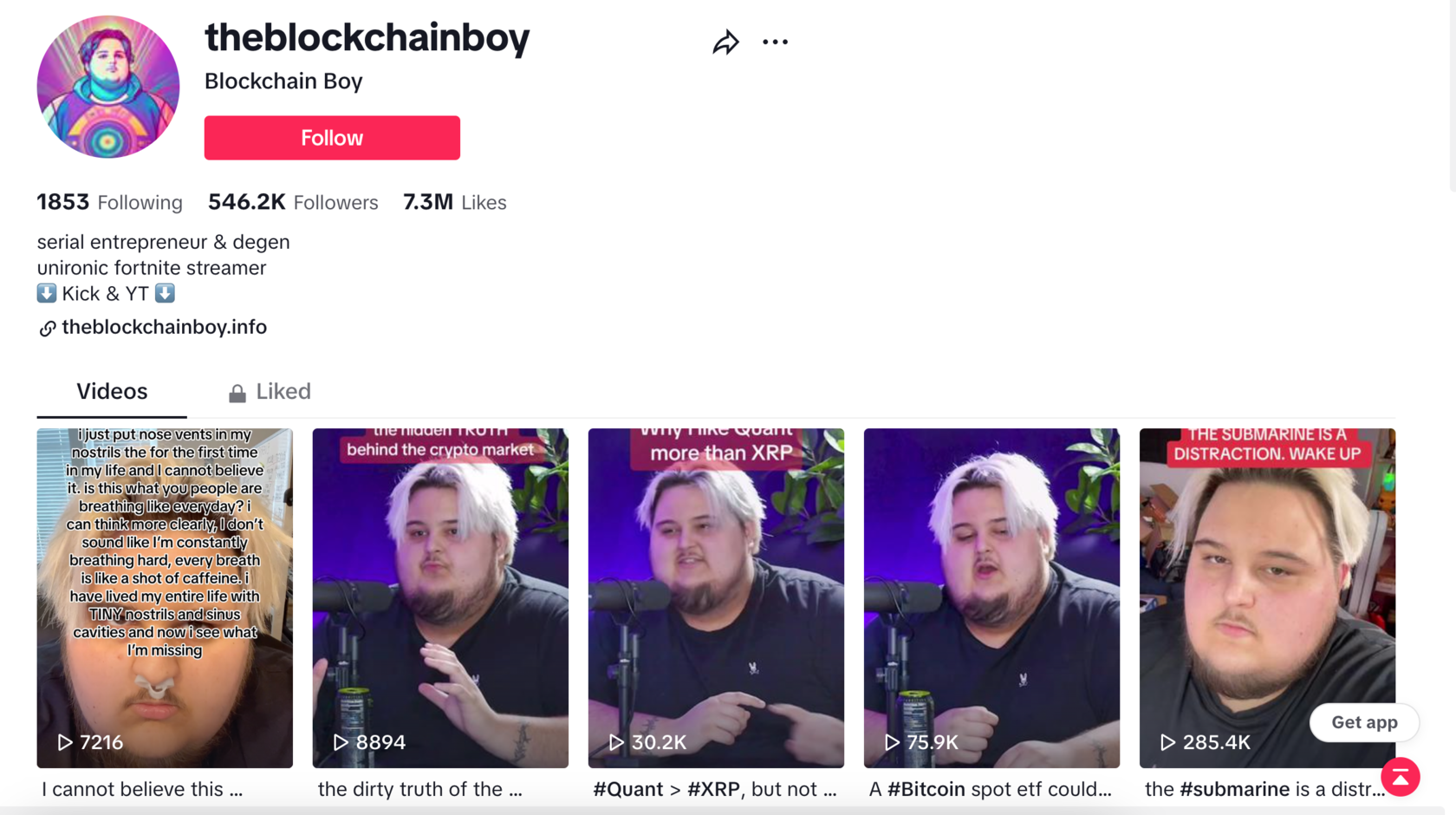 A social entrepreneur and degen, as stated in the bio, The Blockchain Boy is one of the top blockchain influencers in 2023. Often described as a must-follow page, he provides timely, in-depth, and accurate information about cryptocurrencies and blockchain technology.
Unlike a few others, Blockchain Boy references his life and how he made it in the industry. Thus, giving his page a personal angle, something most enthusiasts find endearing. He shares trading tips, project reviews, tutorials on how to get started, and bits of information on how to mitigate risks.
The Blockchain Boy's content ranges from interviews to inspiring quotes, solo informational videos, crypto project ranking, and real-time updates about recent happenings in the space. By they way, don't mistaken Blockchain Boy with Bit Boy Crypto. The last one username is owned by Ben Armstrong,
famous crypto YouTuber
and celebrity in crypto community (he also have TikTok account
@bitboy_crypto
).
Followers: 546.9K
Average Views: 30K
Engagement Rate: 3.18%
Account Quality Score: 29
Real Jessev is a verified and reputable crypto TikTok key opinion leaders. It is a dedicated source for cryptocurrencies and NFT news, providing viewers with in-depth and unbiased coin reviews.
Real Jessev seeks to educate the public about cryptocurrencies while offering timely guides on how to get started as traders. The page contains a variety of engaging short-form videos that explain, succinctly, key details about an upcoming project: launch date, speculated price, and how to get in early. Trading tips and risk-evading strategies are regularly shared on this page to guarantee a low-risk experience.
Followers: 569K
Average Views: 100K
Engagement Rate: 9.73%
Account Quality Score: 51
This is a standout Bitcoin informative page with real-time, valuable videos about this cryptocurrency and others. Degenlifer is bullish on the market and has made it a mission to spread his optimism to his thousands of followers on TikTok. In addition to providing educational videos about this new technology, this influencer delivers coin reviews. Therefore, helping potential traders to get started easily.
Degenlifer is committed to raising a generation of crypto investors with real information about projects. One of the "Pinned" videos is well-researched content about projects that will explode between 12 to 24 months. He also shares market insight and trading tips that will help maximize profits.
Followers: 596K
Average Views: 15K
Engagement Rate: 3.02%
Account Quality Score: 39
Known beyond the industry as Alina Pak, Crypto Cita is spreading the crypto gospel fervently and she deploys a humorous yet informative angle to it. Her content is focused primarily on trading and mining. However, she regularly shares tips and educational content about the trillion-dollar market.
Crypto Cita's videos are simple and easy to understand. It is a perfect starting point for newbies searching for accurate information about cryptocurrencies and blockchain. Expert traders will also find her page refreshing as she constantly delivers unknown tips and strategies on how to earn in the market. News updates are also a part of her content.
Followers: 748K
Average Views: 10K
Engagement Rate: 5.96%
Account Quality Score: 55
Crypto Masun's page, legally known as Mason Versulis, is a library for all things cryptocurrencies and blockchain technology. He is a reliable source for updates in the space.
With quite a following on Twitter, Discord, and Instagram, Crypto Masun shares bits of information about world trends, movements in the market, and educational content. He blends humor and real-time trading insights to help millions join the crypto bandwagon. He recognizes the importance of teaching people about this new technology and how global acceptance can result in mass adoption. Hence, his commitment to regularly sharing bits of knowledge required to make it in this budding industry.
Crypto Masun also helps viewers land best crypto and web3 roles. One of his "Pinned" videos is a well-detailed research guide on how to get that dream job.
Followers: 1.2 million
Average Views: 50K
Engagement Rate: 4.29%
Account Quality Score: 38
This is the top-rated cryptocurrency influencer on TikTok in 2023, and the reason for that is not far-fetched. This is a dedicated page that shares information about everything in the crypto and blockchain spaces. It is backed by an expert trader and investor with in-depth knowledge and understanding of the crypto space.
As the name implies, Crypto Projects reviews existing and upcoming protocols. Sporting a black suit, he shares updates about events happening in the space as well as how you can be a part of one. He deploys humor and simple words to help millions grasp, in totality, the core aspect of the market.
If you're looking for valuable information about cryptocurrency trading and projects, this is the best influencer to follow on TikTok videos.
Followers: 1.4 million
Average Views: 300K
Engagement Rate: 6.33%
Account Quality Score: 35
Conclusion
For sure, there are much more famous crypto KOLs on Chinese social media, than 15 guys we've listed above. TikTok regularly bans crypto enthusiasts, so that it's pretty hard to keep the list valid. For example, we haven't listed in the list relatively new accounts of
Timothy James
(known as cryptoweatherman) and
Cryptochuck
.
Also, if you're looking to promote your crypto brand, hiring a TikTok crypto influencer is a daunting task. It has become almost impossible to pick from hundreds of talented and skilled individuals to promote your soon-to-be-launched start-up or project. Hence, the need for a reputable crypto PR agency like FINPR.