Initial DEX Offerings (IDO) have become a popular fundraising mechanism for crypto projects (probably, even more popular than Initial Exchange Offerings or IEO). IDOs allow crypto startups to raise capital by selling tokens directly to investors on decentralized exchanges (DEXs) without the need for intermediaries. IDOs have gained significant momentum in recent years, and we expect them to continue the upward trend in 2023.
If you're a crypto startup looking for an IDO launchpad to launch your project, you're in luck. In this article, we've listed the top 10 IDO launchpads for new crypto projects funding in 2023. These crypto launchpads have been selected based on their track record, reputation, and community support.
Moreover, if you have a crypto project and are looking for help with listing services, the
FINPR agency
can provide the assistance you need. Let's see how to contact the best IDO launchpads and list your project.
Polkastarter Launchpad
Polkastarter
operates as a protocol that's integrated into the Polkadot network, rather than functioning as a standalone token launch platform. This crypto launchpad enables projects to conduct decentralized open sales within a secure environment offered by the decentralized incubator.
Leveraging the unique features of the Polkadot network, Polkastarter provides a safeguard against market manipulation by preventing the influence of large investors and enabling startups to enjoy the benefits of cross-chain token exchanges. Polkastarter gives an innovative platform that promotes a fair, decentralized, and secure fundraising process for crypto startups looking to raise funds through token sales by using the advanced blockchain ecosystem.
DuckStarter Launchpad
DuckStarter launchpad
is a highly versatile token sale platform that supports three of the most popular blockchain networks - Ethereum, Binance Smart Chain, and Polkadot. Unlike traditional funding methods, this launchpad is designed to help early-stage crypto projects raise capital from retail investors instead of relying on venture capitalists.
DuckStarter has carved a unique niche and emerged as one of the most productive and active launchpads in the crypto market. Its successful launch of around 60 projects with an average ATH ROI of 1.97% is a testament to the platform's effectiveness in helping startups achieve their fundraising goals while providing retail investors with opportunities to invest in potentially profitable new projects.

With its multi-chain approach, DuckStarter offers a comprehensive solution for crypto projects seeking funding from retail investors in a decentralized and secure manner.
BSCPad IDO Launchpad
BSCPad
is worth considering if you're looking for a reliable and efficient crypto IDO launchpad. This project debuted in 2021, and it's the first-ever decentralized IDO launchpad created for the Binance Smart Chain.
BSCPad's impressive track record and the availability of diverse projects on its platform make it a great option for early-stage crypto projects and investors alike. BSCPad offers a highly secure and transparent fundraising platform that ensures fair participation and promotes the crypto industry's growth.
PancakeSwap
PancakeSwap
has emerged as one of the most widely used IDO platforms, boasting an impressive user base of 1.6 million users. The platform's popularity is attributed to its user-friendly interface, active marketing campaigns, low fees, and robust security features. PancakeSwap takes its users' security seriously and warns them about malicious schemes and phishing attempts targeting its brand.
PancakeSwap's team is positioning a platform as a must-use one for anyone interested in trading cryptocurrencies. One of the reasons for its growing popularity is that users can start trading without having to complete any special registration or verification process.

PancakeSwap's commitment to providing a seamless and secure trading experience has made it a go-to platform for many crypto traders. The platform's continuous innovation and integration of new features ensure its competitiveness and relevancy in the dynamic crypto world.
DAO Maker
DAO Maker
is a startup funding platform that prioritizes safety and accessibility for retail investors. DAO Maker's IDO platform has adapted to encourage participation from those who might not have otherwise engaged with venture capital opportunities. Today, DAO Maker is accessible through various online exchange platforms.
While it is not available for purchase with fiat money, interested investors can acquire DAO Maker coins by first buying Ethereum through a fiat currency exchanger and then using those coins to obtain DAO Maker. DAO Maker offers a secure and inclusive avenue for individuals looking to enter the venture capital world.
Poolz
Poolz
is an innovative IDO launchpad that enables new and promising projects to launch tokens and raise capital in a streamlined and secure manner. Launched in 2020, Poolz was established by a team of seasoned blockchain experts who identified the challenges and hurdles that encounter emerging projects.
Operating on the Ethereum blockchain, the platform provides a comprehensive suite of fundraising, token swap, and community-building tools that allow projects to gain visibility, create buzz, and attract investment from a broad range of interested parties. Poolz represents a vital resource for startups seeking to navigate the complex and rapidly-evolving world of blockchain-based fundraising.
Binance Launchpad
Binance Launchpad
is an industry-leading token launch platform owned by Binance, one of the most renowned and established cryptocurrency trading platforms. Binance Launchpad provides invaluable support to promising projects looking to make their mark in the fast-evolving crypto space by offering comprehensive marketing and exposure to Binance's global community. The launchpad has it's native utility token that could be integrated in token sale process.
Over the years, Binance Launchpad has played a pivotal role in enabling several success stories in the crypto world, with the BitTorrent token being one of the most notable examples. By leveraging the vast expertise and resources of Binance, Launchpad provides an unparalleled opportunity for emerging projects to achieve significant growth and reach their full potential.
Bounce
Bounce
is a cutting-edge decentralized auction platform that empowers creators, collectors, and traders to design, connect, and trade a diverse range of assets, tokens, and NFTs. This innovative auction ecosystem is supported across multiple blockchains, offering greater flexibility and potential for interested parties.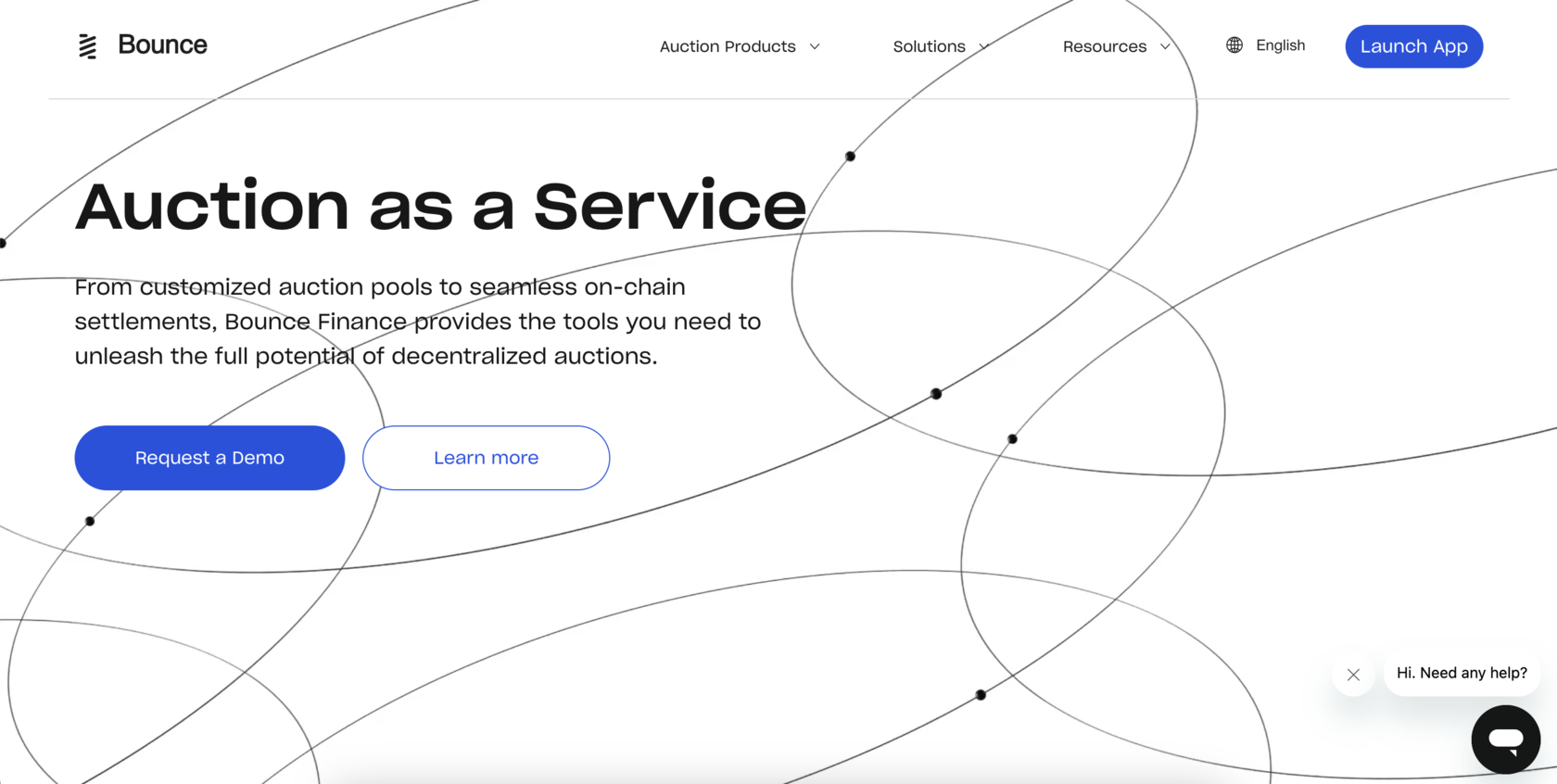 Creators can launch their auctions, complete with on-chain governance, contingency planning, and automatic execution, and can choose from various auction types like Dutch, English, Fixed swap, and Sealed-bid. Overall, Bounce represents an emerging product ecosystem that enables anyone to participate in the exciting and rapidly-evolving world of decentralized auctions.
CoinxPad Initial DEX Offering Platform
CoinxPad
is a unique IDO launchpad platform that connects innovative crypto projects with like-minded investors. One of its key distinguishing features is its ability to support multiple blockchains simultaneously, allowing investors from various chains to access the platform and participate in projects. This multi-chain support greatly enhances the visibility of projects and opens up investment opportunities to a broader range of investors.
Unlike other crypto launchpads that only support a single blockchain (such as Ethereum), CoinxPad provides access to many blockchains, including Binance Smart Chain, Ethereum, Polkadot, Solana, Avalanche, and more. It makes it easier for investors to find the most promising projects across multiple networks and maximize their investment potential.
Ignition
The PAID network of
the Ignition IDO platform
was launched in January 2021, providing launchpad token holders with access to public and private sales on the PAID blockchain. This platform features a decentralized swapping protocol that leverages both Polkadot technology and the PAID network.
Investors gain access to an international audience and benefit from Polkadot's support and community-building resources. Additionally, projects on the PAID network can take advantage of the platform's global reach and leverage Polkadot's ecosystem to grow their communities and promote their initiatives. Ignition represents an innovative and inclusive approach to launching new blockchain projects and attracting investment.
List Your Project With Top IDO Launchpads 2023
IDO launchpads continue to be one of the best ways for crypto projects to launch and list their tokens, providing access to funding and a wider audience. As the crypto industry evolves, projects must remain competitive and strategic in their approach to token launches. Crypto projects can make informed decisions that align with their specific needs, with the help of the top 10 IDO launchpads outlined in this article.
Navigating the complexities of token listings can be daunting, which is where the
FINPR Agency
comes in. With our expertise in listing services, FINPR can assist crypto projects in successfully navigating the listing process, ensuring the projects have the resources they need to thrive in the dynamic world of cryptocurrency.
By working with FINPR, crypto projects can focus on developing innovative solutions and creating value for their users, while leaving the complexities of token listing to the experts. Check more information about
FINPR listing services here
.