Nowadays tech startups are at the forefront of innovation, driving change and introducing groundbreaking solutions to age-old problems. However, even the most revolutionary product or service can fall by the wayside if it doesn't reach its intended audience or fails to resonate with stakeholders.
As tech startups navigate the challenges of market entry and growth, having a robust PR strategy, backed by the right PR agency for startups that offers top-notch PR services, can be the difference between fading into obscurity and becoming the next big thing in the tech world.
5 Leading PR Firms for Tech Startups
1. Vitis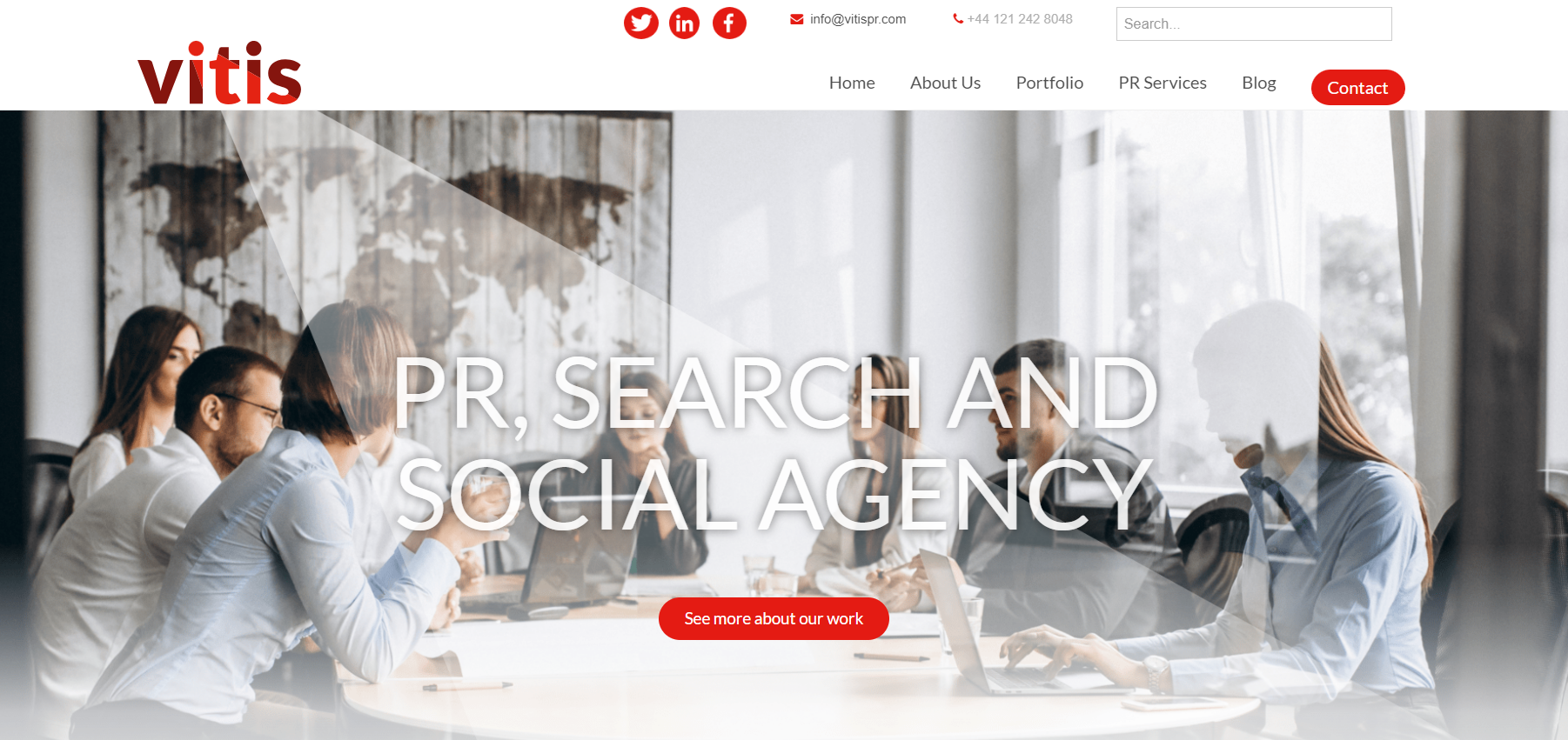 Vitis PR is a multi-award-winning UK public relations agency with a specialization in B2B PR and B2B technology PR. Their clientele ranges from startups and small businesses to listed companies, all of whom benefit from Vitis PR's experienced all-senior PR, SEO, and social team. This team is not only passionate about their work but also dedicated to executing successful, profile-building campaigns that effectively reach both consumer and business audiences.
Vitis offers a diverse range of services to cater to the unique needs of technology clients. Their technology PR agency team has experience in crafting integrated PR campaigns that encompass media and analyst relations, events, search, and social media. Additionally, they provide stand-alone services such as award entry preparation and case study writing. The agency understands the rapid pace of the tech world and ensures that its PR campaigns are equally dynamic and impactful. They also recognize the challenges faced by technology professionals in today's competitive market and leverage PR to enhance brand visibility, share positive customer stories, maintain a strong media presence, and ensure that all communications positively elevate the brand's profile.
What sets Vitis apart is its team of technical experts who can adeptly translate complex engineering or scientific language into compelling messages that resonate with trade media and a broader audience. Over the years, they have fostered strong relationships with technology, business, national, and regional media, consistently securing significant media coverage for their clients. Their extensive portfolio showcases their work with numerous technology clients, further cementing their reputation as a leading PR agency in the tech sector.
Priority activities:
Delivering high-impact search, and social campaigns tailored for technology, telecoms, and high-growth companies
Expertise in B2B and B2C technologies, including IT security, telecoms network infrastructure, software testing, web conferencing
Contacts:
2. FINPR
FINPR
stands out as a premier crypto PR agency dedicated to offering strategic public relations services tailored for crypto brands. With its roots in Dubai, FINPR has been serving clients from diverse regions, including the U.S., Europe, Asia, and MENA. The agency has made significant strides in the PR and marketing domain, assisting over 500 crypto, NFT, DeFi, Metaverse, and fintech startups worldwide. The expansive reach in the crypto media landscape is evident from their impressive portfolio, boasting over 300 media outlets spanning 15 languages.
FINPR's proficiency in PR publications is unmatched, having executed publications for over 200 clients since 2017. Whether it's copywriting for blockchain technology or promoting a cryptocurrency startup in renowned media outlets like Cointelegraph and NewsBTC, FINPR has it covered. Personal branding and editorial publications are other areas where FINPR shines, helping clients build a personal image and securing organic publications in various media sectors.
Understanding the importance of a solid digital marketing strategy, FINPR crafts customized plans that enable crypto companies to stand out, raise awareness, and attract potential stakeholders. The agency's approach is collaborative, beginning with a thorough analysis of the client's project, followed by extensive market research and competitor evaluation. By integrating the latest trends and understanding the unique needs of the Web3 landscape, the agency ensures that its clients not only differentiate themselves from competitors but also achieve significant brand awareness and investor attraction. FINPR is one of the
best cryptocurrency marketing companies
, so implementing innovative strategies is the best choice.
Priority activities:
Influencer marketing, community management, crypto SEO, and communication strategy.
Market research, brand positioning, and social media marketing plans
Contacts:
E-mail: info@finpr.agency
Telegram: @finpr_agency
3. Edelman
Edelman stands as a global communications powerhouse, partnering with businesses and organizations to evolve, promote, and safeguard their brands and reputations. With a commitment to earning trust through effective communication, Edelman's influence spans across various sectors, showcasing their versatility and adaptability in the ever-changing world of public relations. Their portfolio is a testament to their expertise, featuring collaborations with renowned brands like TAZO, Viatris Korea, and Sanofi. These partnerships highlight Edelman's ability to craft compelling narratives that resonate with audiences worldwide.
In the realm of technology, Edelman recognizes the profound impact it has on our daily lives and the innovations it drives globally. Edelman's technology division is equipped to navigate this dynamic landscape, assisting clients in becoming agenda-setters, scaling their communications, and reaching influential C-Level audiences. Their track record includes transformative campaigns for giants like Netflix, PayPal, and eBay, emphasizing their prowess in creative storytelling and strategic communication. Whether it's transitioning products into companies or evolving companies into entire ecosystems, Edelman's approach is holistic, ensuring clients maintain their unique identity while adapting to the demands of the tech industry.
Edelman's deep-rooted understanding of trust and its significance in today's world sets them apart. Their approach to technology is multifaceted, helping tech companies bolster their brands and reputation while addressing the challenges and opportunities that come with rapid technological evolution. Their team, comprising over 700 practitioners across nearly 40 countries, offers a blend of expertise that caters to both startups and Fortune 500 companies.
Priority activities:
Contacts:
4. 5WPR
Established in 2003, 5WPR stands as a full-service PR agency that has carved a niche for itself by partnering with a diverse range of brands, from emerging startups to established corporations. Whether it's a consumer company, a global interest, or a high-profile individual, 5WPR's mission is to assist them in defining and achieving their strategic PR aspirations. Operating independently, the agency boasts a team of over 300 dedicated public relations and digital PR experts. Based in the media epicenter of North America, New York City, 5WPR offers fully integrated campaigns that resonate with audiences globally.
5WPR's accolades speak volumes about their dedication and leadership in the PR industry. With multiple American Business Awards under their belt, including being named Agency of the Year thrice, their commitment to excellence is evident. Their digital media expertise encompasses Social Media, Influencer Marketing, and SEO, showcasing their adaptability in the digital age. Whether it's launching a product, steering a campaign, or building a global reputation, 5WPR's approach is always innovative, resourceful, and result-driven.
At the heart of 5WPR's success is their belief that there's no one-size-fits-all strategy. Every client's needs are assessed individually, and the team crafts proactive public relations, digital media, and influencer campaigns tailored to those needs. In a world where information is abundant and news travels rapidly, 5WPR aids clients in navigating the ever-evolving media, business, and consumer terrains. Their approach is rooted in creating engaging narratives and powerful stories, ensuring that clients not only stand out but also build lasting relationships based on trust and respect with their stakeholders.
Priority activities:
B2C sectors like Beauty, Fashion, Entertainment, and Technology
B2B domains such as Corporate Communications, Reputation Management, and Crisis Communications
Contacts:
5. Babel
Babel is a global communications agency that prides itself on its deep expertise across various sectors, including marketing, adtech, and fintech. With a clear mission to help businesses communicate effectively in a rapidly evolving digital landscape, Babel offers a range of services tailored to the unique needs of its clients. Their approach is rooted in understanding the nuances of each sector, ensuring that their strategies are not only effective but also relevant.
In the realm of online marketing and advertising technology, Babel stands out with its dedicated approach to helping startups navigate the complexities of the industry. Recognizing the challenges posed by an increasingly competitive market, Babel offers services that aim to elevate brands and ensure they remain front of mind for their target audience. Their strategies encompass creating unforgettable content, leveraging data-driven PR techniques, and utilizing proprietary media analysis tools to provide actionable insights. Babel's commitment to delivering measurable results ensures that their clients can understand the impact of their campaigns and refine their strategies accordingly.
They recognize the rapid changes occurring in the financial services industry, driven by regulatory shifts and technological innovations. Babel's approach to fintech PR is holistic, encompassing everything from strategic messaging and brand positioning to media relations and content marketing. They emphasize the importance of cutting through the noise and hype, ensuring that their clients' messages resonate with key stakeholders. With a focus on delivering tangible results, Babel employs industry-leading analytical tools to measure campaign effectiveness, from share of voice to website traffic and sales leads.
Priority activities:
The main expertise extends to the fintech sector, where Babel has demonstrated a keen understanding of the challenges and opportunities present.
Contacts:
E-mail: enquiries@babelpr.com
The Role of Digital PR in Today's Tech World
Public Relations is about managing perceptions and building mutually beneficial relationships between an organization and its stakeholders. It involves crafting and disseminating messages that shape public opinion, enhance brand image, and foster trust.
For technology companies in 2023, this story revolves around their unique value proposition, the problems they aim to solve, and the impact they wish to make in the market. PR strategies for tech startups need to be agile, adapting to the changing landscape and the startup's growth stages. Effective PR strategies can:
Boost Visibility: In a saturated market, standing out is crucial. PR helps startups gain media coverage, putting them in the spotlight and ensuring they are noticed by potential investors, partners, and customers.
Build Credibility: For new entrants in the tech industry, establishing trust is paramount. By securing positive media mentions and endorsements, startups can position themselves as reliable and trustworthy entities in their domain.
Facilitate Growth: PR can play a pivotal role in a startup's growth trajectory. By creating a positive buzz and fostering strong relationships with stakeholders, startups can attract funding, forge strategic partnerships, and expand their customer base.
While the foundational principles of PR remain consistent, the approach for tech startups is distinct. Tech startups often deal with complex products or solutions. PR for these startups involves breaking down this complexity into digestible messages for the masses. The tech world is ever-evolving. From tech enthusiasts and potential users to investors and industry experts, tech startups cater to a diverse audience. Tailored Tech, Web3, or another innovative
PR campaign
is essential to address the varied interests and concerns of these stakeholders.
Not all PR firms are created equal, especially when it comes to representing tech startups. The nuances of the tech industry, combined with the unique challenges and aspirations of startups, require a specialized approach. Here's why choosing the best PR agencies is crucial:
Industry Expertise: A PR firm that understands the tech ecosystem can craft messages that resonate with the target audience, ensuring that the startup's story is not only heard but also understood and appreciated.
Customized Strategies: The right PR firm will recognize that a one-size-fits-all approach doesn't work for tech startups. They will tailor their strategies to align with the startup's goals, market positioning, and target audience.
Long-term Vision: A good PR firm will not just focus on short-term gains. They will work towards building a lasting brand image for the startup, ensuring sustained media attention and stakeholder engagement.
Bottom Line
As the tech world continues to evolve and grow, the role of Digital PR becomes even more paramount. Tech startups, with their unique challenges and opportunities, require a nuanced PR approach, making the choice of the right PR firm all the more critical.