You already know that blockchain connects technology with trust. This synergy is leading to a decentralized future and changing the way data is distributed. Meanwhile, content distribution services play an important role in this area. As blockchain technology continues to adapt and grow, it's beginning to expand and redefine old systems, including media content distribution.
This decentralized model is already relevant for blockchain-based solutions such as cloud storage, payment processing, and cybersecurity. Increasingly, however, the technology also plays a key role in the content distribution arena.
The traditional model of content distribution favors distributors over creators and is a space riddled with piracy. Decentralized storage and sharing of content provides security and access to content from multiple locations, protecting it from unauthorized access.
And of course, to distribute your Web 3 content, it's worthwhile to turn to dedicated teams that have expertise in
crypto public relations
. Such firms know the resources, the sources where you can direct your content to distribute and engage your target audience. Below, let's take a look at blockchain content distribution services, explore their features, and understand how they differ from each other.
8 Best Crypto Press Release Distribution Services & Content Distribution Platforms
1. FINPR
Well, let's start with our TOP1 agency on our list.
FINPR
stands out as a leader in expertise and innovation. The firm's team truly creates new directions by utilizing established digital marketing techniques. FINPR's strategic approach is based on a strong commitment to smart and effective digital marketing strategies.
FINPR can help you lead the industry by building brand awareness and creating a strong identity. They are seasoned sailors in these often tumultuous seas, ensuring your token doesn't just float but sails smoothly amidst a sea of over a thousand tokens in circulation. Their approach is not just about making noise but orchestrating a symphony of strategically placed, SEO-optimized content across crypto, business, and tech media, ensuring your message doesn't just reach, but resonates with the audience.
With a treasure trove of over 450+ publication options across various media, and having crafted over 1500+ unique publications for 250+ clients since 2017, FINPR doesn't just tell your story, they etch it into the blockchain narrative in a way that's both memorable and impactful. The agency has extensive experience in digital projects and has worked with many Web3 startups within content distribution. FINPR is also among the
best blockchain consulting companies
. Believe me, they know exactly the latest nuances of the new digital world and will definitely find an approach to your request.
Domain creation year:
Contacts:
E-mail: info@finpr.agency
Telegram: @finpr_agency
2. Cision
Have you heard anything about Cision agency? Cision reaches the people you want to talk to - journalists, influencers, and your target audience. Think of your news story with Cision not just as a press release, but as a carefully crafted message, launched into the industry's biggest and most-used news distribution network via their star service, PR Newswire. This is about boosting your social media shares and pulling in more engagement and responses from all the relevant folks.
Let's dig a bit deeper. Cision does more than just distribute your news. It ensures your stories land in over 440,000 newsrooms, direct feeds, and subscribers, which includes 270,000 journalists and influencers, not to mention 9,000+ websites and digital media outlets. With a legacy that boasts over 65 years of innovation, Cision has revolutionized the newswire, ensuring your story benefits from its vast experience in guiding clients and breaking some of the biggest news globally.
What's more, their Guaranteed Paid Placement makes sure your
crypto press release
appears as a native article in top-tier online publications that your target audience knows and trusts, giving you more control over your brand's narrative and boosting exposure and engagement among the readers you're trying to reach.
Domain creation year:
Contacts:
3. eReleases
eReleases is a steadfast ally in the bustling realm of digital marketing, especially for small businesses. With a track record spanning over two decades, eReleases has honed a unique strategy to not just disseminate your press releases but also to ensure they capture attention. They boast a robust database of more than 1.7 million reporters and social media influencers, assuring a staggering 94% delivery rate to meticulously chosen experts across various markets.
Over the years, eReleases has cultivated relationships with reporters, bloggers, and social media mavens, ensuring that press releases find their way to those who will find them most relevant. Notably, they are the sole partner of Cision PR Newswire, a press release newswire that guarantees exposure and nationwide distribution.
Recognizing that only some people are PR experts, eReleases provides a team of seasoned editors, all with journalistic backgrounds, to offer guidance instead of employing a sales-focused approach. These editors provide invaluable insights to amplify the headlines and content for the utmost impact. Their goal isn't to upsell but to ensure each press release surpasses industry benchmarks. eReleases is devoted to ensuring your news makes the impactful splash it warrants.
Domain creation year:
Contacts:
4. BlockchainPRdistribution.io
In the rapidly changing world of blockchain and cryptocurrency, Blockchain PR Distribution is a key player, offering a variety of press release distribution solutions designed for blockchain businesses, cryptocurrency ventures, NFTs, fintech startups, Web3, metaverse, and gamefi projects. With 6 years of experience in Crypto PR Distribution under NewswireNEXT, they have built an extensive network of partners, publications, and editors worldwide.
They aim to provide potent and guaranteed press release services at the most competitive prices. Blockchain PR Distribution doesn't just send press releases. It ensures that your message gets through all the noise online and reaches the right people. They strategically place your narrative to make sure it doesn't just get heard but has an impact on the blockchain and crypto communities.
With a set of services that assure dissemination on almost 800 news sites related to blockchain, finance, and business, they integrate it into the core of digital conversation, so your message isn't just seen, but also remembered and acted upon.
Domain creation year:
5. PR Web
PR Web crafts a narrative, propelling your brand's online presence across diverse channels, ensuring your story is not just disseminated but also seen and heard. The platform is potent, allowing you to effortlessly upload content, display engaging visuals, and underscore key messages. This ensures your narrative is not only compelling but also reaches the right audience.
Your story is dispatched to various websites, journalists, bloggers, search engines, and social media networks through their expansive distribution network, securing it widespread exposure. Comprehensive reports allow you to evaluate the effectiveness of your communications. They help you strategize the next steps by providing reliable data. In-depth analysis provides a detailed view of the impact of your online story. Accurate metrics will help you organize future campaigns.
PR Web supports your brand by providing assistance, content validation, and comprehensive guidance. With them, your releases are not only sent out but can gain recognition in the digital space.
Domain creation year:
Contacts:
E-mail: editorial@prweb.com
6. Business Wire
Maybe you are looking for an established team with great credibility in the area? Imagine having a super important message and wanting to make sure it doesn't just float aimlessly in the vast ocean of the internet. That's where Business Wire comes in! They've been around for over 60 years, helping businesses like ours get our news straight to the people we want to reach - be it journalists, influencers, or specific audiences.
They're part of the Berkshire Hathaway family, so they've got solid backing! Business Wire isn't just about throwing your news out there. It's more like crafting a path, making sure your news gets to the right spots and sticks around, creating a buzz in all the right circles.
They offer a bunch of services that help get your message across specific markets, industries, and platforms. They've got connections with over 440,000 newsrooms and subscribers, including 270,000 journalists and influencers.
Domain creation year:
Contacts:
E-mail: media@businesswire.com
7. GlobeNewswire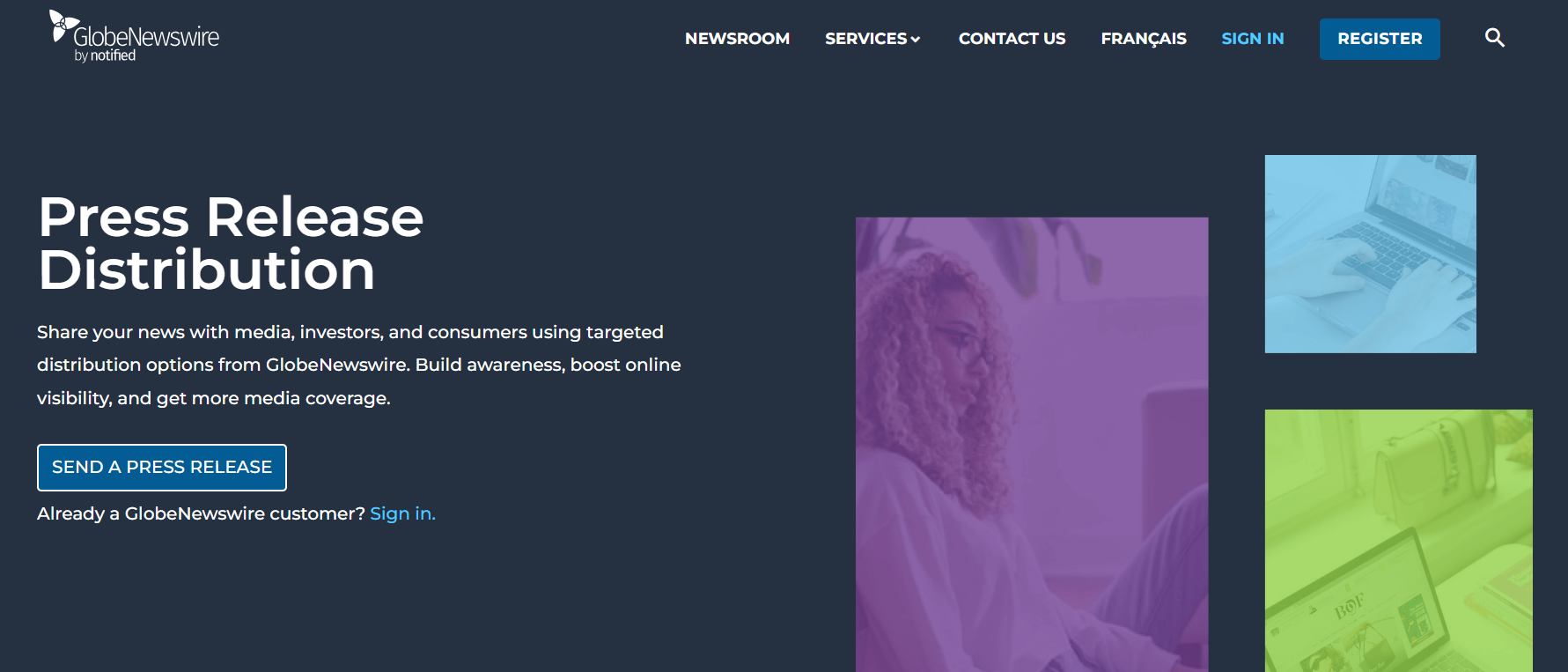 Picture a platform that doesn't just dispatch your press releases but assures they pinpoint exactly where they should. That's the scenario here. GlobeNewswire ensures your announcements navigate smoothly to the right spots.
With a reach spanning 158 countries and content available in 35 local languages, your news is strategically positioned in over 1,000 newslines, ensuring it reaches the right demographics, regardless of their geographical or industry positioning. GlobeNewswire isn't just about propelling your press releases into the digital realm.
They've got this nifty feature, Media Snippets, that truly elevates your stories. It makes them more dynamic and engaging. Imagine being able to embed vibrant content like infographics, PDFs, audio, and video directly into your releases. And with their editing and translation services, you can rest easy knowing your news is well-crafted and also a breeze for a global audience to enjoy.
Domain creation year:
Contacts:
E-mail: support@globenewswire.com
8. HARO
What are we having for dessert? Diving into the world of HARO (Help A Reporter Out), it's a platform that flips the traditional press release distribution model upside down and shakes it for good measure! HARO has journalists coming to you, seeking your stories and insights to enhance their articles. It's a bustling marketplace where reporters are on the hunt for juicy, relevant tidbits from organizations like yours, especially in dynamic, ever-evolving sectors like blockchain and cryptocurrency.
The platform offers various packages, some of which are incredibly budget-friendly, and even a basic, free service. This could be a golden ticket for ICO, Blockchain, and Crypto companies since these rapidly trending industries often captivate reporters, potentially leading to more visibility for brand.
HARO provides that stage where your blockchain content distribution service isn't just seen but is actively desired by journalists. It's not merely about distributing press releases; it's about creating narratives that weave into the larger tapestry of the blockchain and crypto world, making your brand an integral thread in that story.
Domain creation year:
Contacts:
E-mail: info@helpareporter.com
Emergence of Blockchain in Content Distribution
Currently, the media content distribution model is: a creator produces a piece of work, an intermediary takes it, hosts the product, and sells advertising space, taking a cut for their work. The creator then gets a reduced sum, even if posted on free platforms like YouTube. Even through a legitimate distributor, this doesn't ensure their product won't be pirated and shared for free.
The emergence of blockchain technology has disrupted various industries, and content distribution is no exception. Blockchain has found innovative applications in the world of digital content distribution. This disruptive technology offers a decentralized and transparent approach to managing and delivering digital content, revolutionizing the way content creators, distributors, and consumers interact with digital media.
Content Security and Copyright Protection: Blockchain provides a robust solution for content security and copyright protection. By storing digital rights information and ownership details on a decentralized ledger, content creators can prove ownership and track the distribution of their work more effectively. This eliminates the need for intermediaries and reduces the risk of content piracy, ensuring that creators receive fair compensation for their intellectual property.
Transparent Royalty Payments: One of the persistent challenges in the entertainment industry has been the opaque royalty payment system. Blockchain technology enables transparent and automated royalty payments through smart contracts. These self-executing contracts can be programmed to distribute royalties to content creators based on predefined rules and usage data. This ensures that artists, musicians, and other content creators receive their fair share of earnings in real-time.
Decentralized Content Distribution: Traditional content distribution networks (CDNs) often rely on centralized servers, making them vulnerable to downtime, censorship, and data breaches. Blockchain-based content distribution services offer a decentralized alternative. Content is stored across a network of nodes, ensuring high availability and improved resilience against cyberattacks. This approach also reduces the cost of infrastructure maintenance.
Global Accessibility: Blockchain content distribution services can facilitate global accessibility to digital content. Through decentralized networks, content can be made available to a global audience without the need for intermediaries or regional restrictions. This not only expands the reach of content creators but also ensures that consumers have access to a wider variety of content.
Micropayments and Tokenization: Blockchain enables micropayments, allowing consumers to pay for content on a per-usage or per-view basis. Content creators can tokenize their work, representing it as digital assets on the blockchain. This tokenization can create new revenue streams, as tokens can appreciate in value as demand for the content increases.
Content Monetization and Crowdfunding: Content creators can leverage blockchain to monetize their work in novel ways. They can issue their own tokens and use blockchain-based crowdfunding platforms to raise capital for new projects, offering supporters a stake in their creative endeavors. This democratizes the funding process and allows fans to become stakeholders in the success of their favorite artists.
Data Privacy and Control: With blockchain, users can have more control over their personal data. They can decide what information they want to share with content platforms, and they can be assured that their data is stored securely on the blockchain. This increased data privacy can be especially appealing to consumers who are concerned about data breaches and misuse.
Reduced Fraud and Ad Transparency: In the realm of advertising and sponsored content, blockchain can enhance transparency and reduce fraud. Advertisers can track the effectiveness of their campaigns in real-time, ensuring that their budgets are being used efficiently. Additionally, blockchain can eliminate ad fraud by providing an immutable record of ad impressions and clicks.
Blockchain technology has found ways to fill in the gap and essentially cut out the middleman. Creators have the ability to register, license, and distribute their content themselves.
This allows the creators to earn a fair valuation through selling licenses directly to their audience and through the blockchain, it makes the transaction transparent and secure, and therefore harder to pirate.
The key is to make the transaction between creator and audience as easy as possible without the hassle of third parties, straightening up the overall distribution process and subsequently disrupting digital pirates.
Covering Questions That We Might Not Covered
A. What Exactly is Blockchain Content Distribution?
It is a decentralized approach to content distribution. It ensures transparent and secure delivery of every piece of data, and bit of content without the control of a centralized authority.
The traditional model of content distribution tends to favor distributors over creators. Blockchain technology may eventually level the playing field, turning the tables.
In return for security, posting, and distribution, users of services like YouTube allow the company to profit from their content. While YouTube stars can earn a healthy living from attracting viewers to their channel, there is no doubt that many of the profits don't end up in their pockets.
It might not seem like a bad deal to some; however, YouTube is an immensely popular destination on the internet and gives creators a reliable, high-volume platform for free. They also handle the logistics required for creators to simply focus on what they do best: create. Blockchain is turning the tables on this model.
B. Can Blockchain PR Distribution Services Truly Make Content Distribution More Secure and Transparent?
Yes. Blockchain, with its decentralized ledger and cryptographic protection, ensures that every piece of content is distributed securely. Every transaction and every transfer of content is recorded and verified by all stakeholders. No one can interfere, or block. All data is stored on a universal network.
Blockchain-based solutions also have all essential security needs covered. Because of its network nature, blockchain is impervious to hackers who can only reach a single node and not affect functionality for a whole network. Thanks to decentralized hosting and encryption, the system is entirely self-sustained.
C. How Much Do Top Crypto and Blockchain Content Distribution Services Offer Cost?
Prices for blockchain-based content distribution services can be as varied as the blockchain itself. Prepare to spend anywhere from $500 to an impressive $20,000. But don't be disheartened, because such a wide range reflects the sheer number of services and benefits. And many companies can provide you with different pricing options and packages, which means more flexibility for your content company.
From startups to established businesses, there is something for everyone. It all depends on what questions you approach the agency with, what your goals are, what your scope is.
Final Takeaways
The online content-sharing space has transformed in recent years, and blockchain has played a critical role in these changes. It's important to realize that choosing a blockchain-based content distribution service is an asset.
It was really not easy to compile this list. Considering the field is quite highly specialized. Nevertheless, the agencies listed really have expertise, know what to do for your content.
Just remember that your message, delivered through the right channels, can not only inform but also inspire, turning observers into believers and believers into supporters.