Navigating through the electrifying realm of cryptocurrency trading? Here is your go-to guide through the bustling corridors of 2023 best crypto discord servers, a hotspot where traders, both seasoned and new, exchange real-time insights and strategies in the cryptosphere.
We'll unravel the pivotal role of these virtual hubs in informed trading and explore the communal spirit that binds them. From spotlighting noteworthy communities, and leveraging platforms for effective trading, to safeguarding against online pitfalls - we've got it all covered, providing a guiding light for both beginners and experienced traders. Let's dive in and explore together!
10 Best Discord Communities for Trading Insights in 2023
1. Elite Crypto Signals
Elite Crypto Signals, a prominent crypto Discord server, provides a platform for cryptocurrency enthusiasts and traders to converge, sharing insights, signals, and discussions related to the dynamic world of crypto trading. The server offers various channels that cater to different aspects of crypto trading, including signals, news, and general discussions. The signals provided by the crypto Discord server are particularly noteworthy, as they guide traders on potential profitable trading opportunities, offering insights into market trends and possible future price movements. Moreover, the server provides a space for traders to discuss various cryptocurrencies, their performances, and potential investment opportunities, thereby fostering a community where knowledge and insights are shared among its members.
In addition to providing trading signals, Elite Crypto Signals also offers educational content aimed at enhancing the trading skills and knowledge of its members. This includes information on reading and interpreting trading signals, understanding market trends, and making informed trading decisions. The crypto Discord server also provides a platform for users to discuss the latest news and developments in the cryptocurrency world, ensuring that members are always abreast of events that might influence market movements. With a focus on creating an informed and collaborative trading community, Elite Crypto Signals stands out as a valuable resource for both novice and experienced crypto traders alike.
Server link:
Members:
2. Axion Crypto-Community
The Axion Crypto-Community stands out as a stellar choice for crypto enthusiasts navigating the bustling world of cryptocurrency trading on Discord. With a robust membership that spans various expertise levels, Axion has cultivated a space where both novice and seasoned traders can converge to share insights, discuss strategies, and explore the multifaceted domain of crypto trading. The community prides itself on fostering an environment that is not only informative but also supportive, ensuring that members are well-equipped with the knowledge and resources they need to make informed trading decisions.
In the Axion community, members are treated with familial warmth, creating a conducive atmosphere for open discussions about trades, investments, and the ever-evolving crypto market trends. Notably, the group has garnered acclaim for its premium trade signals, which meticulously detail entry and exit points for various trades, thereby providing a roadmap for potentially lucrative investment journeys. Moreover, Axion ensures that its members are not left in the dark when it comes to executing trades and investments, offering guidance and expert analysis that illuminate the often complex pathways of crypto trading. With a dedicated VIP section for subscribers and a learning corner brimming with insightful trading guides, Axion doesn't just facilitate trading. It educates its members, arming them with the acumen to navigate the crypto trading space with confidence and foresight.
Server link:
Members:
3. Cryptohub
Cryptohub emerges as a beacon of knowledge and community spirit in the expansive universe of cryptocurrency trading on Discord. Tailoring its content and discussions to cater to a wide array of traders, from curious beginners to seasoned experts, Cryptohub has successfully established a platform where information is not just shared but also validated and discussed in depth. With a member base that is both diverse and engaged, newcomers to the crypto world will find a wealth of information on cryptocurrencies, exchanges, NFTs, and beyond, all while being supported by community members, each bringing their unique insights and experiences to the table.
Diving deeper into the offerings of Cryptohub, members are greeted with a plethora of resources and tools designed to elevate their trading journey. Trade signals, a crucial aspect of informed trading, are shared with members, providing them with insights into potential entry and exit points in the market. Cryptohub ensures that members are equipped with the knowledge to utilize them effectively, offering a range of guides and updates from across the crypto market. With a dedicated section for
Web3 campaigns
and career opportunities, and a commitment to directing members towards reliable crypto communities and exchanges, Cryptohub stands out as not just a community, but a comprehensive resource for all things crypto.
Server link:
Members:
4. r/Cryptocurrency
Navigating through the vast and often tumultuous seas of cryptocurrency, r/Cryptocurrency has established itself as a lighthouse for traders and enthusiasts alike, both on
Reddit
and its dedicated crypto Discord server. With a staggering membership that exceeds 6 million on Reddit, this community has become synonymous with in-depth, insightful discussions regarding the latest developments, innovations, and occurrences within the crypto sector.
In the r/Cryptocurrency Discord server, members are welcomed into a space that is as informative as it is engaging. Whether you're exploring the realms of crypto trading, delving into the mechanics of mining, staying abreast with the latest news, or navigating through the intricate webs of decentralized finance, the crypto Discord server offers a platform where information is not just shared, but also scrutinized and debated, ensuring a comprehensive understanding of topics discussed. The server is not merely a repository of knowledge but also a space where live events, AMAs (Ask Me Anything sessions), and various other interactive sessions are hosted, providing members with direct access to experts and seasoned traders in the field. From beginners to seasoned traders, r/Cryptocurrency stands out as a holistic resource, offering insights, discussions, and a community that is both supportive and enlightening.
Server link:
Members:
5. Cryptex Commonwealth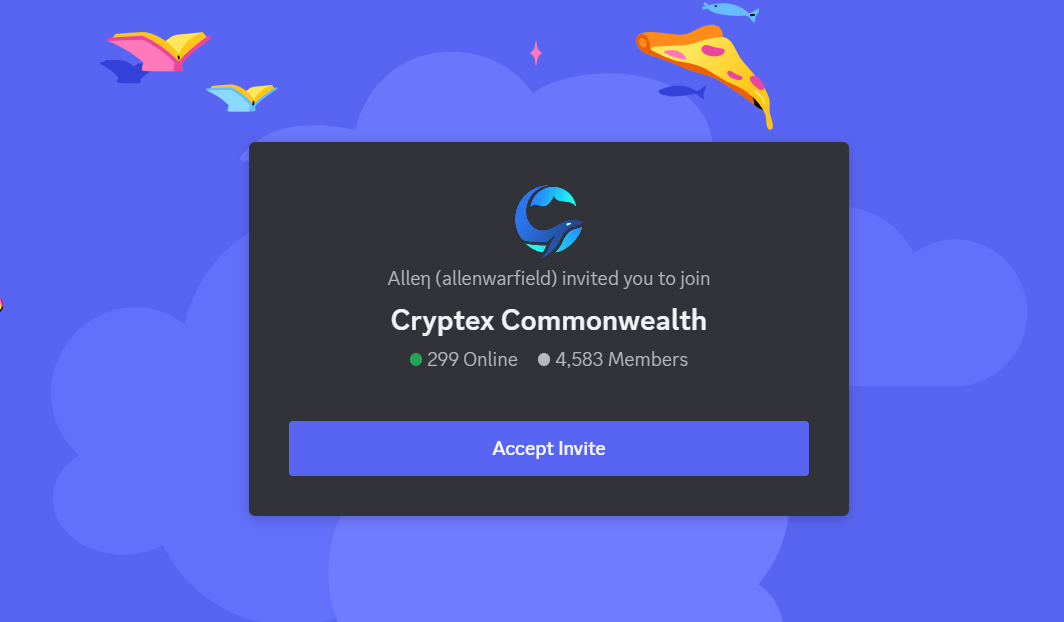 Cryptex Commonwealth emerges as a sanctuary for investors who are on the hunt for quality projects with a long-term perspective. Tailoring its content and discussions towards identifying and dissecting altcoins and projects that exhibit potential for substantial profitability in the coming years, this Discord group has become a pivotal space for those who prioritize a buy-and-hold strategy. Cryptex Commonwealth does not merely focus on sharing investment opportunities. It also provides its members with trading signals and meticulous technical analysis, ensuring that traders are well-equipped to navigate through the markets and identify opportunities that align with their investment goals.
Distinguishing itself with a unique entry process, Cryptex Commonwealth maintains a community that is both serious and dedicated to long-term investment strategies. Prospective members are asked to pen an introductory cover letter, detailing their background in crypto and their market objectives. This selective criterion ensures that the community is populated with like-minded investors, fostering an environment that is conducive to in-depth, focused discussions on long-term investment opportunities.
Server link:
Members:
6. Cracking Crypto
Cracking Crypto serves as a resourceful hub for those who are keen to delve deeper into the multifaceted world of cryptocurrencies, providing a rich platform for both beginners and seasoned experts alike. With a thriving community, this private server has become a go-to space for individuals who are eager to expand their knowledge and understanding of the crypto space. Members of Cracking Crypto are treated to a wealth of learning materials, including informative videos and detailed trading journals, all designed to enhance their trading acumen and knowledge of cryptocurrency. The crypto Discord server prides itself on being a reliable source of accurate information, ensuring that members are well-informed and equipped to navigate through the often complex crypto markets.
Within the digital walls of Cracking Crypto, members will discover a myriad of subchannels, each dedicated to exploring various topics within the crypto sphere, allowing them to tailor their learning and discussion experiences to suit their interests and needs. From in-depth discussions on the mechanics of cryptocurrencies and blockchain technology to dedicated channels for crypto signals, Cracking Crypto ensures a comprehensive and detailed exploration of all things crypto.
Server link:
Members:
7. Spacestation
Embarking on a journey through the cosmos of cryptocurrency, Spacestation has solidified its position as one of the venerable crypto Discord servers, having been founded in 2017 during a period when the crypto market was still in its nascent stages. Initially conceived as a community focused on Ethereum, Spacestation has since expanded its horizons to encompass a myriad of topics within the cryptocurrency sphere. For many Ethereum users, especially in the wake of pivotal developments like The Merge, which transitioned Ethereum from a proof-of-work to a proof-of-stake mechanism, Spacestation remains a pivotal platform for discussions, solutions, and innovations within their sector.
Spacestation not only offers a rich tapestry of discussions and insights into the world of cryptocurrency but also provides members with the unique opportunity to interact with some of the earliest movers and seasoned members of the crypto community. The crypto Discord server, while retaining its roots in Ethereum discussions, has blossomed into a comprehensive platform where nearly every facet of cryptocurrency is explored and discussed. From miners to developers, from seasoned traders to curious enthusiasts, Spacestation provides subchannels that cater to a wide array of interests and topics within the crypto world. It stands as a testament to the evolution and growth of the cryptocurrency community, offering a space where knowledge, experience, and enthusiasm converge in a vibrant and dynamic environment.
Server link:
Members:
8. Crypto Nation
Crypto Nation, while being one of the relatively newer entrants in the crypto Discord server space, has swiftly ascended as a burgeoning platform, currently exhibiting a rapid growth trajectory. This server has carved out a niche as a welcoming space, particularly for beginners navigating through the intricate corridors of the crypto sector. Members can immerse themselves in a sea of knowledge, interacting with one another and absorbing insights from experts about the multifaceted world of cryptocurrency. From detailed reviews of various crypto platforms to comprehensive how-to guides, Crypto Nation serves as a pivotal starting point for those who are earnest about delving into crypto trading but seek a supportive and informative environment to kickstart their journey.
In addition to being a repository of knowledge, Crypto Nation also distinguishes itself by offering a myriad of unique features, such as its crypto calendar, which highlights pivotal upcoming events in the crypto universe. The server is not merely a platform for discussion but also a comprehensive educational resource, with sections dedicated to elucidating everything from the foundational aspects of blockchain to the nuanced indicators of technical analysis. With automated channels that track whale movements, aggregate crypto news, and share periodic altcoin reviews, Crypto Nation ensures its members are perpetually in the loop, providing reliable and thorough coverage of the crypto market. Whether you're seeking to stay updated with market news or desiring to deepen your understanding of crypto, Crypto Nation emerges as a compelling choice to consider.
Server link:
Members:
9. r/Wallstreetbets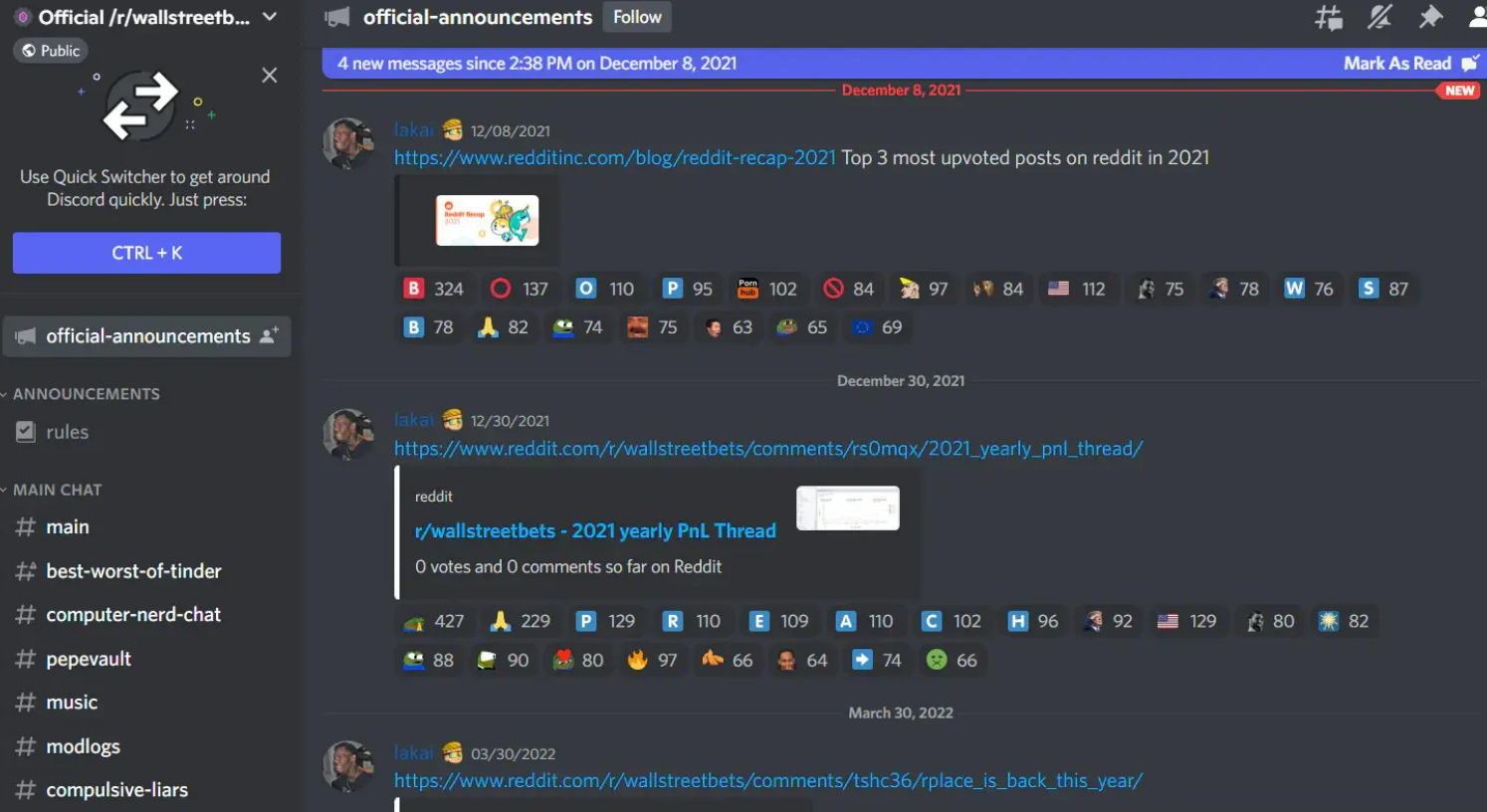 r/Wallstreetbets, often recognized for its unorthodox and rebellious approach toward traditional finance and investment strategies, has carved out a unique space in the world of Discord cryptocurrency groups. The server, which did not gain its popularity through conventional crypto market plays, instead catapulted into the limelight by identifying and exploiting vulnerabilities in Wall Street's strategies. The beginning of 2021 saw the group making headlines as GameStop and its investors, propelled by the collective actions of r/Wallstreetbets, managed to throw a wrench into the plans of Wall Street investors, showcasing the power of coordinated retail investing and turning the spotlight onto this dynamic group.
Now standing as one of the largest crypto-related servers on Discord, with a staggering membership exceeding 500,000, r/Wallstreetbets is a melting pot of discussions that span across cryptocurrency trends, market dynamics, and strategies aimed at leveraging retail funds to counteract hedge fund short-sellers. The server is a space where the lines between traditional finance and cryptocurrency blur, offering members a plethora of subchannels that delve into both domains. r/Wallstreetbets offers a unique, albeit polarizing, perspective across both cryptocurrency and traditional finance, making it a fascinating server to explore and engage with.
Server link:
Members:
10. Larva Labs
Larva Labs
NFT discord server
, renowned for its innovative strides in the digital assets space, has established itself as a pivotal server for those keen on staying abreast of the latest trends in the NFT domain. With a robust membership that exceeds 85,000, Larva Labs, since its inception in 2017, has been a beacon of reliable information and groundbreaking projects within the NFT landscape. Members of Larva Labs are privy to a wealth of information, insights, and discussions related to NFTs, making it a must-visit server for anyone looking to explore or deepen their understanding of non-fungible tokens and their impact on the digital art space in 2023.
Dedicated to its art projects such as Cryptopunks, Autoglyphs, and Meebits, Larva Labs has become synonymous with pioneering work in the realm of NFTs. The server serves as a vibrant venue where fans, enthusiasts, and curious minds converge to discuss Larva Labs projects, and access a myriad of resources including press reports and podcasts. No matter if you're a seasoned NFT investor or a newcomer eager to explore the burgeoning world of non-fungible tokens, Larva Labs provides a rich and informative environment where you can uncover NFT news, explore emerging trends, and immerse yourself in a community that is at the forefront of NFT innovation and development.
Server link:
Members:
Final Thoughts About Best Crypto Discord Servers in 2023
All in all, as we draw the curtain on our explorative journey through the dynamic corridors of 2023 best crypto discord servers, we are left with a tapestry of insights, stories, and strategies, each thread weaving a narrative that is as diverse and multifaceted as the crypto market itself.
In the digital alcoves of trading crypto Discord servers, we discovered communities brimming with knowledge, camaraderie, and a shared zeal for navigating the tumultuous seas of crypto trading. From the intricate anatomy of Discord servers, the spotlight on noteworthy communities, to the dark underbelly that lurks in the shadows of online trading forums, our journey has been both enlightening and cautionary.
In the words of the ancient philosopher, Socrates, "The secret of change is to focus all of your energy not on fighting the old, but on building the new." In 2023, As we step into the future of trading, let us build, innovate, and foster communities that not only thrive financially but also ethically and socially.