The ever-evolving landscape of the crypto and blockchain space has been attracting significant interest from various stakeholders. One group that has played a pivotal role in fostering the growth of this industry is venture capital (VC) funds.
These professional investors provide financial backing, strategic guidance, and industry connections to help startups grow and succeed. In the crypto and blockchain sector, VC funds have been instrumental in supporting and driving the development of numerous projects that are shaping the future of finance and technology.
This blog post provides an in-depth look at the top venture capital funds investing in the crypto and blockchain industry, their background, investment strategies, some notable success stories, and their impact on the ecosystem.
10 Best Crypto VC Firms
A16Z Crypto
A16Z Crypto is a venture capital fund that has been investing in crypto and web3 startups across all stages since 2013. The fund is part of Andreessen Horowitz (also known as "a16z"), a private American venture capital firm founded by Marc Andreessen and Ben Horowitz in 2009. The firm's investments span various industries, including mobile, gaming, social, e-commerce, education, and enterprise IT (including cloud computing, security, and software as a service).
A16Z Crypto has been a major player in the crypto space, with a keen focus on backing innovative startups that are pushing the boundaries of decentralized technologies. Some of their notable investments include Coinbase, MakerDAO, Compound Labs, Celo, Dfinity, and Filecoin. By providing financial support and strategic guidance to these companies, A16Z Crypto has helped shape the industry's future landscape.
Paradigm

Paradigm is a research-driven technology investment firm that invests in, builds, and contributes to companies and protocols across various funding stages, with investments ranging from $1M to over $100M+. The firm often gets involved in the earliest stages of a project and continues to support its portfolio companies over time. With a deeply hands-on approach, Paradigm assists projects in reaching their full potential, from the technical (mechanism design, security, engineering) to the operational (recruiting, go-to-market, legal, and regulatory strategy).
Founded by Fred Ehrsam (co-founder of Coinbase) and Matt Huang (former partner at Sequoia Capital), Paradigm has quickly emerged as a leading VC fund in the crypto space. Some of their notable investments include Uniswap, Chainlink, Optimism, and StarkWare. By investing in cutting-edge decentralized technologies and protocols, Paradigm is contributing to the growth and maturity of the crypto ecosystem.
Pantera Capital
Pantera Capital is the first U.S. institutional asset manager focused exclusively on blockchain technology. Founded in 2013 by Dan Morehead (former CFO and Head of Macro Trading at Tiger Management), Pantera has been at the forefront of investing in digital assets and blockchain companies, providing investors with the full spectrum of exposure to the space.
Pantera launched the first cryptocurrency fund in the U.S. when bitcoin was at $65/BTC in 2013. The firm subsequently launched the first blockchain-focused venture fund and, in 2017, became the first to offer an early-stage token fund. As of May 31, 2023, Pantera had $3.5bn in assets under management, with three fund strategies, 75% of deals led (Blockchain Fund), 100 venture investments, 110 early-stage token investments, and 40% of investments outside the U.S.
Some of Pantera's most notable investments include Circle, Ripple, Solana, Bitstamp, Zcash, Brave, and 0x. By investing in a diverse range of crypto and blockchain projects, Pantera Capital has established itself as one of the premier venture capital funds in the space.
Draper Associates
Founded in 1985 by Tim Draper, Draper Associates is a seed-stage venture capital firm that helps entrepreneurs drive their businesses to greatness. Originally established as Tim Draper's personal investment vehicle, Draper Associates opened its doors to outside Limited Partners with the launch of Draper Associates V in 2015.
In the crypto and blockchain space, Draper Associates has made a significant impact by backing promising early-stage startups. Some of their noteworthy investments include Coinbase, Ledger, Tezos, Bancor, and Boost VC – an accelerator program focused on blockchain startups founded by Adam Draper.
As a result of their early involvement and support for disruptive projects in the sector, Draper Associates has played a crucial role in shaping the crypto and blockchain ecosystem.
Polychain Capital

Polychain Capital is an investment firm committed to exceptional returns for investors through actively managed portfolios of blockchain assets. Founded by Olaf Carlson-Wee, the first employee of Coinbase, the firm believes in the emergence of Bitcoin and subsequent blockchain technologies that have generated a new digital asset class based on mathematical properties.
Polychain Capital employs a diverse range of strategies, including active trading, algorithmic market-making, and long-term venture investments. By leveraging deep industry knowledge, technical expertise, and strong relationships with leading crypto projects, Polychain has built a reputation for identifying and investing in high-potential startups.
Some of their notable investments include Compound, MakerDAO, Filecoin, and Algorand. Through their financial support and strategic guidance, Polychain Capital has played an essential role in promoting innovation in the crypto and blockchain space.
Blockchain Capital
Blockchain Capital is a leading venture firm in the blockchain industry, founded in 2013 by Brock Pierce, Bart Stephens, and Brad Stephens. With a primary focus on blockchain-enabled technology companies, Blockchain Capital has been a pioneer in the space and has built a diverse portfolio of investments.
The firm is known for its rigorous investment process, which involves evaluating potential investments based on their technology, team, market opportunity, and business model. By investing in promising projects that are pushing the boundaries of blockchain technology, Blockchain Capital has played a critical role in driving innovation within the industry.
Digital Currency Group (DCG)
Digital Currency Group (DCG) is an investor and operator in the crypto industry that has been investing since 2012. Founded by Barry Silbert with HQ in Sanfrancisco, DCG has made over 200 equity investments, 50+ fund investments, and holds 30+ token & digital asset holdings across a wide range of areas such as payments, privacy, stablecoins, trading tools, platforms, wallets, custody, Web3 infrastructure, banks, blockchains - L1s & L2s, data, analytics, DeFi, enterprise blockchain, exchanges, identity, compliance, security, metaverse, NFTs, and gaming.
By supporting early-stage startups and established companies alike in various facets of the crypto ecosystem, DCG has played a significant role in shaping the industry's growth and development. Some of their notable investments include Coinbase, Chainalysis, BitPay, Blockstack (now Stacks), and Decentraland.
Union Square Ventures (USV)
Union Square Ventures (USV) is a thesis-driven venture capital firm founded in 2003 by Fred Wilson and Brad Burnham. Since its inception, USV has invested in over 100 companies that use the power of the internet to reshape markets. The firm has backed several successful companies, such as Twitter, Tumblr, Etsy, and MongoDB, and has a strong focus on large networks of engaged users, infrastructure for the new economy, and enablers of open decentralized data.
In the crypto and blockchain space, USV has made strategic investments in projects that align with their broader investment thesis. Some of their notable investments in the sector include Algorand, Arweave, Axoni, Circle, Coinbase, Dapper Labs, Filecoin, and Polkadot.
Through these investments, New York-based Union Square Ventures has demonstrated its commitment to supporting innovative startups in the crypto and blockchain industry.
Coinbase Ventures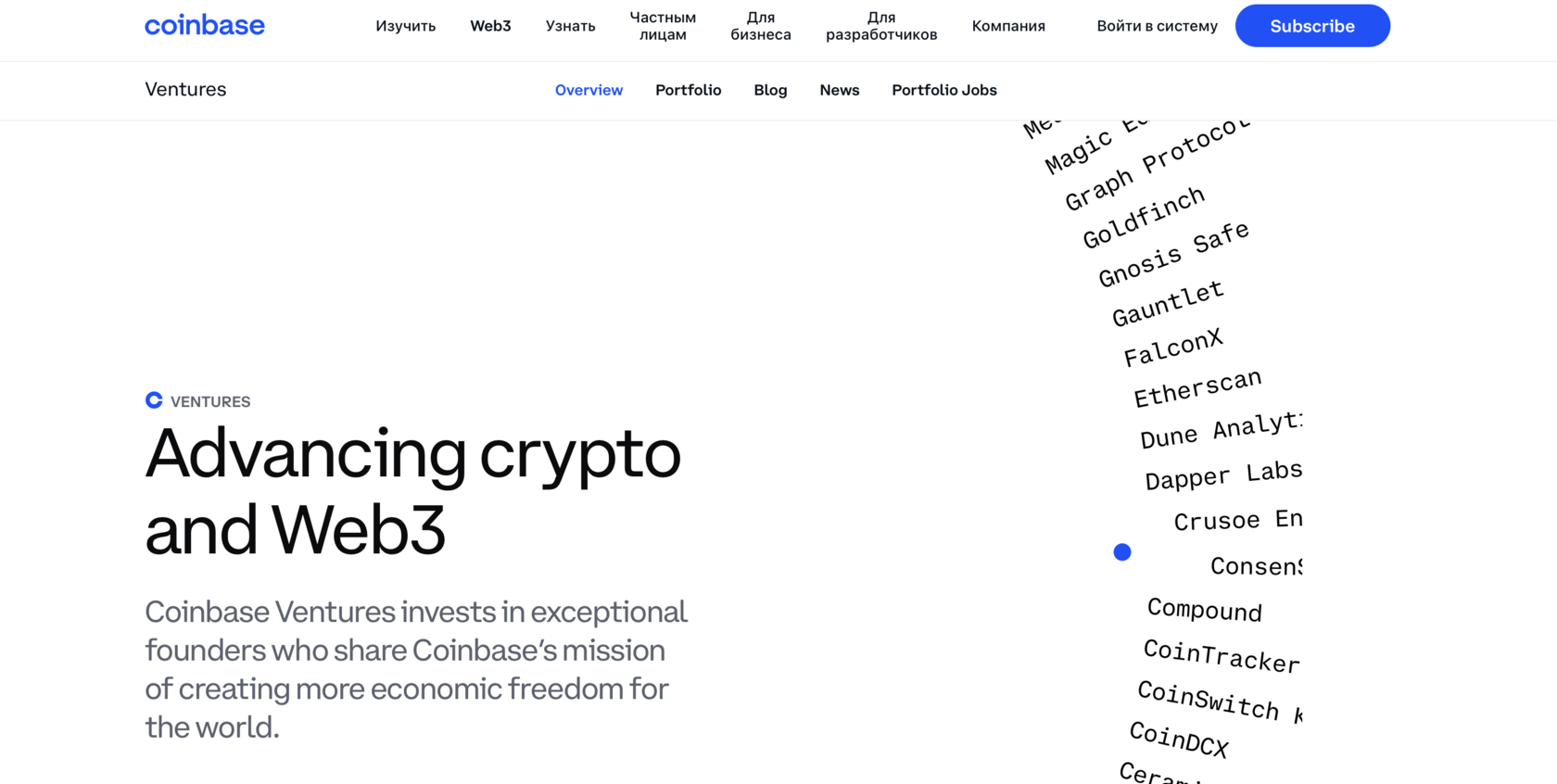 Coinbase Ventures is the investment arm of Coinbase, one of the world's largest and most trusted cryptocurrency exchanges. Founded in 2018, Coinbase Ventures invests in exceptional founders who share Coinbase's mission of creating more economic freedom for the world. The firm backs entrepreneurs working to advance the crypto/Web3 ecosystem and support Coinbase's mission.
Coinbase Ventures has already invested in hundreds of teams building a wide range of projects, including layer 1 protocols, Web3 infrastructure, centralized on-ramps, decentralized finance, NFTs, metaverse technologies, developer tooling, and more. Some notable investments include Compound, Etherscan (Ethereum explorer site), OpenSea, and Uniswap.
By financially supporting and providing strategic guidance to these innovative projects, Coinbase Ventures is actively contributing to the growth and development of the broader crypto and blockchain ecosystem.
Sequoia Capital
California-based Sequoia Capital is a renowned venture capital firm that helps daring entrepreneurs build legendary companies. Founded in 1972 by Don Valentine, Sequoia Capital has a long history of partnering with entrepreneurs to drive their ideas, products, and services to market. The firm has backed some of the most successful technology companies in history, including Apple, Google, Oracle, and Cisco.
In recent years, Sequoia Capital has turned its attention to the crypto and blockchain space, recognizing the potential for decentralized technologies to transform various industries. Some of their notable investments in this sector include Blockstack (now Stacks), Chain, Chia Network, DFINITY, Fireblocks, and Sky Mavis (creators of Axie Infinity). They practically are interested in lots of blockchain-based Web3 projects.
Through its financial backing and strategic guidance for these innovative projects, Sequoia Capital has become an influential player in the crypto and blockchain industry.
Bonus: 5 More Crypto Venture Capital Firms
Crypto market is constantly changing. Since first crypto winter of 2018 landscape of crypto investment space have changed as well. So of VC funds stoped fundraising new money from investors, others started focusing on investments in crypto only on Series A, and others - on Series B. Lots of venture capitalists even stoped investing in early-stage projects or in projects at incubation stage. And while some were reducing crypto in their portfolio, others were doing vice versa.
We've added here 5 more crypto VC funds who proved to be also among top private equity investors on blockchain market.
Binance Labs
VC division of world's biggest crypto exchange, Binance.
GGV Capital
Based in Menlo Park, California, the U.S. Among their portfolio investments are Animoca Brands, Trust Token, The Block, etc.
Multicoin Capital
Texas-based fund with investments in Algorand, Bakkt, CabinDAO, Dfinity, Flow and FTX (yep, that was the bad one).
3AC (Three Arrows Capital)
Unlike other funds in our list who are based in U.S. this one HQ are in Singapoure.
AU21 Capital
How VC Funds Evaluate Crypto Projects for Investment?
Venture capital funds have various criteria when evaluating potential investments in the crypto and blockchain space. Some key factors they consider include:
The Role VC Funds Play in Portfolio Companies
Venture capital funds play a crucial role in their portfolio companies by providing:
By fulfilling these roles, VC funds can help drive the success of their portfolio companies in the highly competitive crypto and blockchain space.
Successful Exits and Multi-Baggers
Venture capital funds in the crypto and blockchain space have seen a number of successful exits and high-return investments. These success stories highlight the significant potential for growth and wealth creation within the industry. Some examples include:
Risks and Challenges for VC Funds in the Crypto Space
While venture capital funds can drive significant returns by investing in innovative crypto and blockchain projects, they also face unique risks and challenges, such as:
The Future of VC Investments in Crypto and Blockchain
The future outlook for venture capital investments in the crypto and blockchain space remains promising. As the industry continues to mature, more institutional investors are expected to enter the space, attracted by its growth potential and transformative power. Key trends and projections for VC investments in the sector include:
Conclusion
Venture capital funds have played a vital role in the growth of the crypto and blockchain industry, supporting innovative startups, driving technological advancements, and fostering the development of the broader ecosystem. As the industry continues to evolve, VC funds will remain key players in shaping its future trajectory. With a focus on due diligence, long-term investment strategies, and an eye toward emerging trends, venture capital investments in the crypto and blockchain space will continue to drive innovation and growth for years to come.