Rarible Newsletter
The newsletter will keep you in the loop and entertained with its playful commentary no matter if you're a seasoned collector or just dipping your digital toes into the NFT pond. Grab your virtual magnifying glass and prepare for a journey into the NFT wonderland with the Rarible Newsletter, where art meets blockchain in the quirkiest and most delightful ways.
Zima Red Newsletter
From the latest data breaches to privacy scandals, they provide their sardonic take on the digital landscape. Packed with tongue-in-cheek commentary and tips to keep your online presence secure, Zima Red keeps you entertained and informed. Zima Red newsletter is your secret weapon against the perils of the digital realm. Join the dark side and embrace the snark with Zima Red, because in this cyber world, laughter truly is the best encryption.
NFT Lately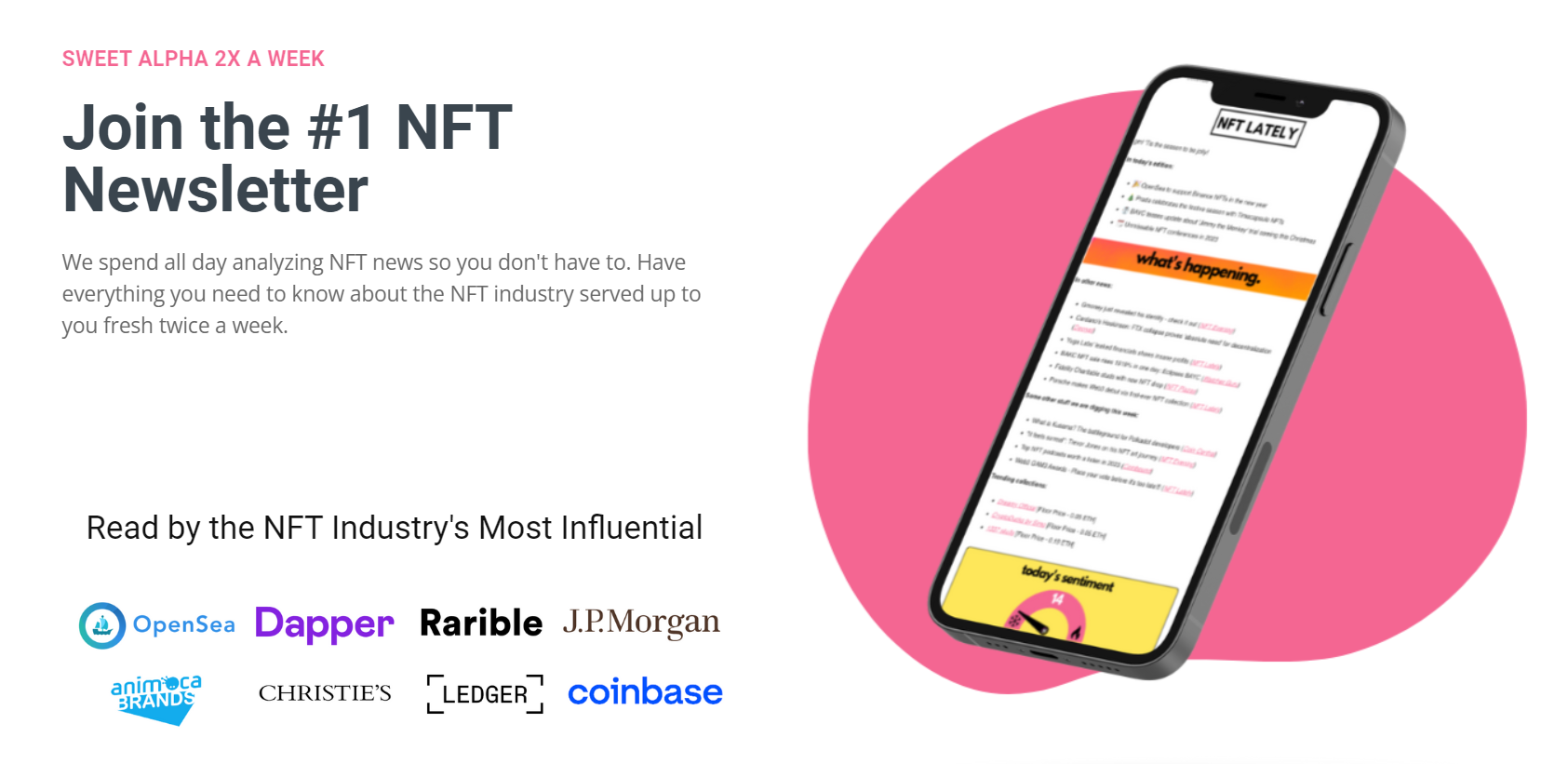 Each issue, packed with 20/20 vision, delivers witty commentary and juicy insights into the NFT craze. From mind-boggling sales to questionable celebrity drops, they leave no NFT stone unturned. With a dash of sarcasm and a pinch of irreverence, the NFT Lately team cuts through the noise to bring you the juiciest details and the hottest takes. So, whether you're an aspiring digital art collector or just curious about this pixelated phenomenon, this newsletter is your VIP pass to the NFT party. Sit back, relax, and let NFT Lately entertain you while keeping you in the know about the NFT world's wildest roller coaster ride.
Web3 Creator Newsletter
From the hottest NFT drops to the latest trends in the metaverse, this newsletter gets you covered. Web3 Creator Newsletter gets all the info you need to make informed investment decisions and stay ahead of the curve in this exciting space. The newsletter is the perfect resource for anyone looking to stay informed and up-to-date on all things Web3.
Nifty Newsletter
Sign up for Nifty Newsletter today and start receiving your daily dose of NFT news and insights. You'll be well on your way to becoming a true NFT expert in no time, with this invaluable resource at your fingertips.
The Defiant
Starting from in-depth interviews with prominent artists and musicians to insightful commentary on the latest NFT drops and trends, The Defiant offers a fresh and engaging perspective on the world of blockchain and its impact on our culture. So why not join the conversation and sign up for The Defiant today?
NonFungible
Bankless
No matter if you're a trusted investor or just getting started in the world of NFTs, Bankless has something for everyone. This newsletter offers a wealth of valuable information that can help you make informed decisions and stay ahead of the curve. Bankless project also have same-name podcast and is listed in our list of 25 best crypto podcasts.
Forefront Newsletter
Forefornt is reported to have at least 11,000 subscribers list and have already raised $2m from Jesse Grushack (ex-executive from ConsenSys), 1kx, and MetaCartel Ventures.
The NFT Insider
The NFT Insider is the perfect way to stay up-to-date on the latest developments in this rapidly-evolving space, from in-depth discussions of the creative process to behind-the-scenes looks at some of the most exciting NFT drops and trends. Get on board with NFT Insider today and start exploring the fascinating world of NFTs with the inside knowledge and insights that only this newsletter can provide.
NFT Plazas
NFT Plazas delivers you the freshest info on the latest developments in this exciting and fast-moving industry, with cryptocurrency analysis and expert commentary from some of the leading voices in the NFT space. Subscribe now to NFT Plazas today and start exploring the fascinating world of NFTs in the metaverse and beyond. With the latest news, trends, and insights at your fingertips, you'll be well on your way to becoming an expert in this exciting and rapidly-evolving space.
The Daily Gwei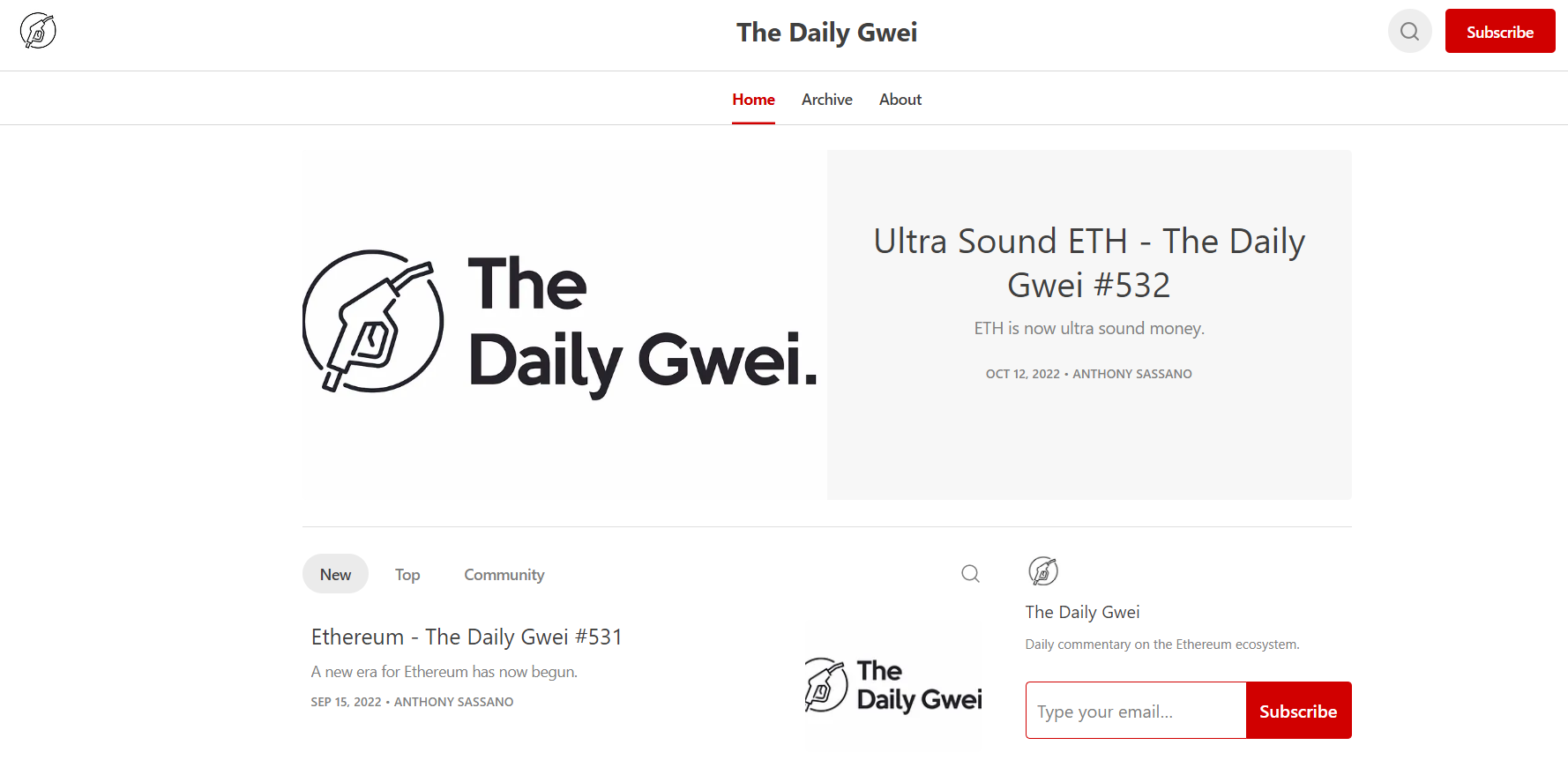 The newsletter is written in an accessible and informative tone, making it an ideal resource for beginners and experts alike. The Daily Gwei is a valuable resource that you won't want to miss, no matter if you have any knowledge of crypto or not.
NFT Evening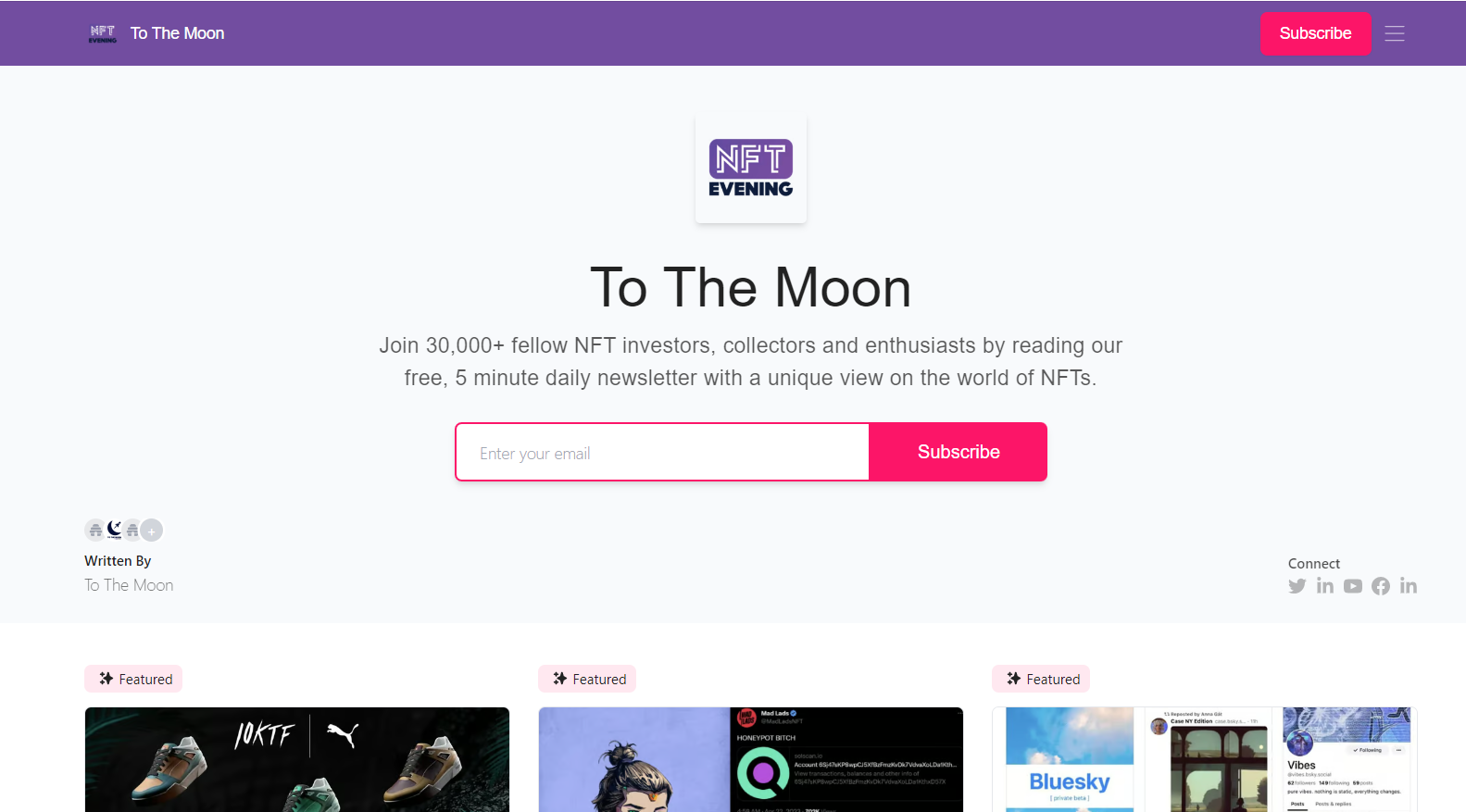 CryptoSlam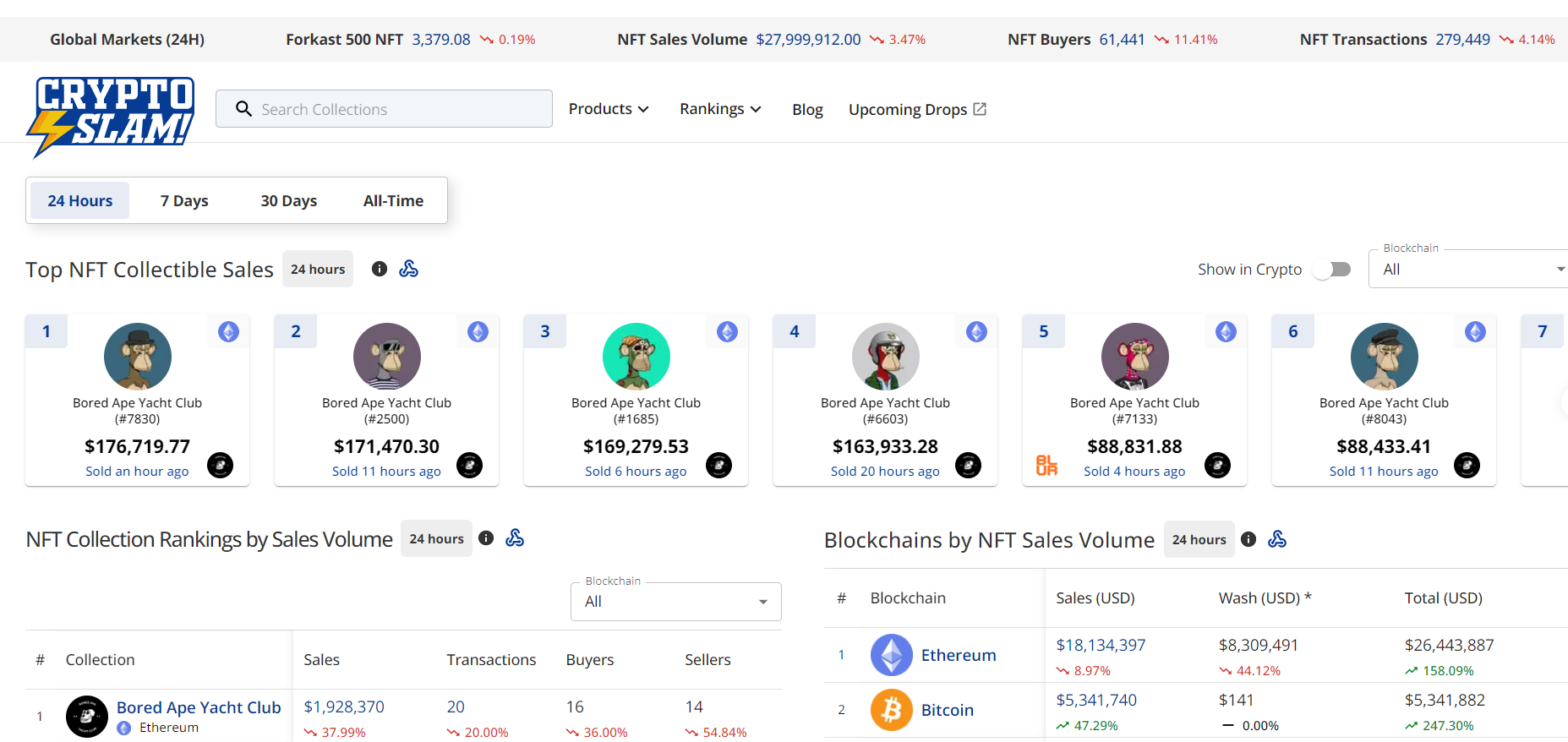 The newsletter covers a wide range of topics, including the most popular NFT collections, notable sales, and emerging trends in the market. The views provided by CryptoSlam's newsletter can be invaluable for NFT collectors, investors, and anyone interested in the rapidly-evolving world of NFTs.
OpenSea Newsletter
OpenSea is one of the largest and most popular NFT marketplaces, and it has it's own newsletter. They provide valuable updates on new releases, sales, and other developments on its platform, as well as industry news recap. The OpenSea NFT newsletter is sent out regularly and covers a wide range of topics, including the most popular NFT collections, upcoming drops, and new features on the platform. The newsletter is essential for anyone who uses the OpenSea platform or is interested in the NFT space in general.
The Drop Newsletter
The project was created in 2021 by three co-founders: entrepreneur Gannon Breslin, influencer and social media expert Kayla Kilbride, and crypto enthusiast Von Doom. Reportedly it has 10,000+ subscribers.
Summary
Learning about the trends when Twitter still talks about them is priceless, but subscribing to the right newsletters can make a big difference. The newsletters we've listed here offer a wealth of insights and information on everything from market trends and emerging artists in crypto space to latest NFT news and trending crypto memes (sure, we can't forgot not to mentioning it).
By getting on board one or more of these newsletters, you'll be joining a community of like-minded individuals who are passionate about the rapidly-evolving world of NFTs: from art collections to NFT games, Play to Earn (P2E), etc. Whether you're just starting or have been collecting for years, there's something here for everyone.