The more we talk about cryptos being the future, the less we do. From the original Bitcoin to the latest in meme tokens, these digital assets have brought in a multitude of financial freedom for everyone.
Be it hedging against inflation, a means of savings or even trading to take advantage of the volatility, there is something for everyone.
Yet, with the tens of thousands of cryptos zipping online, it can be a bit hard to keep track of all - or at least keep oneself updated about the most influential ones that can give the best bang for the buck. On top of this, several tokens are launched each week that take advantage of the initial market supergrowth.
This of course leads to a very big problem: How to know which token will rise - be it new, or old. Even if by mere chance, you do get to know that a token or coin can make it big in the future, the exact timeline (or at least the general time window) can be extremely hard to predict.
Crypto Channels To The Rescue
The deep chaos and confusion in recent years has seen the rise of different crypto specialists who fight off the tidal waves of misinformation, and clear the air for interested people to have real access to the right information.
Gathering like-minded people on different social media platforms, these crypto leaders have amassed huge followings as they help their fans know of the latest developments, upcoming tokens, and what to expect from the market.
Telegram has a very special connection with the crypto world, with groups and channels, and influencers coming together on the instant messaging platform. For crypto influencers, this means that their followers can easily connect with them. For people looking for the latest market information, this means they can follow their favorite influencers on their Telegram channels and stay up to date.
But then again there are literally tens of thousands of influencers. Some are genuine with real insight into the market conditions, some are just in for the fame and some fake it through copying information from other influencers and repackaging it as their own.
The Top Crypto Telegram Channels to Follow in 2023
With so many channels and influencers, we thought we should compile a list of the top Telegram channels for you to check out and level the playing field so you can trade, hodl, and invest like pros.
So without any further ado, here is the list of the top 20 crypto Telegram channels to follow in 2023.
(To make it have a universal appeal, our list consists of only English language channels)
Crypto 🔹️Nfts 🔸️Metaverse
The group runs regular updates that include news such as major adoptions or steps taken by different governments or private firms to accept cryptocurrencies, and technical information on the latest happenings of not only the crypto sphere in general but for specific assets as well. Besides they do cover recent developments with exchanges, including Binance, BitMex,Bybit, Coinbase, Kucoin, etc.
The channel might not be suitable for people looking for "signals" (or aggregator of trading notifications and tips), but for investors who understand that the game is to go slow and steady, this is the right place for the right news.
Crypto 🔹️Nfts 🔸️Metaverse Statistics:
Metaverse • DeFi • NFTs
Run by @Cryptochrizz, the Metaverse • DeFi • NFTs group has been around the same time as the Crypto 🔹️Nfts 🔸️Metaverse Telegram group (July, 2022). With slightly higher followers and nearly the same average viewership, the group has a lower engagement rate, but considering that it has only posted around half that of Crypto 🔹️Nfts 🔸️Metaverse Telegram group, the stats are impressive:
Metaverse • DeFi • NFTs Statistics:
DeFi, ICO and Invest News
Apart from the analysis and information on early projects, the channel also gives up-to-date news on the biggest crypto firms and projects that can move the market with their decisions, as well as coverage of upcoming IEOs, airdrops, giveaways and other developments in crypto ecosystem.
DeFi, ICO and Invest News Statistics:
Nfts Hype
While the name says NFT, the channel also gives general crypto information too so that even the biggest NFT enthusiasts can have an understanding of the broader market. They channel will be great choice for any readers: from experienced crypto enthusiasts to the very beginners.
Nfts Hype Statistics:
Nfts / Metaverse & More
Only a year old, the Nfts / Metaverse & More already has amassed roughly 75 thousand followers. With an astonishing engagement rate of 128%, its users repeatedly check up on the channel to make sure they don't miss out on the number of updates and news posted daily, including coverage of latest developments with BTC (Bitcoin), ETH (Ethereum), XRP (Ripple), and other altcoin prices, .
Nfts / Metaverse & More Statistics:
Crypto World Analysis
Offering the latest news on anything crypto, including market and industry analysis with insights, @AdamCWN brings one of the most holistic Telegram crypto channels to the world. Albeit at a small cost of having too much generic news than specialized one.
Crypto World Analysis Statistics:
Crypto World ICOs
The channel offers responsible coverage by posting news that is verifiable and avoids hype or pump schemes. part of the Crypto World News group, Crypto World ICOs is handled by @AdamCWN.
Crypto World ICOs Statistics:
Crypto News by Satoshi Club
The Crypto News by Satoshi Club also makes posts out of the ordinary if there is any breaking news that can affect the market sentiment, allowing its followers to adjust their investments or trading strategies accordingly.
Crypto News by Satoshi Club Statistics:
Wolf of Trading
Wolf of Trading Statistics:
Crypto World News
Crypto World News Statistics:
Wallstreet Queen Official
The VIP services are expensive, but those who use them attest to the accuracy of information provided by Wallstreet Queen Official.
Wallstreet Queen Official Statistics:
Cryptoy ₿
Cryptoy ₿ is an old channel too. The Telegram group has been active since September 2017, gaining fame during the ICO boom era.
Cryptoy ₿ Statistics:
NFT & Crypto Updates
If you are an NFT fan and looking for new avenues to invest, even flip NFTs, you should join this Telegram crypto channel to stay on top of all NFT news.
NFT & Crypto Updates Statistics:
Crypto ▪️ Bitcoin ▪️ Trading ▪️ News
With its insights, you can be sure to have a stronger trading presence in the market. More than 322,200 people take advantage of Crypto ▪️ Bitcoin ▪️ Trading ▪️ News and it is free to join.
Crypto ▪️ Bitcoin ▪️ Trading ▪️ News Statistics:
NFTs & DeFi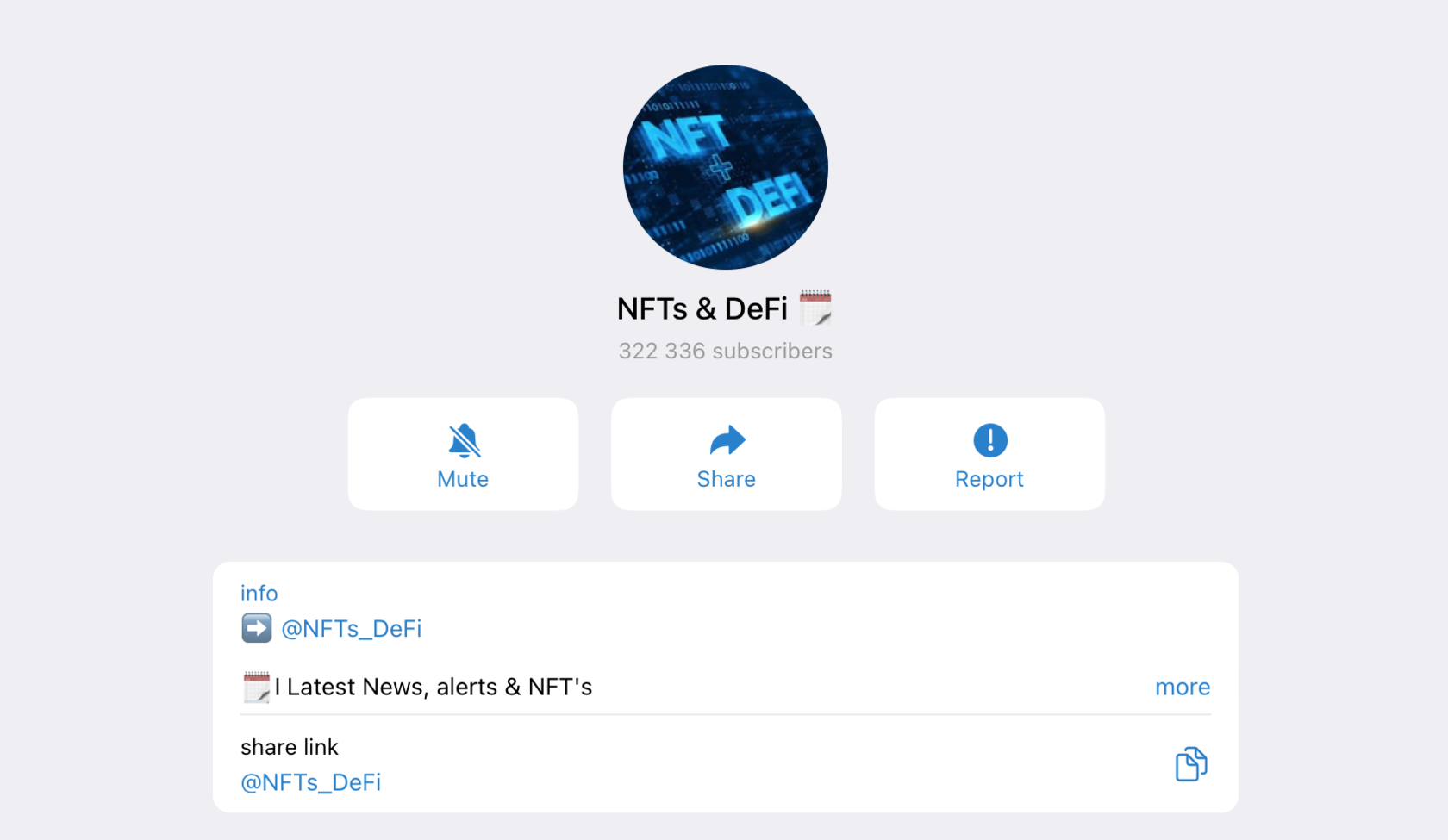 The group also accepts NFT project marketing, letting developers of the unique tokens showcase their collection to more than 326,000 subscribers and potential buyers - at a fee of course!
NFTs & DeFi Statistics:
Crypto Miami
In the little time the Crypto Miami Telegram channel has been around, it has amassed an astounding 428,000 followers with as little as just 720 posts so far.
This goes to show that in the crypto world, especially in Telegram channels, age is just a number. If you have the right mission and provide correct and on-time information, you can stand alongside the biggest Telegram influencers.
Crypto Miami Statistics:
Bitcoin Industry
While it can improve on the viewership (around 20%) and post more news on the crypto industry, its massive following does reflect its quality of information, and the speed at which it does is also impressive.
The group also commercializes its fame and accepts paid advertisements for projects through its admin: @miaMybtc.
Bitcoin Industry Statistics:
Crypto California Club
Leveraging its popularity, Crypto California Club also accepts paid advertisements for projects that it finds feasible and then broadcasts the information to its almost half a million followers to create hype. Having one of the lowest post counts in our list, Crypto California Club is a perfect example of how having the right mindset and being fair on general crypto news can help create a significant fan following.
Crypto California Club Statistics:
Mike's Trading Signals | Crypto Calls
Mike's Trading Signals | Crypto Calls is the group that has made mega pumps famous in the crypto sphere. Working closely with different projects, the channel admins can give insights into which newly listed crypto to invest in and when to pull out for maximum profits.
The group also gives regular trading signals for both spot and futures that include cryptos and even stocks. Even with its extremely low engagement in terms of percentage (8%), the average views rival some very popular crypto channels.
Though the trading signals are a bit risky, you will find its nearly 550,000 followers attesting to the rewards being worth it.
Mike's Trading Signals | Crypto Calls Statistics:
The Crypto Bulls
The group is known for finding very effective trading opportunities - even going against the general market sentiment (such as shorting in a bull market) on key occasions. The trades are not without risk, however, as many signals come with very deep stop losses to ride out any short-term turmoil in the market.
The good thing is that the admins are very responsive and do give timely warnings to pull out of a trade if it goes sideways.
With over 4300 posts in just two years, the group is viewed by more than 100,000 people a day to find the next golden goose in crypto investments.
The Crypto Bulls Statistics:
Conclusion
Cryptocurrencies, NFTs, and other forms of tokens and coins have time and again shown that with the right mindset, knowledge of the industry, and some patience, anyone can make it big and gather profits.
With our list of the top 20 crypto Telegram channels to follow in 2023, you can have the latest information, deep insights, and opinion of experts right in your palm.