Crypto Maniaks
Crypto Maniaks is an educational Threads account in the realm of crypto, dedicated to simplifying complex crypto concepts for newcomers and veterans alike. Originating from the U.S., the team has built a substantial following due to their holistic approach, covering a wide spectrum of topics like crypto investing, blockchain, DeFi, and NFTs. Their blog posts, comprehensive guides, and online courses have become indispensable resources in the crypto community, assisting millions in making informed decisions.
Gaius Chibueze
Gaius, known as bitcoin_chief, hails from Nigeria. He is the founder and CEO of ABiT Network, a pan-African blockchain firm. Gaius made headlines when he toured 30 cities globally, evangelizing Bitcoin and educating people about its potential. His engaging style, coupled with his conviction about cryptocurrency's transformative potential, has endeared him to many in the crypto space, growing his influence substantially over the years.
Intelligent Cryptocurrency
Intelligent Cryptocurrency is an education media helmed by Dirk De Bruin, a veteran crypto enthusiast and investor from the Netherlands. Dirk's strength lies in his ability to demystify complex crypto topics for everyday investors. He made waves with his free masterclass, which served as a springboard for many newcomers into the realm of crypto. The media offers in-depth research, investment strategies, and regular updates, empowering individuals to navigate the volatile crypto market with confidence.
CryptoCrunch News
CryptoCrunch News is the Thread account of the popular crypto news portal known for its rapid and accurate reporting of the latest developments in the industry. Based in India, it's earned a significant following globally, offering a mix of news, analysis, insights, and market predictions. Tey rose to prominence for its coverage of the Indian government's fluctuating stance on cryptocurrencies, making it a go-to source for traders and investors.
Thomas Kralow
Thomas Kralow is a highly successful trader and educator in the forex and cryptocurrency markets. From Germany, he gained notoriety after turning $25,000 into over $9,000,000 within a few years. His trading program has trained thousands of students worldwide, with many finding success following his methods. His transparency, success, and unique approach to trading education have gained him a loyal following and high respect in the crypto community.
BitBoy Crypto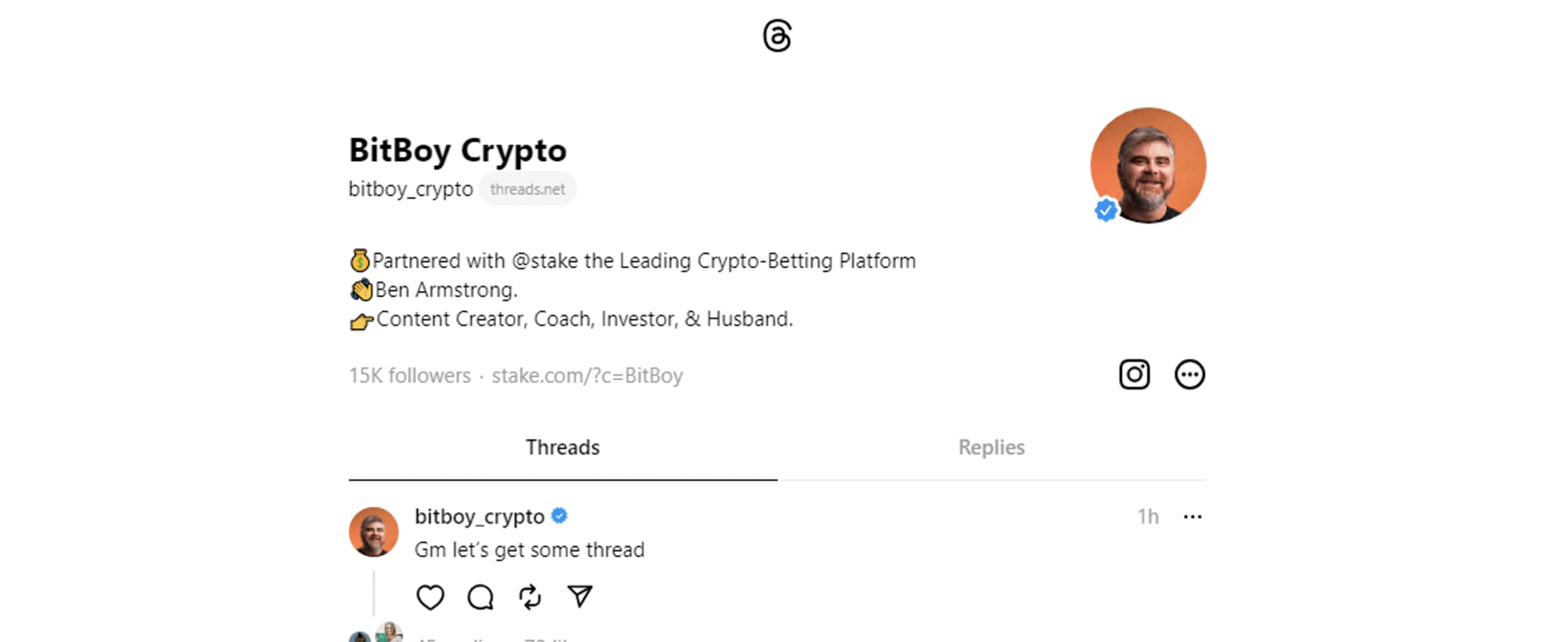 BitBoy Crypto (Ben Armstrong) is one of the most recognizable figures in the crypto space. Originating from the United States, Armstrong's YouTube channel boasts millions of subscribers, attracted by his high-energy style and insightful market analyses. His predictions and interviews with industry heavyweights have made his media a staple in the crypto community.
AltcoinDaily
AltcoinDaily is a YouTube channel run by brothers Austin and Aaron Arnold from the United States. Their videos, which cover a wide array of topics including market analysis, crypto news, and coin reviews, are hailed for their accessibility and thoroughness. The brothers have amassed a substantial following by offering viewers invaluable insights on altcoin investment opportunities. Their genuine passion for crypto and knack for breaking down complex topics makes AltcoinDaily a must-visit platform for both crypto newcomers and experienced investors alike.
ShareCrypto
ShareCrypto, another US-based platform, is known for its ability to sniff out the next big thing in the cryptocurrency world. The team behind ShareCrypto consistently presents its followers with new projects and investment opportunities. The platform has garnered a substantial following on various social media channels due to its knack for in-depth project analyses and reliable investment suggestions. As a result, many budding investors consider ShareCrypto their go-to source for discovering promising new cryptocurrencies.
Cryptoding
Cryptoding is an AI-based cryptocurrency prediction tool that has turned heads within the crypto community. This innovative platform uses artificial intelligence and machine learning to predict cryptocurrency market movements. Originating from Canada, Cryptoding has gained traction by offering investors a smart tool that complements their trading strategies, making it a favorite amongst both beginner and seasoned traders.
NFT DROP NEWS
This Thread account could be your daily destination for all things related to NFTs (Non-Fungible Tokens). Based in the UK, this platform provides comprehensive updates on the latest NFT drops, upcoming projects, and market trends. With a growing interest in NFTs worldwide, NFT DROP NEWS has positioned itself as a leading source of information, attracting a vast audience of artists, collectors, and enthusiasts.
Josh Molnar (bitcoin.daily)
Josh Molnar is a Canada-based cryptocurrency expert who runs Bitcoin Daily, a social media page providing valuable insights into the cryptocurrency market. Josh is known for his practical and straightforward approach to bitcoin and other cryptocurrencies. His informative posts, offering predictions and market analyses, have positioned him as a reliable source of crypto knowledge, gaining him a substantial following across various platforms.
Crypto Dreams
Crypto Dreams is an Italian-based digital platform focused on making the complex world of cryptocurrencies accessible to everyone. It provides a myriad of resources, including market analyses, educational content, and even beginner guides to blockchain technology. Crypto Dreams' commitment to delivering comprehensive and easy-to-understand content has earned them a loyal following of both crypto beginners and experienced traders.
Crypto NXT
Crypto NXT is a global online platform that offers daily updates, news, and insights into the world of cryptocurrencies. From the latest blockchain technology developments to the most recent market trends, Crypto NXT has it all covered. Their concise yet thorough reporting style has made them a favorite amongst crypto enthusiasts, earning them a spot as one of the go-to sources for all things crypto.
Layah Heilpern
Layah Heilpern is a UK-based crypto influencer and media personality renowned for her insightful interviews and analyses in the crypto space. She's a regular host on several crypto-related YouTube channels and podcasts, making complex crypto topics easy to understand for her wide audience. Heilpern's vast experience, industry knowledge, and unique perspective have earned her a loyal following and high respect in the crypto community.
Mason Versluis
Mason Versluis, also known as Crypto Mason, is a popular Canadian crypto influencer known for his informative and engaging content on TikTok and YouTube. He covers a wide range of crypto topics, including crypto news, investment tips, and coin analyses. His unique presentation style, combined with his clear explanations of complex topics, have earned him a solid fan base and growing influence in the crypto world.
Adam Wenig
Adam Wenig is a US-based entrepreneur, crypto enthusiast, and coach who has carved a niche for himself as an expert in digital marketing and cryptocurrency investing. Known for his innovative marketing strategies and insightful crypto advice, Wenig has empowered numerous individuals to invest in cryptocurrencies and grow their online businesses. His digital marketing expertise, combined with his deep understanding of cryptocurrencies, has made him a well-respected figure in the crypto community.
Nftmentor
nftmentor is a unique Instagram account dedicated to educating followers on the ever-evolving world of NFTs (Non-Fungible Tokens). Based in the US, this platform breaks down complex NFT concepts and provides followers with detailed analyses of various NFT projects. It's gained popularity due to its educational posts and guidance on how to navigate the NFT space, earning it a significant following of both NFT newcomers and seasoned collectors.
Crypto Jack
Crypto Jack, a crypto influencer from the United Kingdom, is renowned for his insightful videos on crypto trading and investment strategies. He's managed to make a name for himself due to his ability to present complex financial concepts in a simple, easy-to-understand manner. Crypto Jack's YouTube channel is filled with tutorials, market analysis, and forecasts, serving as a valuable resource for both new and experienced traders.
Cryptorelevant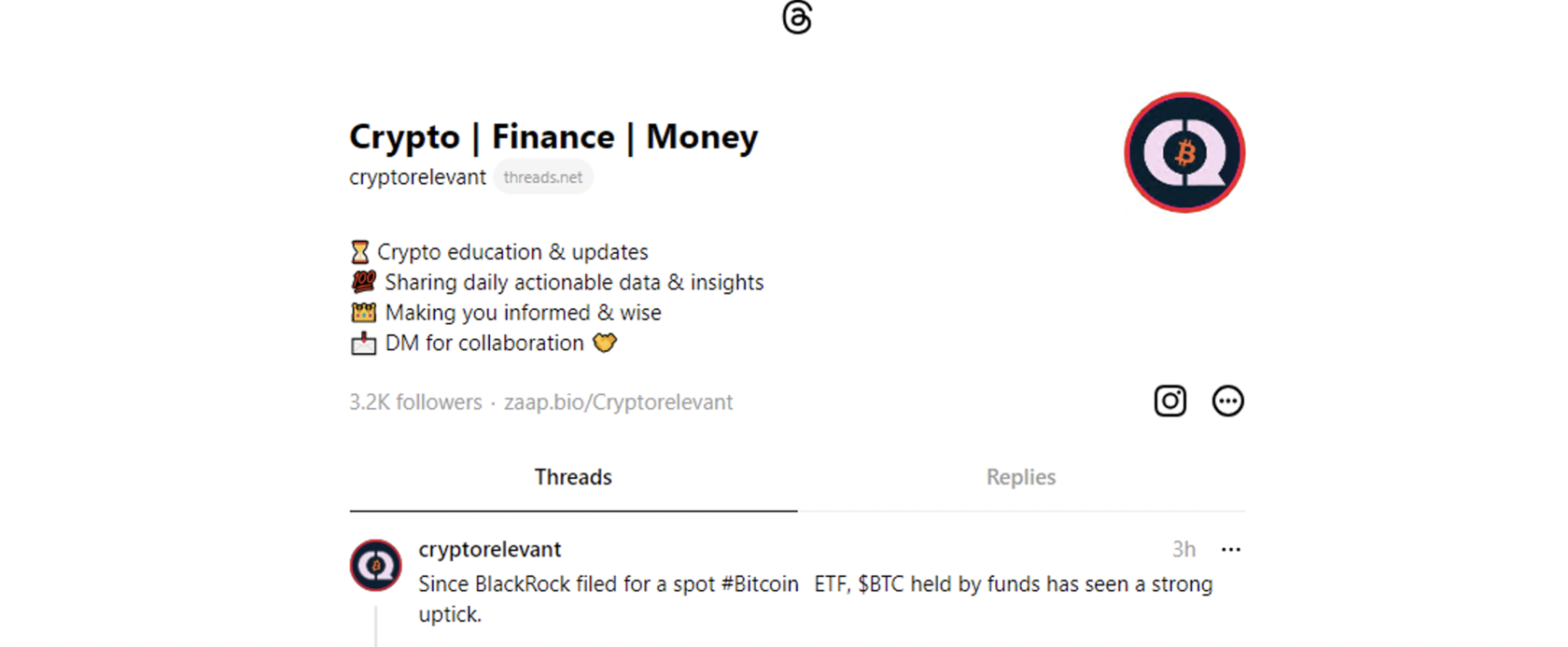 This is a crypto education Thread that strives to keep its followers up-to-date on the latest developments in the crypto space. The US-based media has become a beacon of reliable information for many, offering comprehensive guides, market updates, and detailed analyses. Its content ranges from the latest news on cryptocurrencies to in-depth reports on blockchain technology, making it a one-stop-shop for all things crypto.
Cryptogit
Cryptogit, based in Germany, is a media dedicated to providing accurate and up-to-date crypto-related news and analysis. Their social media channels are home to numerous helpful guides and comprehensive reviews, making it a trusted source of information for both beginners and seasoned crypto enthusiasts. Cryptogit's transparent, detailed, and data-driven approach has helped them garner a large following of loyal users.
Crypto Banter
Crypto Banter, helmed by Ran Neuner, is the world's first crypto-based live streaming news channel. Originating from South Africa, Neuner's platform has made waves in the crypto community with its around-the-clock coverage, real-time updates, and expert analyses. Crypto Banter's approach to delivering rapid, reliable information has garnered it a large international audience, making it a favorite among crypto traders and enthusiasts.
The Wolf of Bitcoins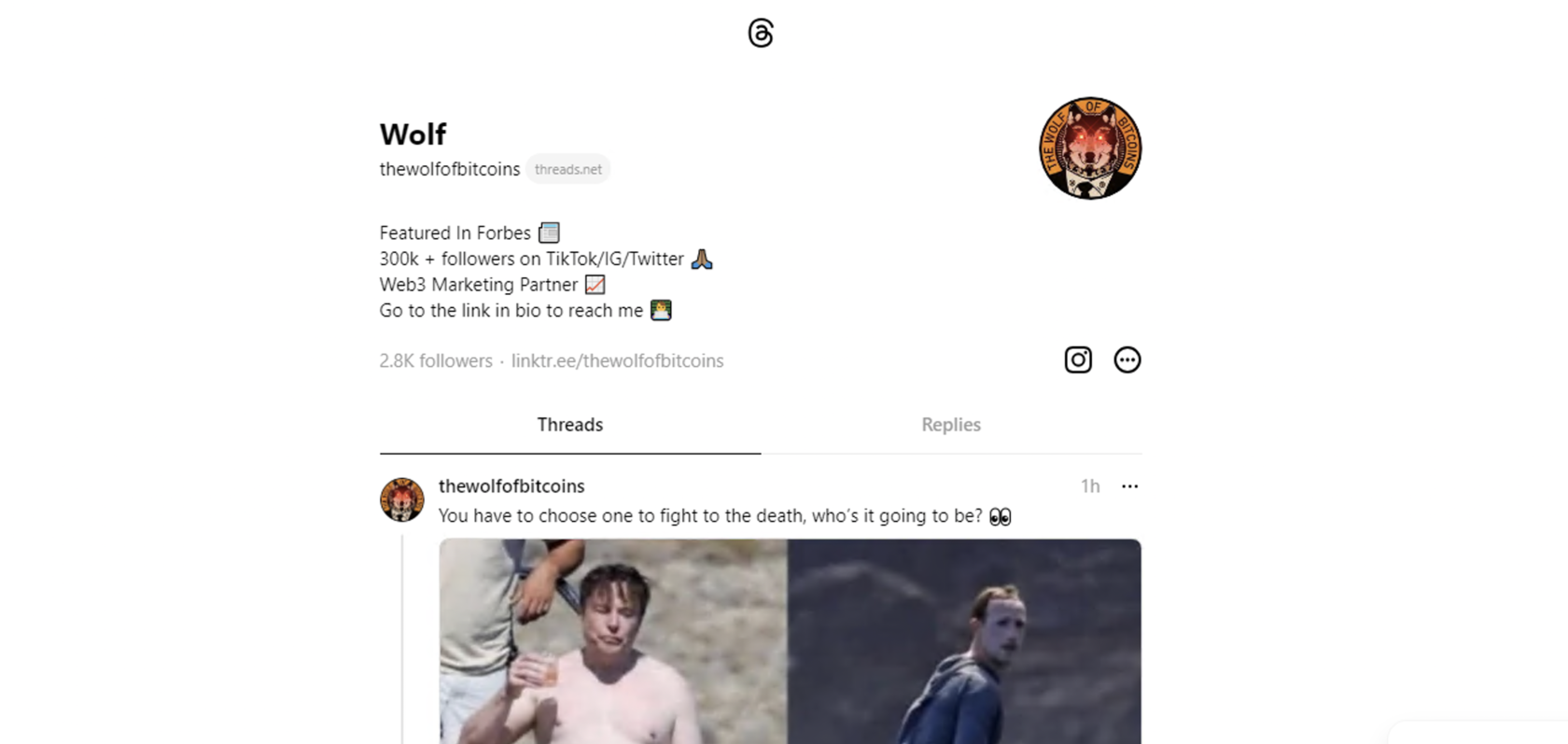 The Wolf of Bitcoins is a renowned crypto influencer who's known for his extensive knowledge of Bitcoin and other digital currencies. Based in the US, his friendly and educational approach towards complex crypto concepts, along with his trading tips and strategies, have earned him a significant online following. His focus on mass adoption of crypto and his hands-on approach with practical demonstrations on crypto use-cases have made him a fan favorite in the crypto community.
Crypto Axe
Crypto Axe is a notable crypto influencer who hails from the UK. Known for his detailed technical analysis and cryptocurrency price predictions, he has quickly become a trusted voice in the crypto space. His platforms offer a range of content, including crypto news updates, market analysis, and educational guides, earning him a substantial following of crypto enthusiasts and investors who value his precise insights and trading advice.
MISSNATOSHI
Based in Spain, he's a prominent crypto influencer and advocate. As a pioneering woman in the crypto world, she's made a name for herself with her deep understanding of blockchain technology and cryptocurrencies. With her engaging content, she aims to educate her followers about the potential and benefits of digital currencies and blockchain. Her passion and advocacy for women's involvement in the crypto space have also earned her considerable acclaim and a substantial following worldwide.
Concusion
In this list we've tried to include all most popular cryptocurrency influencers, who already opened account on Threads app. But since the social media site is very new, more changes to this rank to come.