Do you know how dynamic the world of cryptocurrencies is? Staying up to date is a must, whether you're a cryptocurrency veteran or just diving in. This is where crypto influencers come to the rescue.
Crypto influencers are very diverse: some are smart financial analysts, others are tech geeks who can't get enough of blockchain, and some are creating the future. Whether it's Bitcoin, Ethereum, DeFi, or NFT topic, they've got you covered on all fronts.
30 Best Crypto Influencers
1. Justin Sun
Justin Sun, a native of China, is known as the visionary behind the Tron blockchain. You know how some people just talk about doing things? Well, Justin goes out and does them. Oh, and speaking of big things, have you heard of Peiwo? It's innovative and has caught on like wildfire.
2. Coin Bureau
Mike Jenkins, better known as Coin Bureau, serves as an authoritative blockchain educator with passionate about spreading his expertise. His YouTube channel is an unrivaled educational hub for learning about various cryptocurrencies including but not limited to Cardano, Polkadot, Solana, and Ethereum. Coin Bureau explains complex concepts, making it an invaluable platform for those looking to expand their grasp.
3. Michael Saylor
Now let's talk about Michael Saylor, the CEO of MicroStrategy. Michael promotes crypto in the financial sector. He's not just a businessman, but a true genius. We are about a dual degree from MIT in aerospace engineering and history of science. Michael is the longest-lived CEO of any publicly traded tech company in Silicon Valley. That's not just luck, it's skill and vision.
Under his leadership, MicroStrategy became one of the first publicly traded companies to actively invest in bitcoin actively, accumulating over 130k bitcoins worth over $4 billion. Michael's net worth? Also in the billions, thanks to this bold move. And his influence isn't just limited to board meetings and earnings calls.
4. Ben Armstrong (BitBoy Crypto)
Ben Armstrong, widely recognized as BitBoy Crypto, stands as a towering figure in the world of cryptocurrency influencers. His early investment in Bitcoin during its nascent years has paid off handsomely, catapulting his net worth to over $5 million.
Besides, Armstrong has extended his influence by creating BitBoyCrypto.com. It is a digital hub that aggregates news and investment advice. This hub not only boosts Armstrong's insights but also features from other experts.
5. Anthony Pompliano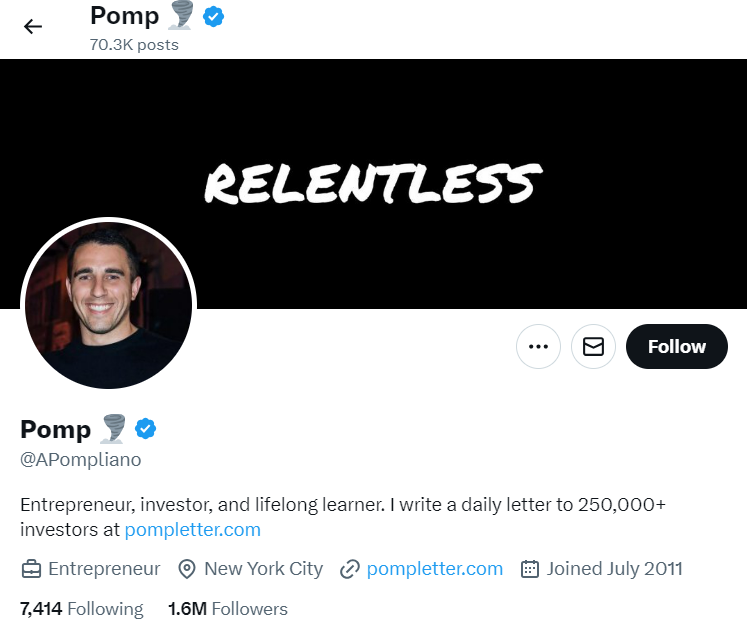 Anthony Pompliano, or as everyone likes to call him, "Pomp" is an absolute force in the crypto scene. Seriously, if you're into Bitcoin or blockchain, Pomp is your guru. He is the founder of a hedge fund with digital assets. He has invested over $100 million in early-stage tech startups.
Pomp's influence goes far beyond just being passionate about Twitter. He has a YouTube channel. There you can find daily crypto updates and roundtable discussions on everything from business and finance to cutting-edge technology. What sets his channel apart is the incredibly wide range of guests.
6. Carl Runefelt (The Moon)
Carl Runefelt, a Swedish crypto wunderkind, has conquered social media. He is no ordinary entrepreneur. Despite his youth, Carl was one of the first to believe in Bitcoin. This smart move made him one of the youngest billionaires on the planet.
But Carl didn't stop there. Fueled by his entrepreneurial zeal, Runefelt co-founded Kasta, a cutting-edge crypto payment gateway app. Imagine being able to transfer digital currencies in the blink of an eye without leaving the bank - that's exactly what Kasta does! If you're looking for top-notch financial advice, you need to find Carl on social media.
7. Brian Jung
Have you ever seriously considered which crypto exchange to go to? Brian has prepared detailed reviews, outlining the pros and cons so you can make a decision. His materials are informative and entertaining, making the complex topics easy to understand.
8. Charles Hoskinson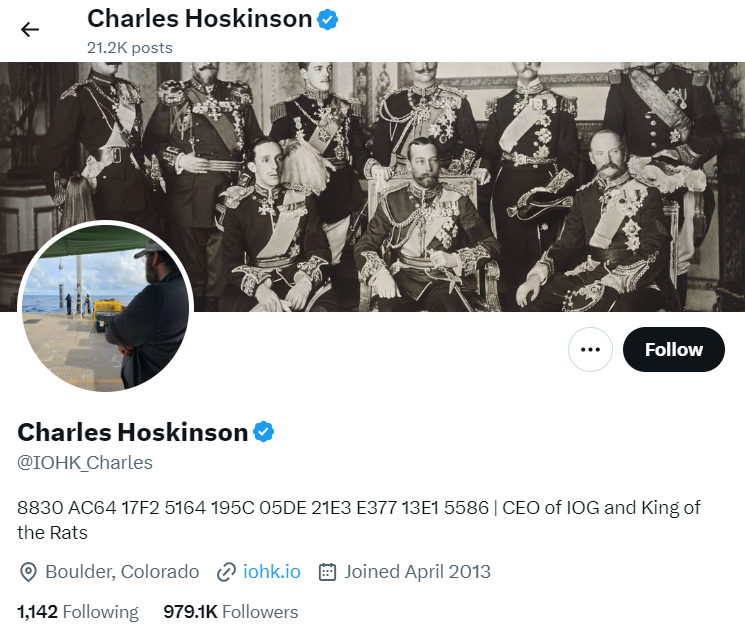 If you are involved in the crypto world, you must know about Charles Hoskinson. This man is a legend! Not only is he the co-founder of Input Output and Cardano, but he also had a hand in Ethereum. Yes, that's right, Ethereum! His influence on the crypto is enormous. You can get a front-row seat to all of his ideas right on his Twitter page. It's a veritable treasure trove of his opinions, the latest news, and even criticisms of cryptocurrencies.
9. ElioTrades
EllioTrades doesn't just provide you with a platform, it's also your primary source of information about everything NFT. EllioTrades is on a mission to demystify the NFT sector by making it more accessible to a wider audience. So, if you want to dive into the world of NFT, you can't go wrong with EllioTrades.
10. Brian Armstrong
You need to hear from Brian Armstrong. He is at the top of Coinbase exchange. This isn't just a CEO in a suit. Brian is a thought leader who knows the ins and outs. If you're in the cryptocurrency game, you can't afford to miss what he has to say.
11. Andreas M. Antonopoulos
Andreas M. Antonopoulos holds both Greek and British citizenship and is a total rockstar in the tech world. Andreas is a technology entrepreneur and an educator with a knack for presenting complex topics. He has written some influential crypto books. We're talking titles like "Mastering Bitcoin: Unlocking Digital Currencies", and "The Internet of Money". These books are the guide for you to understand blockchain.
12. Layah Heilpern
You need to know Layah Heilpern. She is not a journalist, but a crypto enthusiast with unique views on how to succeed in the digital currency game. Layah is not afraid to go against common sense and advocate other approaches. Layah brings a combination of expert analysis and her personal style to the conversation.
13. Sheldon Evans
Sheldon Evans is a multi-talented individual who wears many hats - a professional photographer, entrepreneur, and cryptocurrency aficionado. But here's what sets him apart: Sheldon doesn't just throw random trading tips around. His channel is perfect for casual investors to understand the big picture of crypto and finance.
14. Charlie Lee
Charlie Lee is the genius who created Litecoin and was a big Coinbase specialist. Charlie shares details about Litecoin and the Litecoin Foundation. Charlie knows how to make things fun. Along with the serious stuff, he adds comics to lighten things up. It's a great way to laugh while you're diving into complex cryptocurrency.
15. Ivan on Tech
Check out Ivan Liljeqvist (Ivan on Tech). This Swedish software developer turned YouTube star is a go-to source for crypto. His channel is packed with killer analyses and super easy tutorials. Can you believe he has a video showing you how to create cryptocurrency in just 15 minutes?
After a game-changing experience with Ethereum back in 2017, Ivan decided to go big and turn his content creation into a full-blown business. He's been invited to speak at all sorts of events and share insights on crypto projects. Ivan is also the brains behind Moralis, a platform making life easier for developers who want to build DApps and get in on the Web3 action.
16. Roger Ver
Roger Ver, often referred to as the "Bitcoin Jesus", is one of the frontiersperson. He was one of the first to realize the potential of Bitcoin and immersed himself in the field back in 2011. Early investments in Ripple, Kraken, and Purse.io made him a key player. He was one of the first entrepreneurs to adopt crypto as a legitimate payment. His Twitter covers a wide range of topics. There you can expect the ongoing debate between Bitcoin and Bitcoin Cash or ethical aspects of the crypto space.
17. Erik Voorhees
Have you heard of Erik Voorhees? This Colorado guy is the creator of ShapeShift - a crypto exchange platform. He is also the co-founder of Coinapult, a cool Bitcoin wallet. Eric has been in the cryptocurrency game since 2012 and has some serious credibility. Notably, Erik is a staunch libertarian. He's not shy about sharing his thoughts on traditional financial systems and taxes. He's actively working with regulators to help them better understand DeFi.
18. DataDash
Nicholas Merten, the mastermind behind DataDash, is the owner of one of the most extensive cryptocurrency channels on YouTube. With a solid eight years in traditional financial markets under his belt, Nicholas has emerged as a top-notch crypto analyst and a voice that everyone in the digital asset world listens to. Nicholas is an analyst on the global stage, lighting up blockchain and crypto conferences everywhere.
19. Peter McCormack
Hey, have you come across Peter McCormack on Twitter? Yes, the same Peter who used to be an Australian soccer player. Now he's the awesome voice of the What Bitcoin Did program. It's one of the hottest podcasts on the Web3 scene. Since 2017, he's released over 500 episodes, diving into everything from Lightning Network to conversations about libertarianism and censorship.
20. Crypto Casey
Casey Leigh Henry, universally recognized as Crypto Casey, has rapidly ascended to cult status among the industry's most astute and discerning investors. She is armed with a shrewd mind for the most lucrative prospects in the crypto. Her educational materials serve as a beacon for investors of digital currencies. Her exploration of trends has taken the industry to new frontiers and ignited a spirit of bold innovation in others.
21. Cameron Fous
Hailing from the United States, Cameron Fous is a seasoned trader and Instagram luminary with over a decade and a half of expertise. In an industry notorious for a staggering 95% failure rate, Cameron's revolutionary Krypton system has catapulted thousands into the market's elite 5%. He equips traders with the insight to carve out their own path to success.
22. CryptoWendyO
If you're browsing TikTok or YouTube and stumble upon CryptoWendyO, feel free to hit the "follow" button. She has a fresh, down-to-earth take on the "roller coaster" world of digital currencies. Unlike some, shall we say, "over-enthusiastic" crypto-enthusiasts, Wendy acts as an analyst and mentor.
CryptoWendyO is part of this amazing wave of new influencers who are completely changing the way young people think about financial news and knowledge. If you want a clear and understandable view of cryptocurrencies, CryptoWendyO is your best source.
23. Paul Barron
If you want the latest news on blockchain, technology, and even robotics, check out Paul Barron. Paul talks about everything in Web3, Metaverse, NFT, and more. Paul doesn't just do an overview like some other news channels. He gives you a complete overview with in-depth analysis. If you're looking for a one-stop source on cutting-edge technology, Paul Barron has you covered.
24. Crypto God John
Thanks to his popularity on Twitter, Crypto God John has become a cult figure in the cryptosphere. Using his social media clout, he founded WalshWealthGroup, an enclave of exclusive investments and knowledge sharing for cryptocurrency fans.
While his Instagram feed shows off his muscular physique, his Twitter is a treasure chest of insights, focusing on the analysis of price charts. Using simple support and resistance metrics instead of complex indicators, he serves as the guide for those just starting to learn technical analysis.
25. Satoshi Stacker
You should definitely visit Satoshi Stacker's YouTube channel. He is a professional, offering the news about all kinds of altcoins. Here you will come across the latest altcoin news. You will learn what it takes to stay ahead. Satoshi Stacker details everything: the basics of blockchain, technical analysis, and what the whales are up to. Thus, watch this channel if you want to up your crypto game.
26. Crypto Jack
Crypto Jack from the UK has an amazing ability to explain complex financial things in simple and easy-to-understand terms. Honestly, if you're into trading or investing, you'll love his YouTube channel. It has everything: tutorials for beginners, deep market dives, and forecasts.
27. Chico Crypto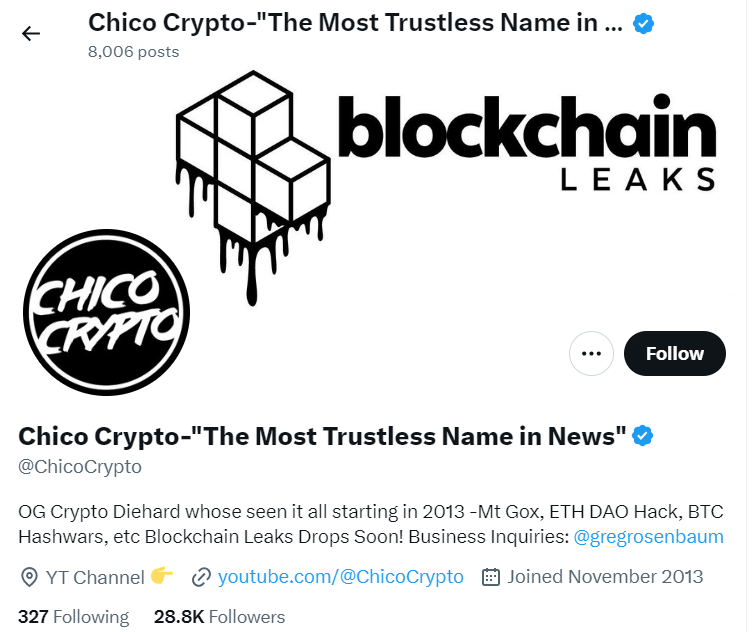 Tyler Swope (Chico Crypto) captivates audiences with his avant-garde methods of investing. With a theatrical flair and an affinity for conspiracy theories, Swope has amassed a fervent, almost cult-like following who eagerly await his every pronouncement. While his social media presence may appear anarchic and erratic - featuring multiple daily posts on topics as diverse as market analytics and fringe theories, all punctuated by emojis, memes, and pop culture allusions - there's a method to the madness.
28. Mason Versluis (Crypto Mason)
Mason Versluis, or Crypto Mason, achieved the remarkable feat of amassing over a million social media followers before even reaching the legal drinking age in the USA. Recognizing early on the power of strategic networking, Versluis actively engaged with other crypto influencers. As for his Twitter,you can expect a mix of real-time crypto events, breaking news, and witty commentary on XRP, HBAR, ETH, and QUANT. Versluis is also known for his provocative views covering crypto topics.
29. Crypto Love
Randall, commonly known as Crypto Love, has been an ardent supporter of Bitcoin and cryptocurrencies since 2017 when his influencer channel was created. On this channel, he talks about altcoins and crypto in general to bring wisdom to his audience.
30. Lea Thompson (Girl Gone Crypto)
Lea Thompson (Girl Gone Crypto) is a standout social media influencer renowned for her ability to simplify intricate cryptocurrency topics into digestible, accessible content. She produces a series of informative videos that break down complex subjects like into easy segments. New to the crypto and seeking a grasp of its key elements? Girl Gone Crypto is a top source.
Concluding Remarks
If you're keen on making the most of the crypto wave, these influencers are your golden ticket. Cryptocurrencies are booming. But it's not all rainbows. There are challenges that could be a bit daunting. So it's crucial to arm yourself with the latest information, and who better to guide you than the experts we just talked about?