In an era where technology is evolving at an unprecedented pace, one term that has been buzzing around is "Web3." It's a transformative shift in how we interact with the internet. Web3 promises to bring about a new, decentralized digital landscape where users have more control, security is robust, and possibilities are limitless. But what companies are at the forefront of this revolution, shaping the contours of this new world? Stay tuned as we unravel the complexities and opportunities that Web3 companies offer, and why you should be paying attention to them right now.
10 Biggest Web3 Companies
1. Binance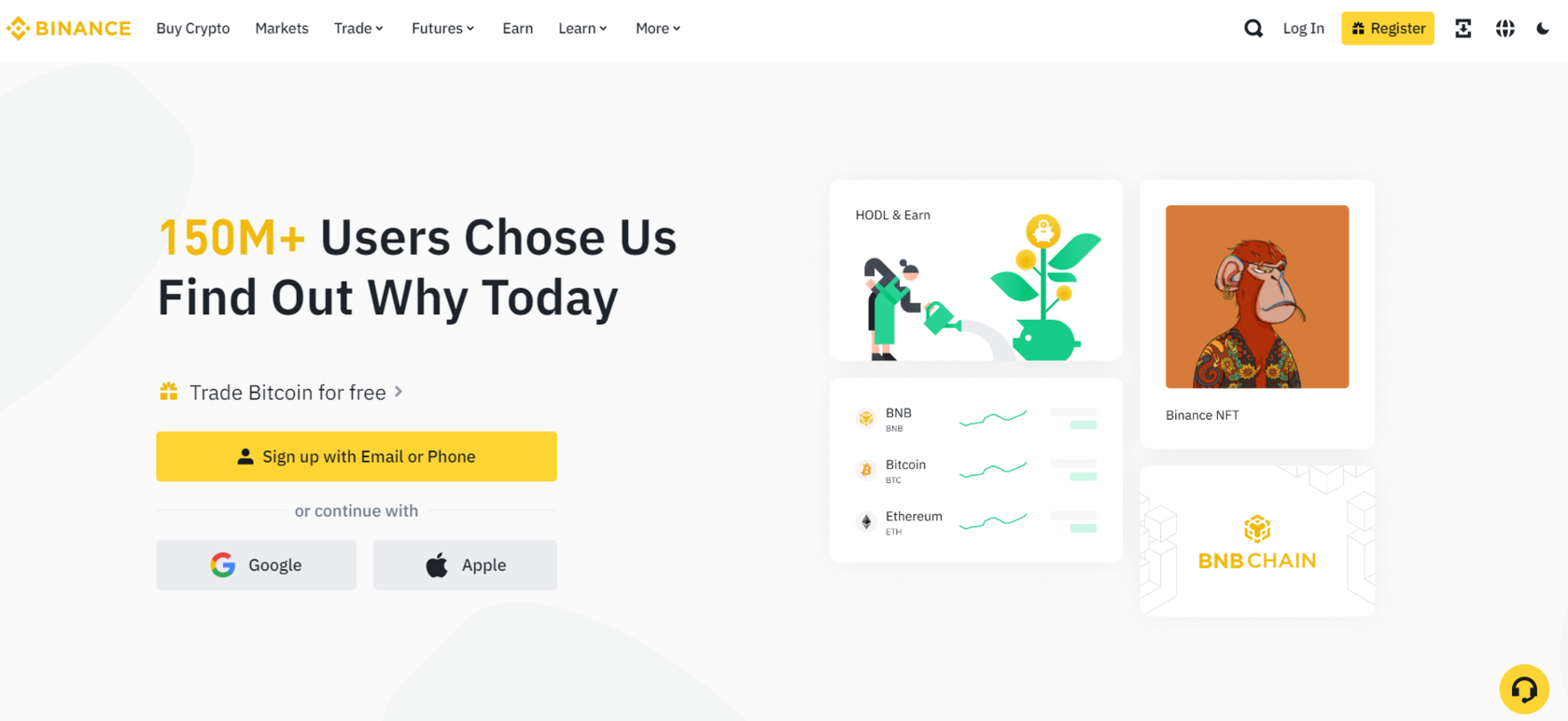 Binance is a comprehensive blockchain ecosystem with a mission to be the infrastructure provider for crypto in tomorrow's world. Founded in July 2017 by Changpeng Zhao, commonly known as CZ, Binance skyrocketed to become the world's largest digital asset exchange by trading volume within just 180 days of its launch. As of 2022, the platform boasts an average daily volume of $65 billion and has facilitated $300 billion in spot transactions. Binance offers 24/7 customer support in 40 languages, emphasizing its global reach and commitment to user satisfaction.
What sets Binance apart is its diverse portfolio of financial product offerings that cater to various aspects of the Web3 world. Binance Labs, the venture capital and accelerator arm, focuses on identifying and supporting promising Web3 projects. Binance Research provides institutional-grade analysis and insights into the digital asset industry, while Binance Academy offers free blockchain and crypto education in over ten languages. Moreover, Binance Charity is dedicated to leveraging Web3 technology as a force for good. The platform also has its official NFT marketplace, Binance NFT, which aims to enhance user experience in the growing NFT space. With state-of-the-art security measures and strict data privacy controls, Binance is committed to user protection and regulatory compliance, making it a trusted name in the Web3 ecosystem.
2. Crypto.com
Crypto.com is a leading cryptocurrency platform with a vision to put cryptocurrency in every wallet. Founded by Kris Marszalek, who has a track record of growing multiple companies from $0 to $100 million in revenue, the platform aims to accelerate the world's transition to cryptocurrency. With a user base of over 80 million across 90 countries, Crypto.com is a leader in regulatory compliance and security certifications. The platform offers a wide range of financial products and services, including trading in Bitcoin, Ethereum, and other cryptocurrencies, and has the industry's most comprehensive insurance coverage and verified proof of reserves.
Crypto.com is not just about buying and selling cryptocurrencies. It offers a holistic crypto experience. The platform provides various features like on-chain staking, where users can generate passive income by helping to secure blockchains. It also offers a Crypto.com Visa Card, which allows users to enjoy up to 5% back on all spending without any annual fees. The platform is also making strides in the DeFi space with its DeFi Wallet and DeFi Earn features, providing users with more control over their assets and stable returns. With a focus on deep order book liquidity, high-speed transaction processing, and robust security measures, including SOC2 Type 1 Compliance and ISO certifications, Crypto.com stands as a trusted and secure platform in the Web3 ecosystem.
3. Braintrust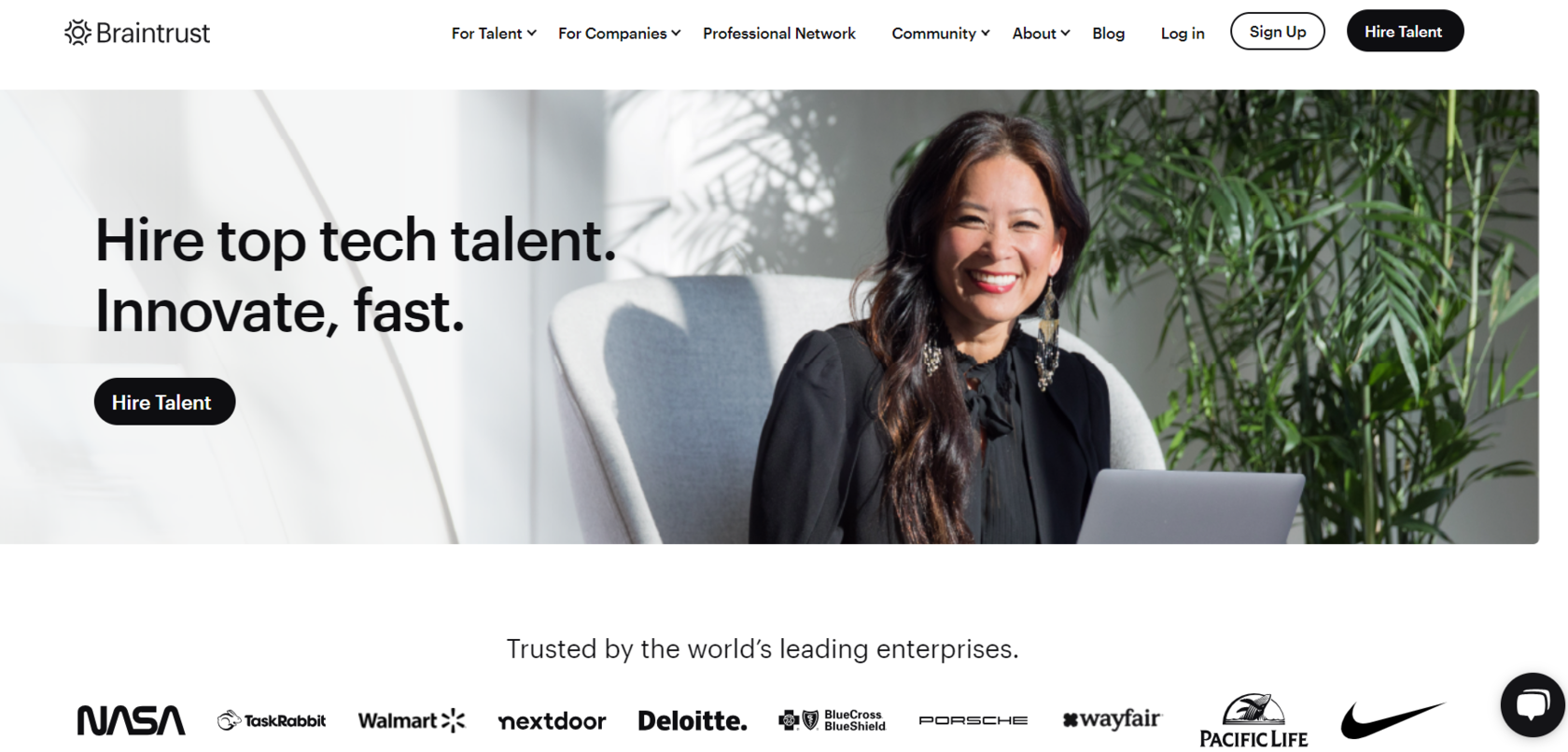 Braintrust is a unique talent network that is user-owned and aims to change the way work is done. Unlike traditional staffing agencies that charge hefty fees, Braintrust's fees are only 15%, making it 80% less expensive for contractors and 40% for direct placements. The platform has a global reach with members located in over 100 countries and 20 time zones. Braintrust is trusted by leading enterprises and focuses on curating top-tier talent, ensuring that clients spend less time vetting and more time innovating. The platform also offers an AI and expert team that matches clients with the top 5 professionals for their projects within 48 hours.
Braintrust is a community. The platform offers various programs and events led by Community Leaders to promote peer-to-peer learning, relationship building, and growth. Talent on Braintrust is committed because they keep 100% of what they make and have control over the network via the BTRST token. This token is an ERC-20 token issued on the Ethereum blockchain by the Braintrust Technology Foundation, a nonprofit entity. The token is used for various activities on the network, such as staking, governance, voting, and payments. With its unique tokenomics and community-driven approach, Braintrust is setting a new standard in the Web3 ecosystem.
4. OpenSea
OpenSea is a trailblazer in the world of
non-fungible tokens
(NFTs), establishing itself as the world's first and largest web3 marketplace for these unique digital assets. Founded in 2017, the platform has grown exponentially, boasting over 80 million NFTs across 2 million+ collections and facilitating a trading volume exceeding $20 billion. OpenSea operates on open protocols like Ethereum and supports interoperable standards like ERC-721 and ERC-1155, making it a versatile platform for trading NFTs. The company's vision is to build an open digital economy where NFTs are freely tradeable and usable across multiple applications, just like physical goods but with the added programmability of digital assets.
OpenSea is a community-driven platform that has garnered the support of top industry leaders and firms. The company is backed by influential figures such as Mark Cuban, Tim Ferriss, and Alexis Ohanian, among others. OpenSea is committed to security and trustworthiness, placing a high priority on finding and eliminating vulnerabilities. The platform is also dedicated to educating its user base, offering a variety of resources to help people understand the NFT space better.
5. Chainalysis
Chainalysis is a leading blockchain data platform that serves as a critical bridge between cryptocurrencies and traditional financial systems. The company is trusted by over 1,000 customers, including businesses, banks, and governments, to provide insights and risk management solutions for blockchain activity. Chainalysis offers a range of products such as Reactor, KYT (Know Your Transaction), and Storyline, designed to connect cryptocurrency transactions to real-world entities and ensure AML/CFT compliance.
The platform is globally trusted by government agencies and private institutions to trace and understand blockchain activity, thereby managing risks and developing crypto-based strategies effectively. Chainalysis is also a hub for unique insights and research in the crypto space. Their services extend to specialized programs for crypto incident response and professional training & certification in blockchain analysis.
6. Ripple
Ripple is a leading enterprise crypto company that aims to enable the world to move value the way information moves today. With a mission to build breakthrough crypto solutions for a world without economic borders, Ripple is trusted by over 800 employees and has 15 offices in key technology and financial centers around the world. The company provides a range of solutions for cross-border payments, crypto liquidity, and Central Bank Digital Currencies (CBDCs). Ripple's technology is in commercial use by hundreds of customers across more than 50 countries, enabling businesses to expand into hard-to-reach markets, access alternative liquidity solutions, and generate new crypto-enabled revenue streams.
Ripple is about creating a more inclusive and interoperable future. The company works within existing financial systems to improve, not disrupt, and partners with regulators, governments, and central banks to ensure solutions are secure and compliant. Ripple is backed by globally recognized venture capital firms and strategic investors, and it proudly partners with mission-driven organizations to create greater economic fairness and opportunity through research, education, and philanthropy. With a focus on transformative crypto solutions and a commitment to increasing global access and equity, Ripple is a key player in the Web3 ecosystem.
7. Okcoin
Okcoin is a global cryptocurrency exchange that aims to make crypto investing and trading easily accessible to people around the world. With offices in San Francisco, San Jose, New York City, Malta, Hong Kong, Singapore, and Japan, Okcoin serves customers in over 190 countries. The platform is designed to onboard investors and traders who have been hesitant about entering the crypto space. Okcoin offers a range of products, including options to buy and sell Bitcoin, Ethereum, and other cryptocurrencies. The platform also features a mobile app, making it convenient for users to trade on the go. With over 1 million customers and 300+ employees, Okcoin is on a mission to decentralize finance and level the economic playing field globally.
The company provides a variety of tools built for both new investors and pro traders, aiming to make the crypto investment process as straightforward as possible. Security is a top priority for Okcoin, as the platform employs multi-factor encryption and 24/7 transaction monitoring to keep user deposits safe. Additionally, Okcoin has a developer grant program and offers resources to help users understand the crypto market better.
8. Consensys
Consensys is a global leader in blockchain and web3 software, founded in 2014 with a mission to inspire and empower builders in the decentralized world. The company has been a pioneer in the web3 ecosystem, offering a comprehensive suite of products that includes MetaMask, Infura, Linea, Truffle, and Diligence. These tools have become essential for users, creators, and developers engaged in building decentralized applications (dApps), NFT collections, and other web3 projects. Their vision is to transform the world's digital architecture into a more open, inclusive, and secure internet of value and ownership, known as Web3.
The company was founded by Joseph Lubin, who is also a co-founder of Ethereum. Since its inception, Consensys has played a critical role in the development and adoption of Ethereum and other Ethereum-compatible blockchains. The company has been instrumental in fostering the first major wave of adoption in decentralized finance (DeFi), non-fungible tokens (NFTs), and decentralized autonomous organizations (DAOs). With a global team and a shared vision, Consensys is committed to supporting the long-term health of the web3 ecosystem, including sustainable practices and balanced regulatory frameworks.
9. TRON DAO
TRON DAO is a decentralized autonomous organization that aims to empower decentralized commerce and community for every individual on the planet. Founded in 2017, TRON has been focused on two core principles: decentralization and empowerment. As of December 2021, TRON transitioned into TRON DAO, a community-governed organization connected to a diverse and growing blockchain ecosystem. The network boasts impressive statistics, with over 158.14 million accounts, 5.49+ billion transactions, and a token value locked at $12.46+ billion. TRON is a movement that invites developers and users to come and build the future with them, making TRON a way for the world to spend, receive, and settle money.
TRON is making significant strides in the gaming world by enabling the creation of new play-to-earn (P2E) games across its platforms. The organization is dedicated to working with developers to scale and perfect their games, ensuring a seamless and immersive experience for players. Additionally, TRON hosts grand hackathons that provide opportunities for promising projects to accelerate the
blockchain development
of decentralized storage, applications, digital assets, and more. With a prize pool of $500k USD and participation from over 30 partners and 60 judges, the hackathons offer a platform for builders to showcase their talents and network with industry experts. Through these initiatives, TRON is fostering the growth of the Web3 ecosystem.
10. Republic
Republic is a revolutionary investment platform that allows anyone to invest in startups, crypto, real estate, art, music, and more with as little as $50. Founded with the mission to democratize investment, Republic has successfully deployed over $2.5 billion in funds and has funded over 2000 ventures across 150+ countries. The platform has garnered a community of over 2.5 million members, making it a significant player in the investment landscape. Republic's unique approach allows individual investors to become stakeholders in companies they believe in, thus fostering a sense of community and shared growth.
Republic offers a wide range of investment opportunities, including crypto services and real estate. The platform also focuses on community engagement, turning customers into brand ambassadors and owners. Republic operates across the USA, UK, and Asia, and it provides powerful fundraising tools for founders, including social capital, teasers, whitelists, share drops, and more. With a dedicated team to help with legal resources, campaign design, and
Web3 marketing
, Republic is committed to the success of both investors and founders. The platform has also partnered with top venture funds, allowing co-investment opportunities in select private deals.
Why Web3 Matters
The term "Web3" may seem like just another tech buzzword, but its implications are far-reaching and transformative. As we move away from the centralized structures that have dominated the internet for years, Web3 offers a new paradigm that could redefine our digital experience. Here's why Web3 matters and why you should care.
Decentralization: Power to the People
One of the most compelling features of Web3 is its decentralized nature. Unlike traditional web architectures where a single entity controls servers and data, Web3 operates on a distributed network. This means no single point of failure and no central authority holding the reins. In a Web3 world, you own your data, and you decide how to use it. This decentralization democratizes the internet, giving more power to individual users and reducing the influence of big tech companies.
Enhanced Security and User Control
Web3 technologies often utilize blockchain, which offers a higher level of security compared to traditional web architectures. Transactions and data exchanges are transparent and immutable, making it extremely difficult for malicious activities to occur. Moreover, the decentralized nature of Web3 provides users with more control over their data, reducing the risks associated with data breaches and unauthorized access.
Smart Contracts and Automation
Web3 enables the use of smart contracts—self-executing contracts with the terms directly written into code. This allows for a wide range of automated, trustless transactions, from simple transfers to complex business agreements. The automation and efficiency brought by smart contracts can revolutionize various sectors, including finance, real estate, and supply chain management.
Tokenization and Digital Assets
The Web3 framework allows for the creation of unique digital assets and tokens. This opens up new possibilities for digital ownership, from owning a piece of digital art to having a stake in an online community. Tokenization can also be a way to incentivize user participation and engagement, creating more vibrant and active digital ecosystems.
Real-World Applications and Use-Cases
Web3 is already making waves in various industries. From decentralized finance (DeFi) platforms that offer financial services without traditional banking systems, to decentralized autonomous organizations (DAOs) that enable community-led governance, the applications are vast and growing.
Bridging the Digital Divide
Web3 has the potential to make the Internet more accessible and equitable. By removing the need for intermediaries and lowering transaction costs, Web3 can help bridge the gap between the digital haves and have-nots, providing more people with access to financial systems, information, and opportunities.
Bottom Line
As we reach the end of our journey through the fascinating world of Web3, it's clear that we are standing on the brink of a digital revolution. The companies we've explored are not just industry leaders. They are visionaries shaping a new internet landscape that promises to be more decentralized, secure, and user-centric. These are the organizations that are taking the concept of Web3 from the realm of possibility into tangible reality, and their work is setting the stage for a future that could redefine our digital lives.
But as with any technological revolution, challenges and controversies abound. Regulatory hurdles, ethical considerations, and the need for widespread adoption are just some of the obstacles that Web3 faces. However, the companies leading the charge are actively working to address challenges. Their innovations and solutions are not just disruptive. They are also responsible and forward-thinking.