With the fast-paced landscape of crypto and blockchain technology, staying informed is more crucial than ever. But with the flood of information online, how do you separate the signal from the noise? That's where credible journalism comes in. To help you navigate this complex world, we've compiled a list of some of the best crypto journalists who are at the forefront of this digital revolution.
These experts not only report the news, but also offer in-depth analysis, insight, and a balanced point of view. Regardless of whether you are a seasoned investor or a curious newbie, following these journalists will keep you well-informed and ahead of the curve.
7 Respected Journalists in the Crypto Sphere
1. Camila Russo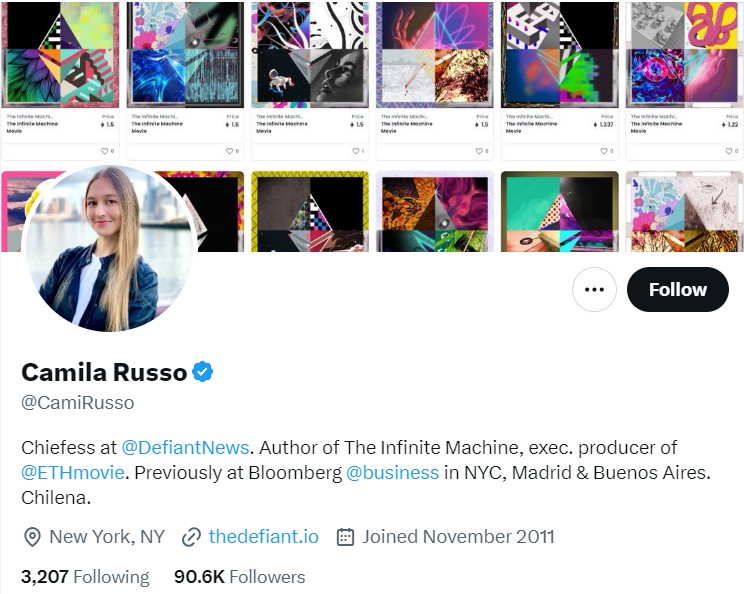 Camila Russo is a prominent crypto journalist who has carved a niche for herself in the rapidly evolving decentralized finance (DeFi) sector. She is the founder of
NFT news site
called The Defiant, a media company that focuses exclusively on DeFi, and has become a leading voice in the DeFi community. Russo started her career as a financial journalist, covering traditional finance for Bloomberg News in New York and Buenos Aires.
Recognizing the potential for a more decentralized and democratized financial system, she shifted her focus to the cryptocurrency industry. Her deep understanding of the technology behind DeFi protocols and her ability to explain complex DeFi concepts in an accessible manner have made her a respected figure in the crypto community. As the founder of The Defiant, Russo continues to provide insightful analysis and reporting on the latest trends and developments in the DeFi space. Her work has significantly contributed to educating and informing the public about the transformative potential of decentralized finance.
2. Michael Del Castillo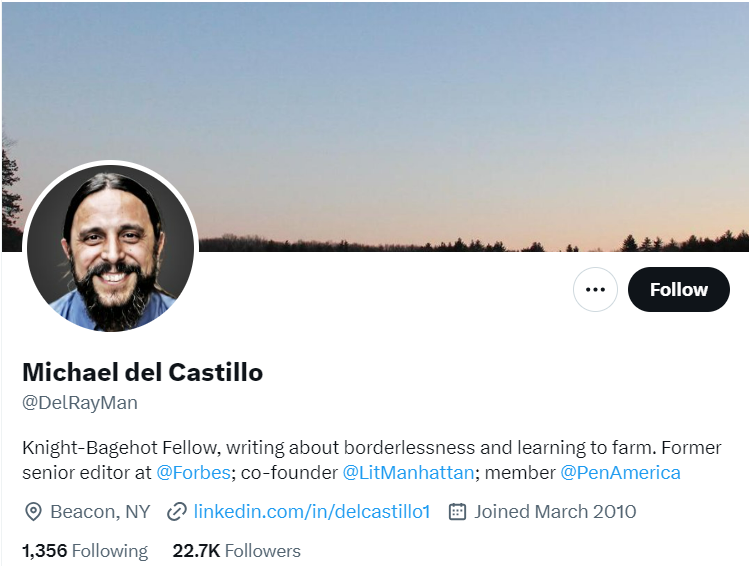 Michael Del Castillo is a seasoned journalist specializing in the blockchain sector. Currently a staff writer at Forbes, he has been covering the crypto industry since 2013, making him one of the early voices in this rapidly evolving field. His background in business journalism, including previous stints at Inc. Magazine and the New York Business Journal, lends him a unique perspective that combines technical know-how with economic implications. Michael is highly respected for his in-depth analysis and ability to break down complex topics into easily digestible pieces. His articles span a wide range of subjects, from regulatory landscapes to blockchain adoption and the impact of cryptocurrencies on traditional finance.
In addition to his journalistic endeavors, Michael is also a sought-after speaker at various industry conferences and events, where he shares his expertise and insights. His work has not only educated the public but has also garnered him numerous accolades, including the Society of American Business Editors and Writers' Best in Business Award. Whether it's explaining the intricacies of blockchain technology or dissecting the latest trends in cryptocurrency trading, Michael Del Castillo has proven to be an invaluable resource in the crypto journalism landscape.
3. Laura Shin
Laura Shin is a name that resonates with authority and expertise. She is a former senior editor at Forbes and has since carved out a niche for herself in the crypto and blockchain space. Laura hosts two highly acclaimed podcasts, "Unchained" and "Unconfirmed," where she delves into various aspects of blockchain technology, cryptocurrencies, and the people who make the crypto world tick. Her podcasts have become a go-to resource for anyone looking to understand the complexities of decentralized finance and blockchain technology.
Laura has been recognized as one of the most esteemed crypto journalists, not just for her depth of knowledge but also for her ability to break down complex topics into understandable insights.
4. Jeff Kauflin
With a career at Forbes that began in 2016, Kauflin has dedicated his journalistic efforts to covering fintech, cryptocurrencies, and Wall Street. His articles are lauded for their depth and accuracy, often delving into the complexities of blockchain technology and cryptocurrencies. Kauflin's reporting has played a crucial role in educating the public and has earned him a reputation as a trusted source in the crypto community.
His work is characterized by its analytical depth and balanced viewpoints, often featuring exclusive interviews with industry leaders. This provides his readers with unique and invaluable insights into the ever-evolving world of crypto. Before his journalism career, Kauflin spent 10 years as a marketing consultant, an experience that has enriched his writing style.
5. Nathaniel Popper
Nathaniel Popper has been a visible figure in the world of crypto journalism for nearly a decade. He gained significant recognition while working at The New York Times, where he covered a wide range of topics related to the cryptocurrency and blockchain industries. Popper is also the author of Digital Gold: Bitcoin and the Inside Story of the Losers and Millionaires Trying to Reinvent Money, published in 2015. The book is a comprehensive history of bitcoin and has been praised for its in-depth analysis and narrative. His work not only introduces the public to cryptocurrencies, but also focuses on the social and economic implications of these new technologies.
In November 2021, Nathaniel announced his retirement from The New York Times to pursue new opportunities. He is currently working with Optimist Films. Popper has become an influential person in the crypto industry thanks to his Twitter account. His contributions to the field are invaluable, making him an authority rather than just a celebrity in the cryptocurrency world.
6. Olga Kharif
Olga Kharif is a distinguished crypto journalist based in Portland, Oregon, and currently writes for Bloomberg News. She has gained recognition for her in-depth investigative pieces in the crypto space, including topics like crypto investigations and the "flippening," a term used to describe a potential future event where a cryptocurrency overtakes Bitcoin in market capitalization. Her work is not just limited to Bloomberg. She also contributes to BusinessWeek, expanding her reach to a broader audience. Olga's Twitter is a must-follow for anyone interested in real-time updates and insights into the crypto world.
Olga has co-authored pieces on the future of the crypto industry, specifically focusing on what is termed as "Crypto 2.0." This shows her ability to not only report on current events but also to provide a forward-looking perspective on where the crypto industry is heading. Her work is considered essential reading for anyone wanting to understand the intricacies and future directions of blockchain and cryptocurrency technologies. With her particular focus on tech within the realms of crypto and blockchain, Olga Kharif is undoubtedly a journalist to keep an eye on for nuanced and in-depth reporting.
7. Leigh Cuen
Leigh Cuen is a highly respected person in the realm of cryptocurrency journalism, with an extensive portfolio that spans multiple esteemed publications. She has contributed to the popular
crypto news outlet
CoinDesk, and some other media like Business Insider, Newsweek, Motherboard (Vice), Teen Vogue, Al Jazeera English, The Jerusalem Post, Mic, and Salon, among others. She covers technology at large, making her a versatile voice in journalism.
Leigh Cuen is the co-founder of the Association of Cryptocurrency Journalists and Researchers (ACJR), an organization aimed at promoting transparency and integrity in crypto journalism. She has been recognized with accolades such as the International Journalists' Network "journalist of the month" and a nomination for the LendIt Fintech Industry Awards' "best journalist" category. In 2020, she became one of the first accredited journalists focused on digital currencies at the World Economic Forum in Davos, Switzerland. Her work has not only informed the public but has also been instrumental in shaping the narrative around cryptocurrencies and blockchain technology.
Conclusion
In summary, the world of cryptocurrencies is as exciting as it is complex, and having reliable sources of information is invaluable. The top crypto journalists we've highlighted in this article are trusted voices in the
crypto copywriting
industry, providing not just news but also context you need to make informed decisions. These journalists are your go-to experts for understanding the latest technological advancements.