The digital realm is rapidly evolving, and
Web3 companies
are at the forefront of this revolution. Web3, often called the "Decentralized Web," is transforming how we engage with technology by introducing blockchain, cryptocurrencies, and decentralized apps (dApps) into our daily lives. This shift is fueling a surge in demand for skilled individuals and groundbreaking ideas.
In this Web3 era, the traditional job market is undergoing a seismic shift. The conventional 9-to-5 work structure is giving way to a decentralized, remote-friendly job landscape powered by blockchain technology. To navigate this new frontier, job seekers and forward-thinking companies are turning to specialized platforms known as "Web3 job boards."
Discover how Web3 job board platforms connect talent with pioneering projects in the blockchain and decentralized tech space.
Exploring the Web3 Job Market Platforms in 2023
1. Cryptocurrency Jobs
Cryptocurrency Jobs
stands out as a prominent job board in the Web3 space, catering specifically to the crypto and blockchain industry. It's more than just a platform for job listings. It serves as a bridge between companies, startups, and potential employees passionate about the crypto realm. The platform offers a diverse range of job opportunities, spanning from technical roles to non-technical positions. The crypto and blockchain industry is rapidly evolving, and with this evolution comes a surge in demand for skilled professionals. Cryptocurrency Jobs recognizes this demand and offers a plethora of job recruitments, catering to both tech and non-tech roles.
Furthermore, Cryptocurrency Jobs is more than just a job board. It fosters a network between companies and startups operating in the crypto and blockchain space. Job seekers can select their preferred company from a comprehensive list and apply directly through the website. This streamlined process, combined with a wealth of resources and articles, makes Cryptocurrency Jobs an ideal platform for anyone looking to venture into the Web3 job market.
Cryptocurrency Jobs is a hub for all things related to crypto and blockchain employment. The platform lists numerous job opportunities, from technical roles like Senior Blockchain Developers and Full-Stack Data Engineers to non-technical positions such as Finance Managers and Crypto Research Analysts. But what truly sets Cryptocurrency Jobs apart is its commitment to fostering a community. By offering a platform where users can not only find jobs but also access valuable resources and articles, Cryptocurrency Jobs ensures that its community is always at the forefront of the Web3 revolution.
Why choose the platform?
One of the standout features of this platform is its ability to provide job alerts, ensuring that users stay updated on new opportunities and never miss out on potential roles that align with their skill set.
Besides job listings, the platform also provides valuable articles and resources, ensuring that its users are well-equipped with the knowledge and skills required to excel in the Web3 domain.
2. Remote3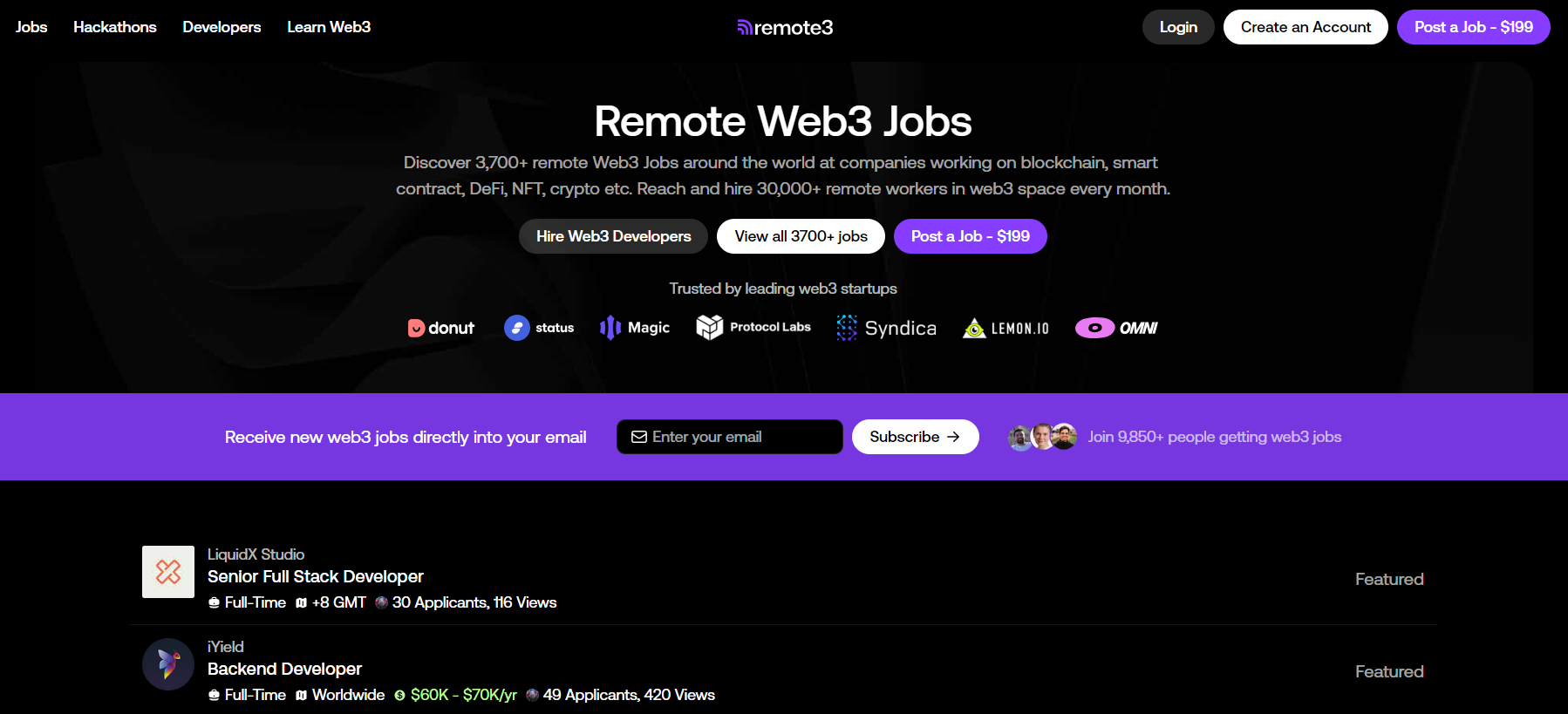 Remote3
has emerged as a leading platform for those seeking remote opportunities in the Web3 space. With over 2,500 job listings from various Web3 companies and projects, it offers a diverse range of roles, from development and design to marketing and operations. But Remote3 is a platform that assists employers in finding and hiring remote workers who meet their specific job requirements. Given the increasing shift towards remote work, especially in the tech and Web3 sectors, platforms like Remote3 are becoming indispensable for job seekers and employers.
One of the standout features of Remote3 is its reputation and recognition in the crypto community. The platform has been featured in renowned media sources such as Coinpaper and Forbes, attesting to its credibility and reach. Moreover, Remote3 understands the dynamics of the Web3 industry and offers job listings that cater to the unique demands of this sector. Whether you're a Front-end Engineer specializing in Typescript and React, a Rust Engineer, a Smart Contract Developer, or even a
Web3 PR
specialist, Remote3 has a place for you.
With a current fee of $199 per post, employers can access a vast pool of qualified candidates, ensuring that they find the perfect fit for their projects. For job seekers, Remote3 offers a seamless application process, allowing them to showcase their skills and expertise to potential employers.
Why choose the platform?
Remote3's commitment to the Web3 community is evident in its user-friendly interface, comprehensive job listings, and the trust it has garnered from crypto and DeFi startups.
The platform also offers a newsletter service, ensuring that subscribers are always updated with the latest Web3 job opportunities delivered straight to their inbox.
3. Web3 Jobs
Web3 Jobs
has positioned itself as a premier platform for those looking to carve a niche in the Web3 domain. With a staggering 33,000+ job openings from 6,000+ projects, it offers a comprehensive range of opportunities spanning various categories such as development, design,
Web3 marketing
, and legal. But Web3 Jobs is not just about numbers. It's about quality and relevance. The platform allows users to filter job listings based on criteria like salary, location, skills, and tags.
Web3 Jobs distinguishes itself by understanding the intricate dynamics of the Web3 industry. The platform lists popular job roles such as Senior Web3 Front-end Blockchain Developer, Software Engineer specializing in Blockchain/Web3, Governance Operations Manager, Blockchain Engineer, and Blockchain Data Analyst, among others. This focus on specificity ensures that job seekers find roles tailored to their expertise. Furthermore, Web3 Jobs actively aids in career progression. The platform offers email alerts for new opportunities, ensuring that users are always in the loop about the latest job listings that match their skill set and preferences.
Web3 Jobs serves as a holistic hub for all Web3 career-related needs. It recognizes the transformative potential of Web3 technologies, from blockchain and distributed computing to artificial intelligence, and aims to connect talent with the best-decentralized web applications and services.
Why choose the platform?
It ensures that both newcomers and seasoned professionals in the Web3 space find their ideal career paths by offering learning materials, including boot camps, courses, and tutorials.
4. RemoteOK
While its primary focus isn't exclusively on Web3,
RemoteOK
has made significant strides in this domain. The platform boasts a dedicated Web3-specific section that showcases over 200 positions from industry giants such as Kraken and Rarible. This emphasis on Web3 jobs is a testament to the platform's adaptability and its commitment to staying abreast of the latest industry trends.
One of RemoteOK's strengths lies in its extensive user base and the partnerships it has forged over the years. The platform's reach extends globally, making it particularly appealing for those looking to tap into international markets or seeking roles that allow them to work from anywhere in the world.
RemoteOK understands the diverse needs of companies looking to hire, and this is reflected in its flexible pricing model. The cost of posting a job on RemoteOK ranges from $99 to approximately $2040. This tiered pricing ensures that companies of all sizes, from startups to established enterprises, can find a package that suits their budget and requirements. Such flexibility is crucial in the dynamic world of Web3, where the landscape is constantly evolving, and companies need to be agile in their hiring strategies.
Why choose the platform?
Collaborating with industry leaders like Kraken and Rarible not only enhances its credibility but also ensures that job seekers have access to top-tier opportunities in the crypto landscape.
5. Remotive
Remotive
is a platform dedicated to assisting professionals from all corners of the globe in locating the most suitable remote positions. The platform not only offers a plethora of job listings but also provides the convenience of daily email updates.
Whether you're a developer, marketer, or designer, Remotive's extensive list caters to a wide range of roles, making it easier for candidates to find positions that align with their skills and interests. Thanks to its user-friendly interface, job seekers can effortlessly browse through categories, narrowing down their search to find positions that resonate with their career aspirations.
In addition to its job listings, Remotive offers added value to its users by keeping them informed about the latest trends and developments in the remote work landscape. The platform's commitment to fostering a vibrant community of remote professionals, combined with its focus on Web3 opportunities, makes it a top choice for those eager to dive into the decentralized future.
Why choose the platform?
The platform emphasizes community, offering a space where remote professionals can connect, share experiences, and offer insights.
6. CryptoJobsList
CryptoJobsList
has firmly established itself as a significant player in the Web3 job market. It boasts an impressive compilation of over 10,000 job postings from 2,400+ diverse companies. This extensive range ensures that professionals from various backgrounds can find opportunities that align with their expertise. Notably, esteemed organizations such as The Ethereum Foundation, CoinMarketCap, Etherscan, and OKX have chosen CryptoJobsList as their preferred platform for talent acquisition.
The platform provides salary information for more than 5,000 positions, empowering candidates to make informed decisions about their career prospects. This focus on transparency is a testament to the platform's dedication to ensuring that both job seekers and employers have all the necessary information at their fingertips. CryptoJobsList goes beyond just job listings. Recognizing the importance of staying updated with the latest opportunities, the platform offers a weekly Web3 jobs newsletter, ensuring that job hunters are always in the loop.
For companies and recruiters, CryptoJobsList offers a flexible pricing model. Posting a job offer on the platform can range between $69 and $2569 per job, depending on the budget set by the employer. This tiered pricing ensures that companies of all sizes can find a package that suits their needs. Premium features include prime placement, extensive reach through social media shoutouts, community engagement via Discord Bot announcements, and publication on crypto subreddits.
Why choose the platform?
The platform offers the most comprehensive selection for job seekers.
One of the standout features of CryptoJobsList is its commitment to transparency due to salary information.
What Is remote Web3 Jobs and Why Is It the Future?
Web3 job boards represent a paradigm shift in how we envision work and career opportunities. In essence, Web3 crypto jobs are roles within the decentralized web ecosystem, encompassing blockchain technology, cryptocurrencies, decentralized applications, and more.
The allure of Web3 jobs lies in their potential to shape the future of the Internet. Traditional job markets are giving way to a new, decentralized work landscape, characterized by remote work, borderless collaboration, and the democratization of technology. This shift toward Web3 is driven by several factors:
Decentralization: Web3 technologies eliminate the need for intermediaries, making processes more efficient and transparent. This decentralization extends to crypto job markets, where job seekers can directly connect with employers, often across borders, without relying on traditional recruitment channels.
Innovation: Blockchain and decentralized technologies are at the forefront of innovation. Working in Web3 jobs means being part of pioneering projects that aim to transform industries, from finance to supply chain management.
Flexibility: The Web3 job market is notably flexible. Remote work, flexible hours, and the ability to choose projects that align with personal values are all hallmarks of this burgeoning career landscape.
Global Accessibility: The borderless nature of Web3 crypto jobs means that individuals from diverse backgrounds and locations can participate in the digital revolution. This inclusivity is a key driving force behind the rise of Web3 job opportunities.
Conclusion
The world of Web3 job boards represents a remarkable shift in the way we approach careers in the digital age. As the decentralized web continues to grow and redefine the boundaries of technology, these specialized platforms have emerged as crucial gateways for both job seekers and visionary companies.
Web3 job boards offer a unique blend of innovation, decentralization, and blockchain technology, providing a fresh perspective on what work can be in this era. They connect talented individuals with groundbreaking projects, creating a dynamic ecosystem where expertise and passion converge to drive innovation forward.
So, take the plunge, explore the exciting opportunities these platforms offer, and be part of the transformation that's shaping the future of work. In the Web3 era, your dream career may be just a click away, waiting to be discovered on one of these innovative job boards.