Threads, as you might have heard, is the new social media from Mark Zukerberg's Meta Inc. Within the first 7 hours after the release, according to Mark, it acquired 10 million users. And within 7 days the amount already surpassed 100 million. Impressive, eh?
We've tried to check out what Threads is and how it could become one more social media for influence marketing - specifically for promotion of Web3 companies, since FINPR is a
Web3 PR agency
!
Threads VS Twitter
So the first logical question is, what's the reason not to go directly to crypto influencers on Twitter to promote your token or Web3 product? These dudes already have a long time ago established a crypto community. Why should we care about Threads? First, let's find out pros and cons of Threads in relation to Twitter and other social media we
tired
happy to follow on.
Threads Pros
Quick registration;
Reliability of accounts (to create an account in Threads, you need to have an account on Instagram, and accordingly on Facebook, that is, in Meta);
Ability to post 500 characters when only 280 on Twitter without a Twitter Blue subscription;
Convenient sharing in stories/posts on Instagram and even on Twitter. A direct link leads directly to the user's Threads account;
A good opportunity for influencers who blog in text format, or not at all, not everyone wants to lead a public life through photos and videos. This will increase the number of influencers and formats of interaction with the audience;
Easy flow of influencer audience from Instagram directly to Threads. Immediately upon registration, the platform allows you to subscribe to people who have been followed on Instagram;
A fast message format that does not require photo processing, adding captions, like in Instagram. An influencer can convey their message in a matter of seconds;
The absence of a large number of bots and the possibility of cheating subscribers in the near future;
Easier interaction with subscribers, a dialogue format is available.
Threads Cons
Accounts that users block on Instagram are automatically blocked on Threads.
You can only delete your Threads account if you delete your Instagram profile.
Threads is currently not available in Europe.
A quick hype and further collapse of the platform is possible, as was the case with Clubhouse.
It will be difficult to win over an audience that is not used to the text interaction format and that has never used Twitter.
People with no experience with Twitter may not understand the interface.
Twitter influencers are unlikely to move from Twitter to Threads, as they will have to rebuild their audience.
Why Influence Marketing on Threads?
This is a hell of a good question! For now, the #1 (alright, at least #2 after YouTube) social media for Web3 companies promotion is Twitter. But after the social media was bought by Elon Musk, the rockets enthusiast and mastermind behind the colonisation of Mars, lots of people were pissed off by this. So Mark Zukerbergs' bet is that a huge amount of the Twitter community will say goodbye to blue bird and switch from Jack Dorsey child to Threads.
In Threads you can find the same options and features that you'll find on Twitter (except Twitter Ads panel as well as opportunity to write DM - direct messages to any user within the app - but it is at least for now). Anyway, there is a chance that Twitter's audience will fall and Threads - will rise.
Meanwhile, the prices on ads on Thread crypto influencers accounts are relatively low (btw, you can hire FINPR to help you with
Threads influencer marketing
campaigns).
The promo process will not be different from the usual process, but great coverage is guaranteed, considering that the audience of the app is growing every day. And there are lots of popular crypto influencers and celebrities on Threads, whose followers rise daily and dramatically (check top
20+ Threads crypto influencers
).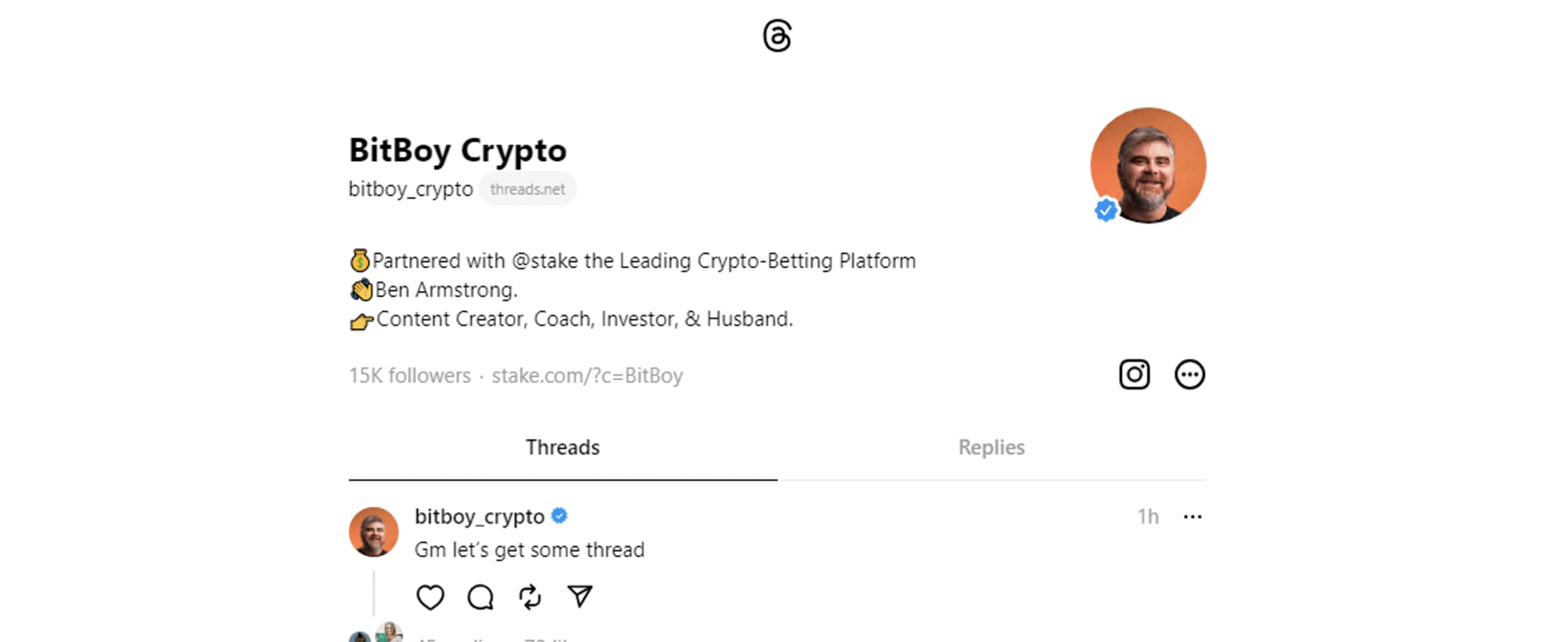 Preparing your Web3 Startup for Crypto Influence Marketing
What stages should a crypto startup go through to start operating on Threads and attract influencers to work with:
Create a project page on Instagram, gradually fill with content. At the same time, already register in Threads;
Start publishing posts in an easy-to-understand format - keep in mind that this social network format requires quick interaction.
Developing a strong brand voice that aligns with your target audience and crypto influencers;
Interact more with influencers through following, commenting, liking posts, reposting. Engage in direct communication;
Engage with your audience;
Organise discussions and call influencers, opinion leaders for discussions. Since the site is not yet highly saturated, it is more likely that the Influencer will notice you;
Actively maintain your Threads account, as the niche is still free;
Request advertising opportunities directly or through an agency. While everyone is just figuring out the app, you can already start working with Influencers and introduce ads among the first posts. For new subscribers who haven't worked with the text format of blogs (Twitter) it will look like regular Influencer content.
A well-developed project Thread account will increase the effectiveness from advertising and attract real interested subscribers!
Step-by-step guide to launching an influencer campaign on Threads
Launching an influencer campaign on Threads requires specific considerations related to the crypto industry. Here's a step-by-step guide to help you launch your influencer campaign on Threads:
Understand your audience on Threads: gain a deep understanding of the crypto audience on Threads. Research the relevant threads, discussions, and groups related to crypto/Web3 and blockchain technology. This will help to identify the influencers who are active and respected within the crypto community on Threads.
Define ad campaign goals. It could be raising awareness of a crypto project, promoting a token sale or airdrop, educating the community about blockchain solutions, or building trust and credibility in the crypto space.
Find crypto influencers: identify influencers on Threads who have expertise in the crypto industry and a dedicated following of crypto enthusiasts. Look for influencers who have a strong presence in crypto-related threads and engage with their followers.
Assess influencers' expertise: evaluate the expertise and knowledge of the identified crypto influencers. Look for influencers who demonstrate a deep understanding of the industry, provide valuable insights, and have a positive reputation within the crypto community. This will ensure that the content they create resonates with the target audience.
Develop content strategy: collaborate with the selected influencers to create a content strategy tailored to the crypto audience on Threads. Discuss topics such as explaining the benefits of your crypto project, analysing market trends, discussing investment strategies, reviewing crypto tools or platforms, or sharing educational content about blockchain technology.
Monitor campaign performance: continuously monitor the performance of the influencer-generated content. Track metrics such as engagement, reach, click-through rates, and conversions. Use analytics tools or unique referral links to attribute the campaign's impact on user acquisition or engagement within the crypto project.
Engage with the crypto community: encourage the influencers to engage actively with the crypto community on Threads. This can involve responding to comments, participating in discussions, addressing concerns or questions related to the project, and fostering a sense of community and trust.
Measure results and iterate: evaluate the campaign's outcomes against your defined goals. Analyze the effectiveness of the influencer campaign in terms of brand awareness, user engagement, or desired conversions within the crypto space. Use these insights to refine the future influencer campaigns.
Launching a successful crypto influencer campaign on Threads requires a combination of understanding the crypto audience, collaborating with knowledgeable influencers, and creating valuable content. By following this step-by-step guide, you can leverage influencer marketing to promote your crypto project and engage with the crypto community on Threads effectively.
Future Trends: Crypto Influence Marketing and Threads
The app was launched less than a week ago, but already shows good potential. There may be more interaction formats in the future, Instagram may add Threads and vice versa. What Mark Zuckerberg may introduce in the near future:
Live and/or conversational chats between a user and their followers;
Stories format like Instagram, but with more limited functionality;
It is possible to pin posts to a profile;
There will be public access to the number of views/interactions of subscribers with the post;
Direct Messages;
Hashtags.